Publisher reliance on tech providers is 'insane': A Digiday+ town hall with The Washington Post's Jarrod Dicker
May 26, 2017 • 3 min read
• By
Digiday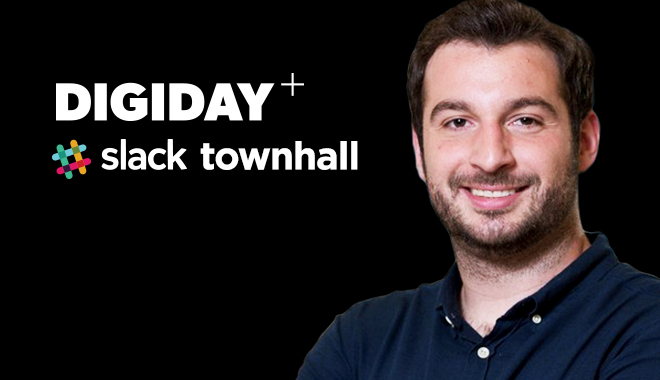 Jarrod Dicker, head of commercial product and tech at The Washington Post, joined members of Digiday+ on Slack for Town Hall Thursday. Digiday editors and Digiday+ members discussed with Dicker the Post's investment into ad tech, integrating technology into all aspects of the newsroom and how Jeff Bezos influences the Post's approach to everything from platforms to ad tech.
Become a member of Digiday+ here. We hold Slack town halls every two weeks, and in between, we'll have editorial chats and group discussions on industry topics. Please join us.
Here's what you missed from our discussion with Dicker.
Experimentation is key.
"It may sound cliche, but we want every technology arm at the company to feel comfortable with taking risks inside and outside their scope of work. For us, the main thing was integrating tech throughout our entire organization; newsroom, sales, research. And through that, having technology influence how we execute in each pocket of business."
Owning ad tech has several advantages.
"By building our own ad tech, we differentiate [ourselves] in the marketplace and we create that's not currently out there. It allowed us to: one, save money on vendor costs and two, control the tech that powers our revenue. While it's necessary to leverage outside tech, it's actually insane how much dependence publishers had on third-party ad tech to drive their revenue. They forfeit too much control. [Having control] has allowed us to actually define what 'good' ad tech is; we build faster rendering systems, we have lighter experiences, we build tech that lets brands build publisher-style executions, etc."
These technologies are not limited to the Post.
"Speaking for [Post R&D arm] Red, not one of those technologies are limited to the Post. For display (PostPulse), video (FlexPlay), performance (Zeus), instant (Fuse) et al, they are independent of the WP platform. For Red, think of WashPost as the breeding ground for building and stress testing these products. The goal is to influence the market and make everything available to anyone. The arc publishing suite has licensable technology built by Post development teams across organizations for white label use. The products are newsroom specific, brand specific, revenue specific, analytics, etc. We have 80-100 million UVs a month at a given time; it's an excellent venue to test all product and see how we can change the market in multiple ways."
The Bezos Effect is focus.
"There are a lot of Jeffisms (internal term for Jeff quotes) we use to motivate our focus. [Investing in ad tech] is a Bezos influence. Publishers need to invest in different teams in order to excel in this space. You don't want it to distract your core business. While influenced by the organization, it needs to have its own arm in order to actually be valuable."
Platforms are more than just immediate returns.
"The common theme is Jeff's influence, and I think that's allowed us to take an educational approach to platforms over an operational one. 90 per cent of the publishers are looking for immediate returns from Amp and Instant (usually greater than CPM). While we obviously care about those things, what's more important to us is what we can learn from them and how we leverage those learnings to make our product and environment better. For example, PWA, Fuse, Zeus; all these products were influenced by platforms. And yes, we're still on them and experimenting. The goal is to drive subs while leveraging FAN [Facebook Audience Network] and backfill to drive revenue on that extension."