If you were sentient, English-speaking, and seated in front of a computer at any point in the last week, you probably noticed a debate about cargo shorts raging on the Internet.
That's because this past Monday, The Wall Street Journal published an A-Hed called "Nice Cargo Shorts! You're Sleeping On the Couch," an overview of the deep scorn that women (and men too!) have for cargo shorts, the sartorial abomination popularized by pubescent boys in the 1990s.
The story's author, Nicole Hong, has no opinion on the shorts themselves — "I'm just reporting the facts here," she wrote in a follow-up piece published Friday — but her reportage stirred passions across the media landscape. Everybody from Judd Apatow to FCC Chairman Tom Wheeler to the economist Justin Wolfers had something to say on the subject.
Cargo shorts have way more pockets than the American economy needs. We are risking severe pocket overhang.

— Justin Wolfers (@JustinWolfers) August 3, 2016
You don't understand us. The comfort! The draw string! The pockets! The draw string! We can pretend we're not fat. https://t.co/SbaXwvce48

— Judd Apatow (@JuddApatow) August 3, 2016
There was even a nerve struck inside Hong's shop. A gang of WSJ reporters banded together to show misguided, pasty support for cargo shorts Friday, a move that picked up its own perverse momentum:
WSJ office today. Real talk. #CargoFriday pic.twitter.com/mxznn2l1Pv

— Aaron Back (@AaronBack) August 5, 2016
as a media reporter I am duty bound to report honestly even on my own publication: there are still people changing into cargo shorts here

— Steven Perlberg (@perlberg) August 5, 2016
And, of course, it wouldn't be a summer media story without some sweet self-parody:
Cargo shorts are neoliberalism applied to shorts, plain and simple. By maximizing the amount of pocket space, they seek to turn men (1/57)

— Ned Resnikoff (@resnikoff) August 5, 2016
which is why, following Zizek, we can say that cargo shorts are pure ideology. But they simultaneously *negate* ideology, meaning (34/57)

— Ned Resnikoff (@resnikoff) August 5, 2016
But just how much hay was made here? The Journal declined to share data on how widely the story was read or shared, but we asked social analytics firm Crimson Hexagon for some data about all the conversations that took place surrounding the piece over the past five days. Here's what they told us.
To begin with, there is always some chatter about cargo shorts going on, especially in the summer. Crimson Hexagon data noted that during the first four days of last week, there were 5,790 posts on social media about cargo shorts. Over the past four days, that jumped to more than 22,000. (For comparison's sake, The New York Times' 2015 peas in guacamole controversy whipped up about 16,000 posts in a comparable period.)
The lion's share of that chatter took place on Twitter, with much smaller clusters of conversation happening on Tumblr and Facebook.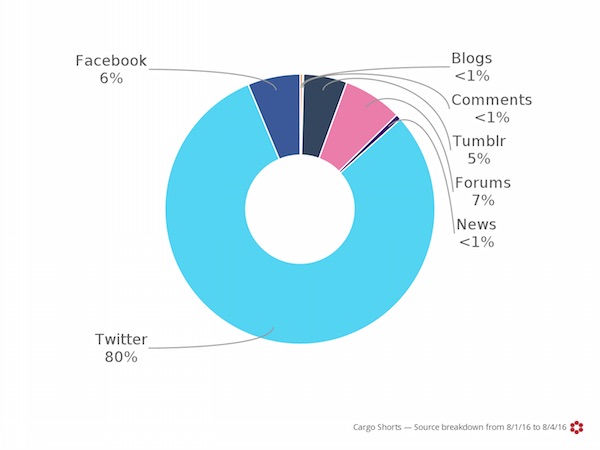 Most of these posts came from older men, probably many of them bristling at the perceived attack on their summer wardrobes.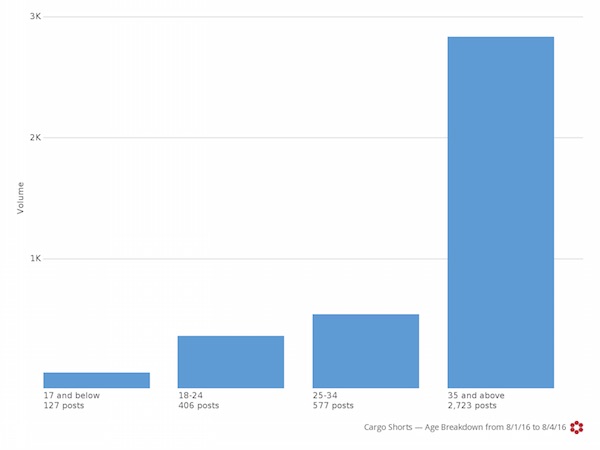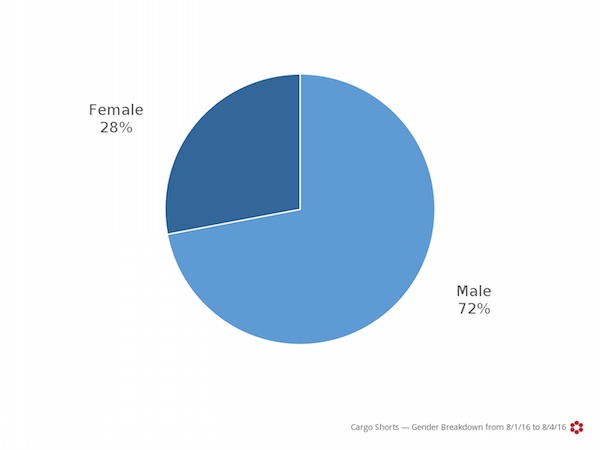 Impressive stuff, to be sure. But thankfully, the drawstrings on this story are likely to be shorter than the long tail that dragged behind the ultimate social media story about That Dress, which accumulated a mind-melting 834,000 posts over a two-week period last winter.
Image credit: David Galbraith/Flickr/Creative Commons
https://digiday.com/?p=192138