Platforms quickly pile on Infowars ban, but Alex Jones still has plenty of places to shout
August 7, 2018 • 4 min read
• By
Digiday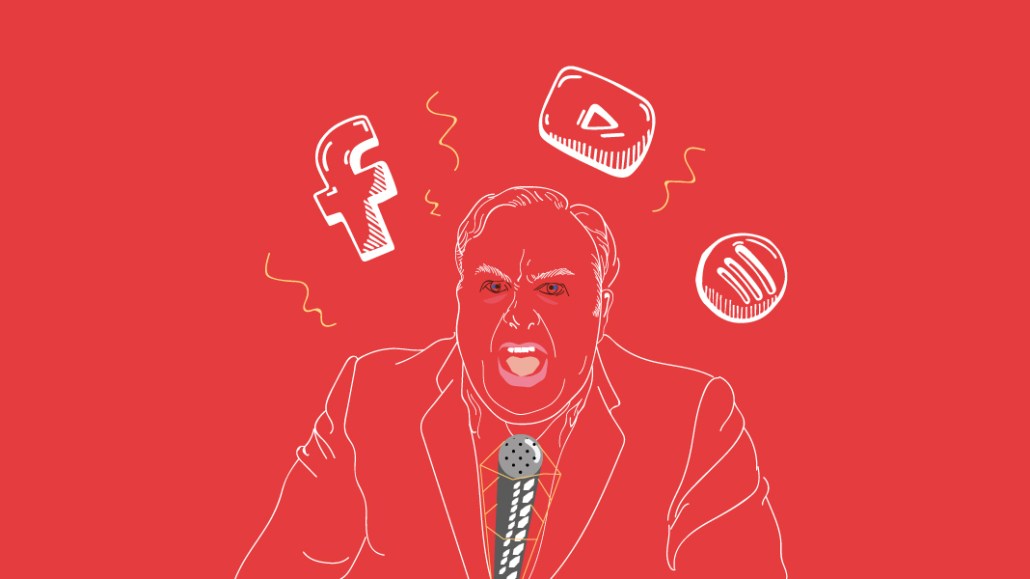 In the hours after Apple, Spotify and Facebook banned Infowars content from their platforms on Aug. 6, Infowars host Alex Jones wrote, "World Exclusive Alex Jones Responds To Being Banned From The Internet." Of course, it was an exaggeration. Those words were tweeted along with a link to a live video hosted by Twitter.
Jones is far from gone from the internet, but major tech platforms separately, but coinciding with each other, cracked down on the conspiracy theorist this week. Those decisions, however belated, will have consequences for how the tech platforms treat similar content, media activists said.
"This move by major tech companies marks a change in how they see themselves. The view they had of themselves as creators of neutral tools is evolving into something more sophisticated and nuanced. They're starting to embrace the responsibility that comes with having accrued massive audiences," said Shannon Coulter, co-founder of the #GrabYourWallet movement.
Coulter, who led an online boycott against Ivanka Trump's fashion brand and other brands that supported President Trump, has been advocating for platforms to remove Infowars content. She spent the past weekend retweeting people who said they were canceling their Spotify subscriptions or that they would unless it removed Infowars content.
https://twitter.com/twinderella_/status/1026352384149053441
"Never doubt that your voice makes [a] difference," Coulter tweeted.
Infowars did not immediately respond to a request for comment.
The move to ban Infowars began gathering steam on July 11, when CNN reporter Oliver Darcy questioned Facebook's reasoning for keeping Infowars when it was sharing false news like conspiracy theories on Sandy Hook, even as Facebook was taking steps to remove fake news. Facebook claimed Infowars didn't violate community standards, or at least didn't pass its violation threshold, and continued to repeat that mantra during subsequent calls and events.
On Aug. 6, Facebook unpublished four of Infowars Facebook pages, and Jones himself is under a 30-day ban, a Facebook spokesperson told Digiday. The action came shortly after Apple removed Infowars podcasts, except for "RealNews with David Knight," from its app. Spotify also removed Infowars content. Later that day, YouTube banned its channels. Infowars Pinterest page also went offline.
Sleeping Giants applauded Apple for being a first mover.
"Apple gets a huge amount of credit for being the first company to enforce their Terms of Service on Infowars. It is an unambiguously good thing for companies to live up to the rules that they set out for themselves and the people who use their services," the organization emailed. "This is not a political matter or even an issue of hate speech. This is a simple case of companies finally enforcing their rules. In our opinion, it has taken too long."
A Facebook spokesperson told CNBC that Apple's decision didn't affect its own. Its blog post about the ban included nearly 300 words explaining its decision-making process on Infowars.
"Since then, more content from the same Pages has been reported to us — upon review, we have taken it down for glorifying violence, which violates our graphic violence policy, and using dehumanizing language to describe people who are transgender, Muslims and immigrants, which violates our hate speech policies," Facebook's blog post reads. 
A YouTube spokesperson wrote of its ban, "When users violate these policies repeatedly, like our policies against hate speech and harassment or our terms prohibiting circumvention of our enforcement measures, we terminate their accounts."
Banned from multiple platforms, Infowars, on Aug. 6, turned up on Periscope (which is owned by Twitter but has its own community standards), running promotions for its mobile apps and other properties. As Digiday wrote last week, the digital ecosystem has lesser-known companies that enable sites like Infowars.
"With your help spreading it and downloading it, we are unstoppable," read a voiceover from Jones on Periscope, referencing his apps in Apple's and Google's stores.
Jones also referenced Vimeo as a destination for its content. Vimeo did not immediately respond to a request for comment.
"The heavy lift for consumers here was [telling] major tech companies that they could no longer carry the content of a guy like Alex Jones without it impacting them at the brand level. We had to make them understand that the status quo was too heavy a burden for their brands to bear," Coulter said.
Gab, a Twitter-like service popular with members of the far-right, touted the fact it will host content from Jones.
"Gab has always and will always welcome everyone. We will not stand by and watch Silicon Valley decide who can and can not participate on the internet," Gab's founder Andrew Torba emailed Digiday.
There's also Twitter, where Jones is verified and has 829,000 followers. Ellen Pao, former CEO of Reddit, challenged Twitter CEO Jack Dorsey to ban him. The company did not immediately respond to a request for comment on whether Jones violates its community standards for Twitter or Periscope.
He still has a blue check on @Twitter. Your move, @jack. Be a leader with integrity like @tim_cook

— Ellen K. Pao (@ekp) August 6, 2018
It's still possible these other platforms will make similar moves in the days ahead. But separately from these social distribution platforms, Jones still has his own website. Infowars.com gets about 3.6 million unique visitors every month, according to Amazon's Alexa, and fully 71 percent of its desktop traffic comes direct, according to SimilarWeb. Jones' fans know where to find him.
https://digiday.com/?p=297971