Pitch deck: TikTok is testing cost-per-click ad pricing
November 5, 2019 • 9 min read
•
•
TikTok is quickly transitioning from a direct sales business to a self-serve platform to reach a broader spectrum of advertisers.
Execs from the app have been selling the self-serve model to buyers over the last quarter, according to a recent pitch deck sent to agencies across Europe. TikTok outlined its plan to test letting advertisers across the U.K., France, Italy and the U.S. buy ads through its ads manager platform rather than a member of the app's sales team. It's not a fully self-serve model yet, as TikTok reps are still needed to run the ads once the advertiser has bought them. The model was trialed in the U.S. at the start of the year.
There are two beta auction models that advertisers will be able to test for the first time across Europe in the fourth quarter: a standard cost-per-click model and what TikTok called an "optimized CPC" that lets advertisers bid with the cost-per-acquisition figure they set and pay for clicks. In a nutshell, TikTok will target ads to those people most likely to convert, per the deck. Neither buying method is advanced in nature, as evidenced by how Snapchat's efforts are increasingly on the average revenue-per-user metric and what that means for advertisers.
TikTok did not respond to a request for comment by press time.
The deck goes on to show several ways advertisers can target TikTok users, including by age, smartphone operating system, location, interest and age. Advertisers can keep track of how their targeted campaigns perform using TikTok's pixel, which was first tested by some buyers in the summer. While the tool should help attract those advertisers interested in instant results like a site visit, most companies already on the app like the Chicago Bulls view the app as a brand-building channel, not a performance one.
Nevertheless, third-party measurement is set to help advertisers independently verify how well their ads meet specific campaign goals. TikTok's pitch deck highlights case studies from Vans, Burberry and Armani Exchange.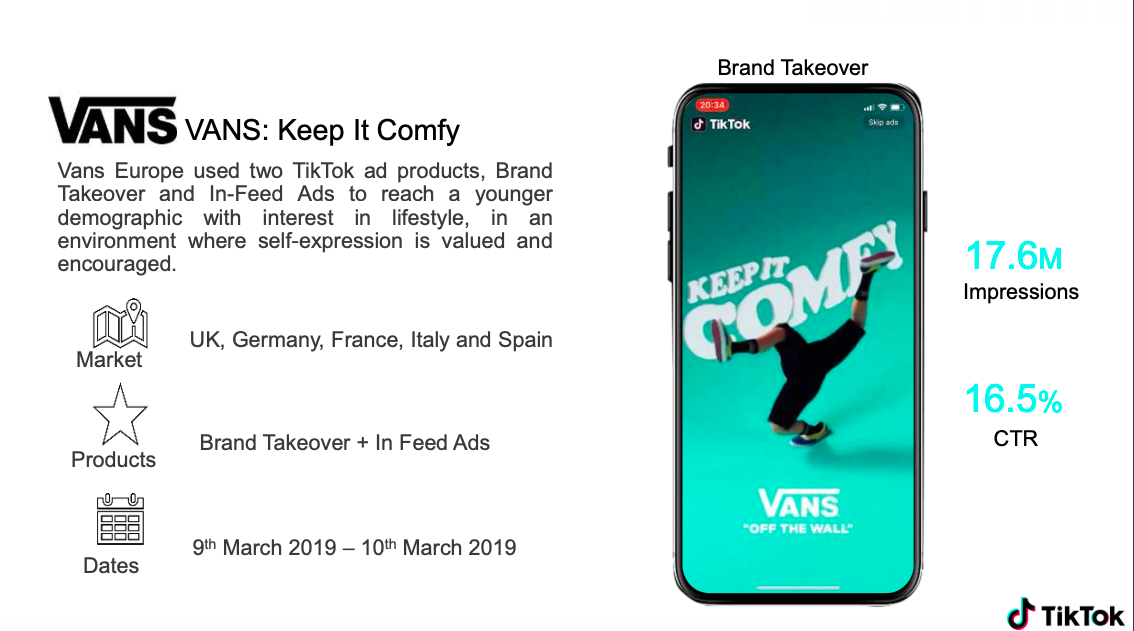 Currently, TikTok is working with several ad verification firms including Appsflyer, Doubleclick, Flashtalking and Singular, per the deck.
The inclusion of self-serve auctions in the pitch is reflective of how much TikTok's attempts to woo buyers have changed since the first half of the year when the focus was on the size of its audience and how engaged they were. Both those aspects are still highlighted in the deck, though there's a greater focus on the broader offering such as in-feed native video, in-feed video and branded effects, and how all of them can be measured, per the deck.
TikTok's pitch also prioritizes hashtag challenges.
"From an advertiser perspective, the ad formats which are demonstrably brand-safe are of most interest, for example, 'Brand Takeover'," said Paul Kasamias, managing partner at Starcom. "This is particularly true of the larger brands to whom brand safety is paramount."
The app is in the early phases of working with Integral Ad Science to help advertisers improve brand safety on the app, according to one media buyer on the condition of anonymity. The partnership feeds into TikTok's wider plan to position itself as a safe platform for users and subsequently advertisers. Last month, for example, it ran a series of videos that featured some of its most popular influencers such as Steven Mckell in the U.K. and Chany Dakota in Germany to raise awareness for several in-app safety features including the ability to block certain users.
"Brands are definitely interested in TikTok," said Lucy Loveridge, global head of talent at Gleam Futures. "The challenge for them, beyond the commercial opportunity that the platform itself offers to brands, is how to create brilliant branded creative within the formats that TikTok allows."
Across TikTok's key markets in Europe, it reported around 21.8 million monthly active users who opened up the app up to 11 times a day in, according to numbers from June cited in the deck. In comparison, TikTok said it had 26.5 million monthly active users in the U.S. at the start of 2019. It shows how quick the take-up of the app has been outside of the U.S. in Europe where the business has spent the last year growing its London-based team. And yet advertisers are still wrestling with how TikTok fits into their media strategy alongside social networks with similar pitches like Instagram and Snapchat. Some are more focused on publishing organic content on the app than actually buying ads, for example.
A TikTok spokeswoman said: "Brands see TikTok as an exciting way to reach and engage with a broader audience in a meaningful way and so far we have worked with brands across a variety of industries including retail, sports, e-commerce and many more. We believe that this plays testament to our uniquely-placed platform, one that encourages fun, creativity, fosters a strong sense of community that brings joy to people. We are testing our ad formats, building our ad solution and working with recognised industry players in terms of developing measurement is something we're committed to deliver for our clients."
To recruit more advertisers, TikTok execs are doing more to explain what distinguishes the app's features from its rivals.
https://digiday.com/?p=351601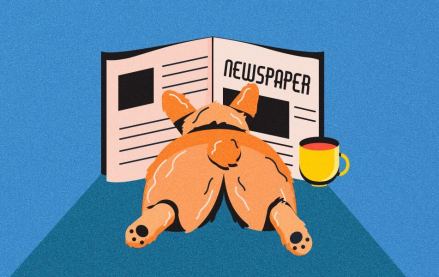 November 30, 2023 • 4 min read
Digiday+ Research found that publishers' programmatic ad revenue didn't quite live up to expectations this year, but they still see it as a growth area.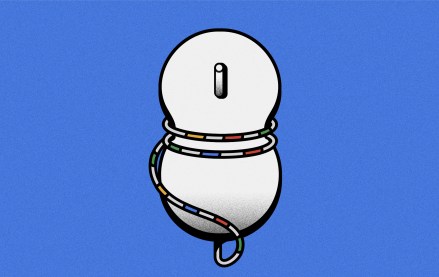 November 30, 2023 • 13 min read
For a couple of publishers, referrals from Google are down upwards of 60%.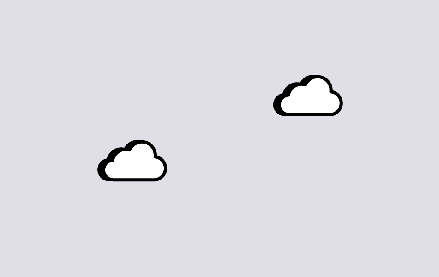 November 29, 2023 • 6 min read
Reducing carbon emissions from the digital ad ecosystem is an important priority, but various players are skeptical that much can — and is — being done to practice sustainability.