Pitch deck: How Snapchat is pitching its ad offering to European agencies
October 30, 2019 • 6 min read
•
•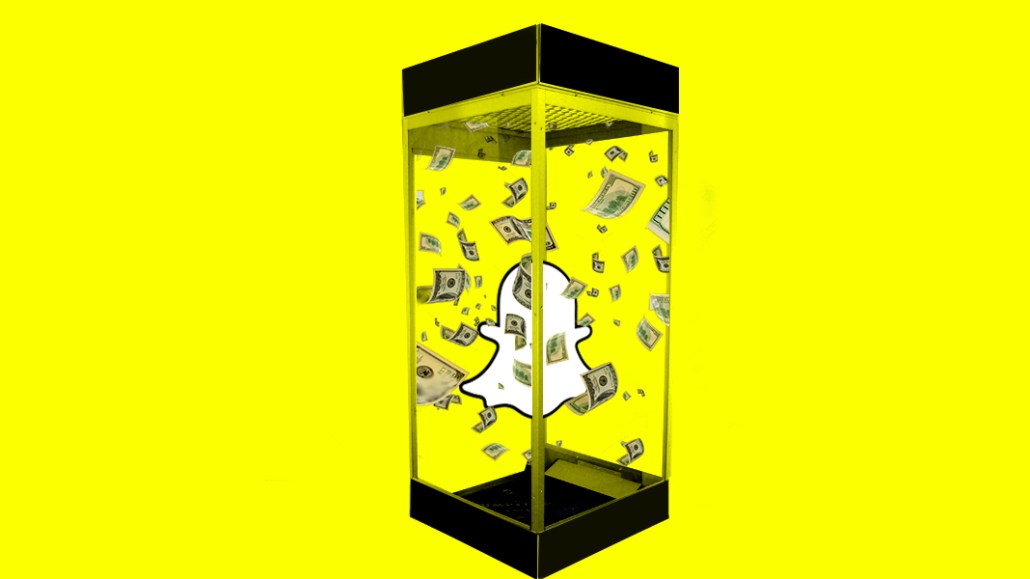 As Snapchat gains more market share in video advertising, it's tweaking its pitch to not only cover social media buyers but also TV and video buyers. But the platform is often relegated to a paid-social bucket by advertisers, which has stymied its previous attempts to go after larger budgets.
Compared to earlier efforts, Snapchat is giving buyers a clearer view of how all its ads work together. Last year, the focus was primarily on getting advertisers to create content for the 10-second ads on the app. Now, advertisers are being asked to create campaigns using more formats. When Snapchat now pitches to buyers, there's a clearer narrative around the interplay between all those formats as it banks on the positive multiplier effect on users who have seen or interacted with more than one format, per a pitch deck a U.K.-based media agency shared with Digiday.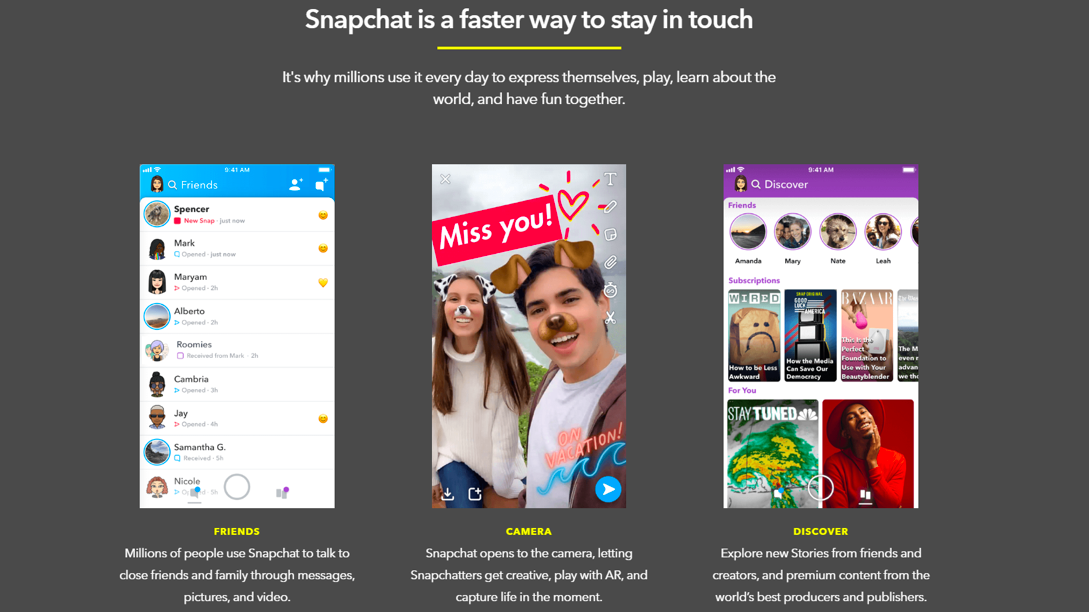 According to the deck, the amount of time people spend in the app is a big selling point, while their age doesn't appear to be as crucial to the pitch as it has been in the past.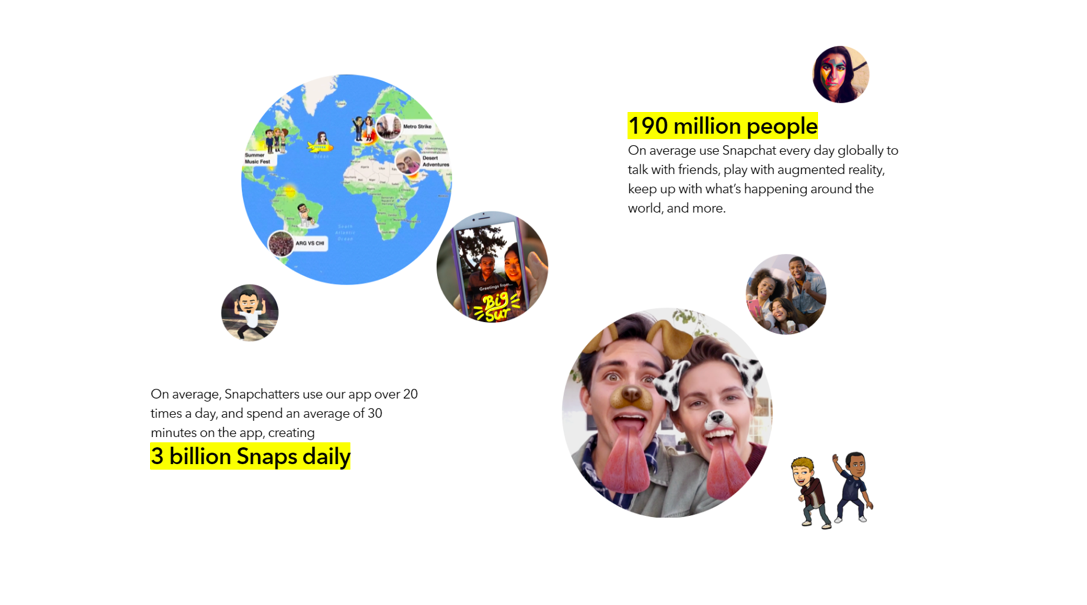 Dwell time long equates to a lot of potential ad revenue for Snapchat — an opportunity CEO Evan Spiegel alluded to on Snap's latest earnings call last week.
First up in the pitch deck is Snap Ads, which are arguably the most popular ad format among advertisers. These are mobile video ads that can let users swipe to visit a site, an app, an app store page or a lens. The mobile video ads are cost-effective for advertisers who tend to use the same creative they do for their sponsored Instagram Stories, said Paul Kasamias, managing partner at Starcom. Furthermore, the ads can be optimized against reach, clicks and sales. The format's versatility makes it easier to include on media plans ahead of lenses and filters, which have a longer turnaround and require more creative work, said Kasamias.
Those strengths have been reinforced by Snapchat's move to extend the maximum length of the format from 10 seconds to up to three minutes. There's more opportunity now to port over longer videos used on other platforms like YouTube. This in itself may not be something that drives a considerable amount of revenue, but it does signal that Snapchat is listening to the market and is flexible with its product, which is something that other platforms lack, said Phillip Huynh, national paid social strategy lead at 360i.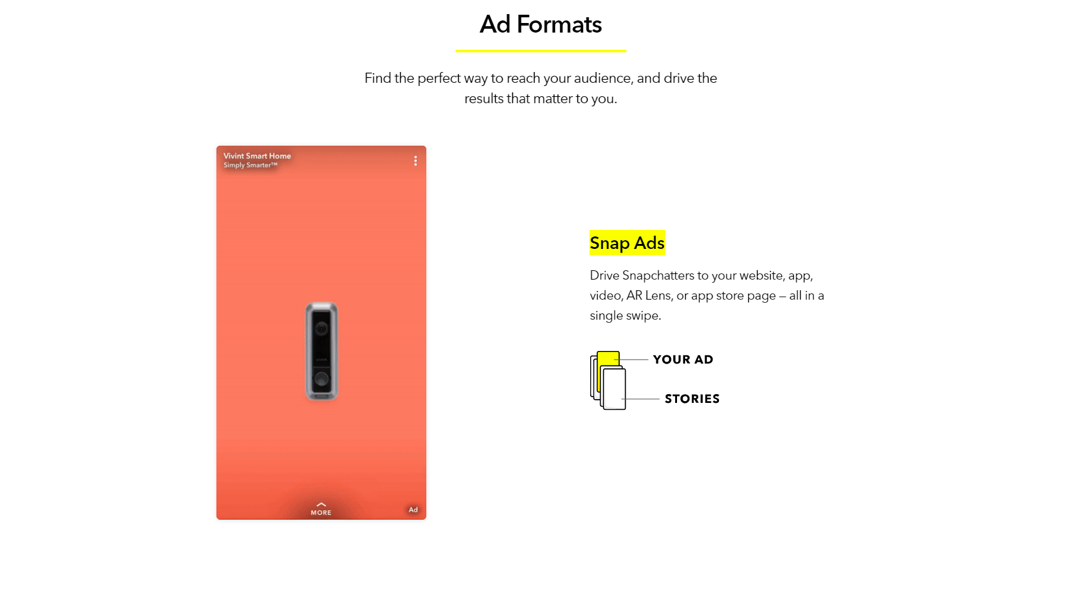 Commercials, the unskippable versions of Snap Ads, are also pivotal to Snapchat's emergence as a place for video budgets. The deck focuses on how the ads appear within premium content on the app, which makes the format seem more like a TV buy.
"The brands we work with on this love Commercials because they can guarantee viewability with pretty strong completion rates," said Timothy Armoo, CEO of influencer platform Fanbytes.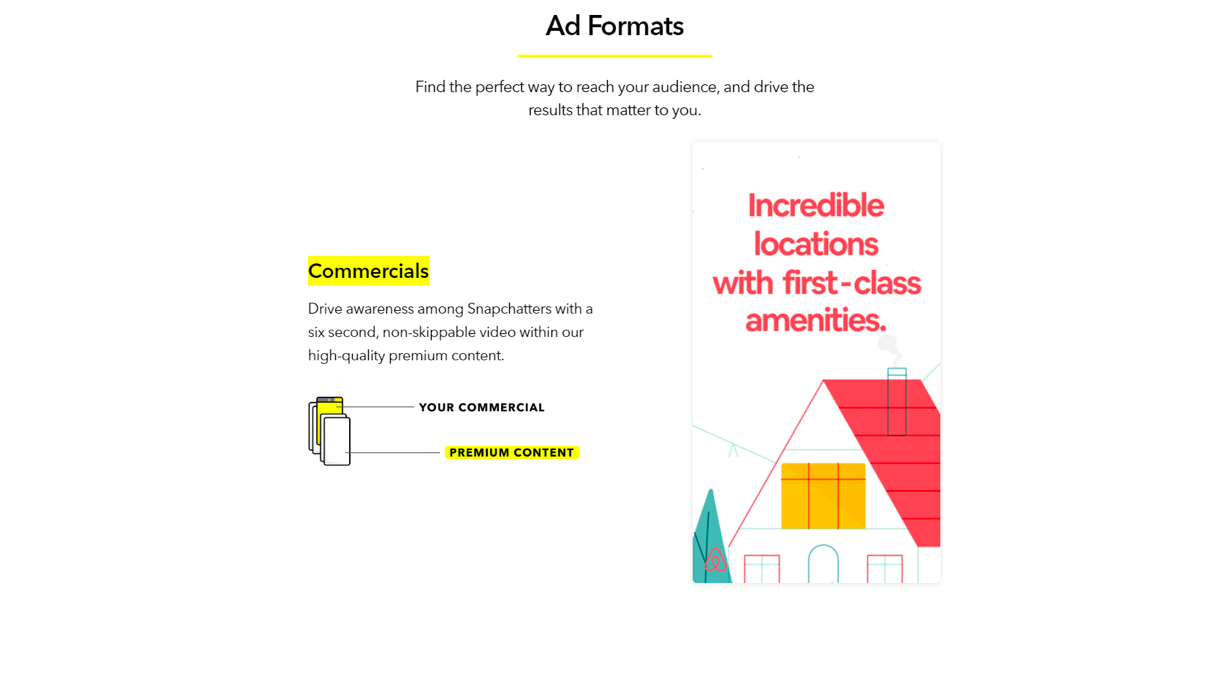 The deck was created prior to the format's update last month that lets users swipe up to a site, long-form video or smartphone camera, and is focused on how it can drive awareness for advertisers. But advertisers are excited about the changes to Snap Commercials, said Huynh. Looking specifically at the direct-response element, it's becoming easier on certain platforms to connect the dots between what people are watching and what they're buying, he added.
The CPMs for Commercials are not that much higher than those for Snap Ads, said Kasamias. The quality of the view has been much higher, however, due to people being more likely to watch the format for longer versus the rapid click-throughs on Snap Ads. User behavior when watching Commercials is more relaxed as people are consuming publisher content, so the slightly higher CPM is driving quality views, said Kasamias.
Other formats on the deck include Snapchat's AR [augmented reality] Lenses, camera Filters, Story ads and the made-for-commerce Collective ads. Snapchat stresses how each format can act as a direct-response ad, which can help advertisers achieve instant results such as a site visit, an app download or a sale. While video budgets are a big focus for Snapchat, so are direct-response budgets as the app looks to reach a much broader audience of advertisers. Clients at Starcom are seeing improved performance on conversion campaigns such as app downloads, said Kasamias. Due to the "very efficient CPMs," the performance can be balanced with lower conversion rates, he said.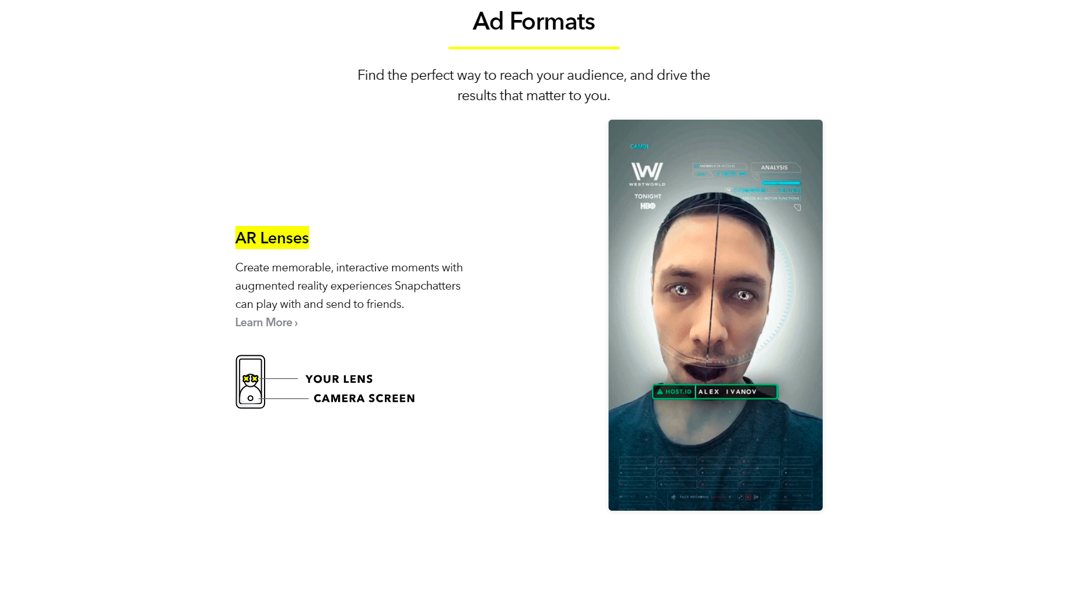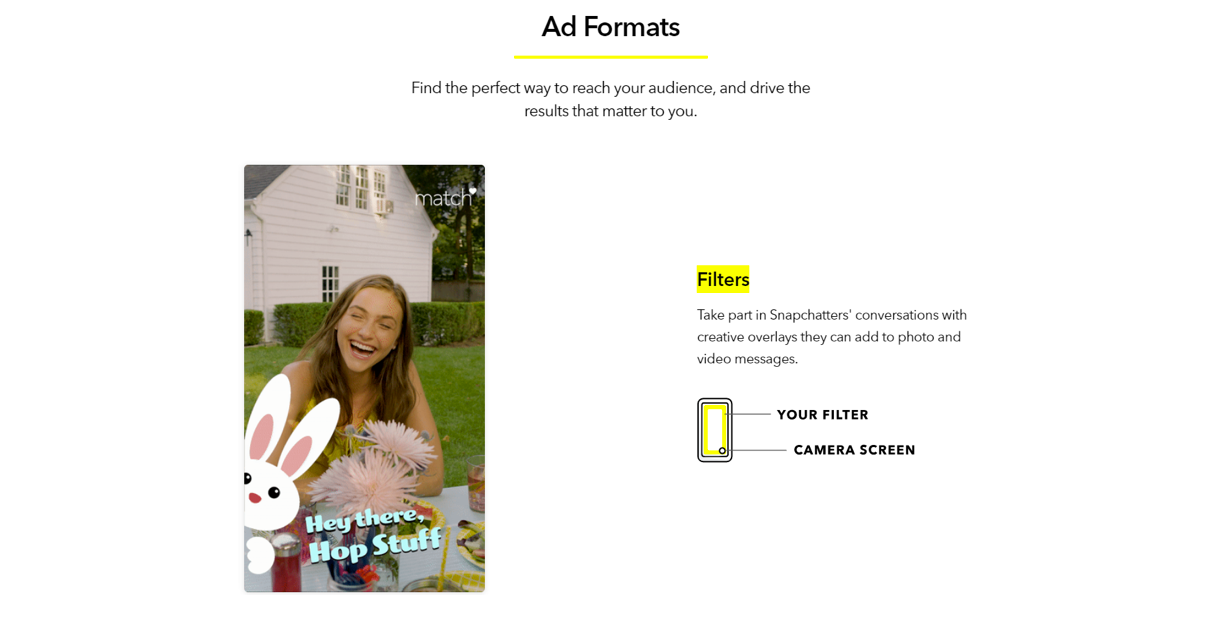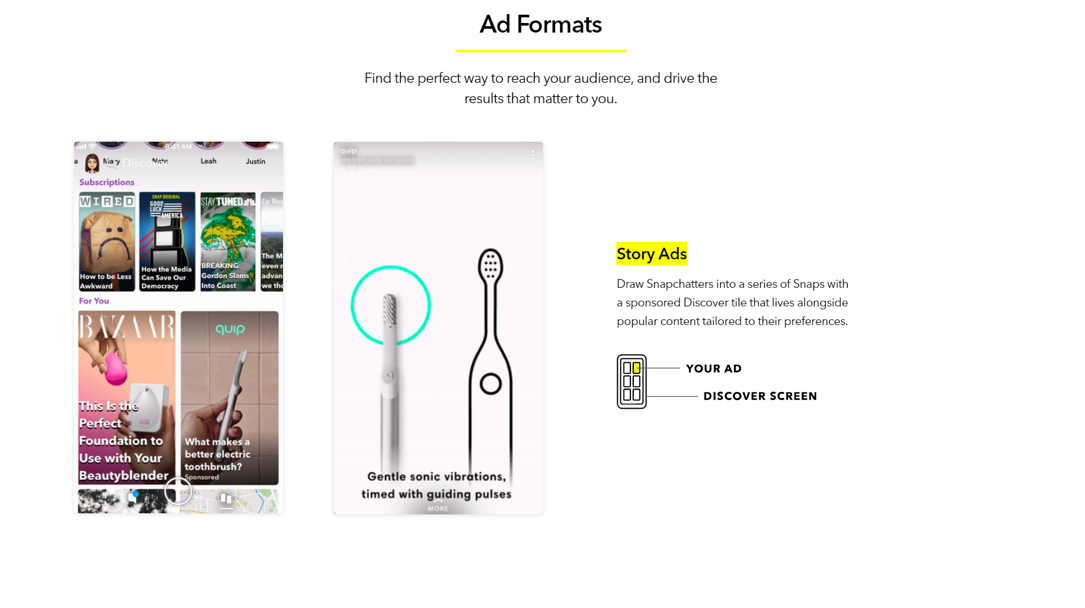 Snapchat's messaging to the market has changed accordingly as it attracts more direct-response advertisers.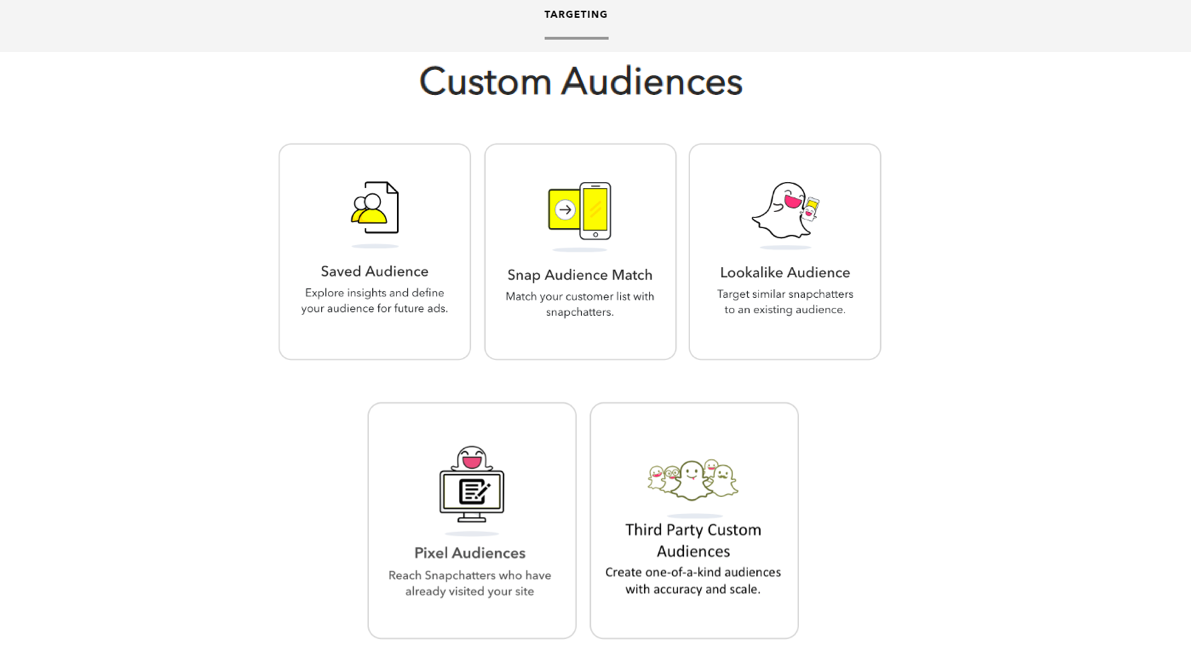 Last year, there was a push for more brand-building budgets, but with so many competitors in the space, Snapchat's messaging later changed to having full-screen visibility on ads coupled with pretty good CPMs and CTR, said Armoo. "When you consider that even their lenses product — typically seen as a brand awareness tool — can now be coupled with direct-response tools, it's indicative of where they want to go as a company."
https://digiday.com/?p=350999
October 2, 2023 • 1 min read
•
•
The publishers who attended DPS were focused on the potential upsides of applying the technology to their operations while guarding against the downsides.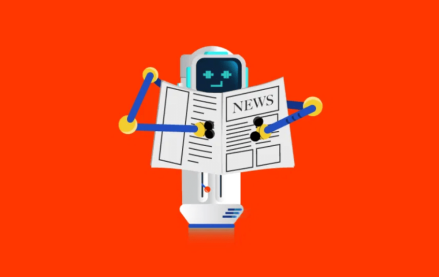 October 2, 2023 • 4 min read
•
•
Now that ChatGPT users can surf the internet for information, some publishers are reconsidering the weight of the issue.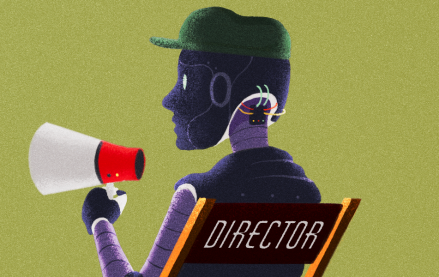 October 2, 2023 • 5 min read
•
•
As Meta makes celebrity-like chatbots, ChatGPT learned to "hear," "see" and "speak" while Spotify is piloting AI-translated podcasts.