The NY Times' NewFronts pitch: Quality and discoverability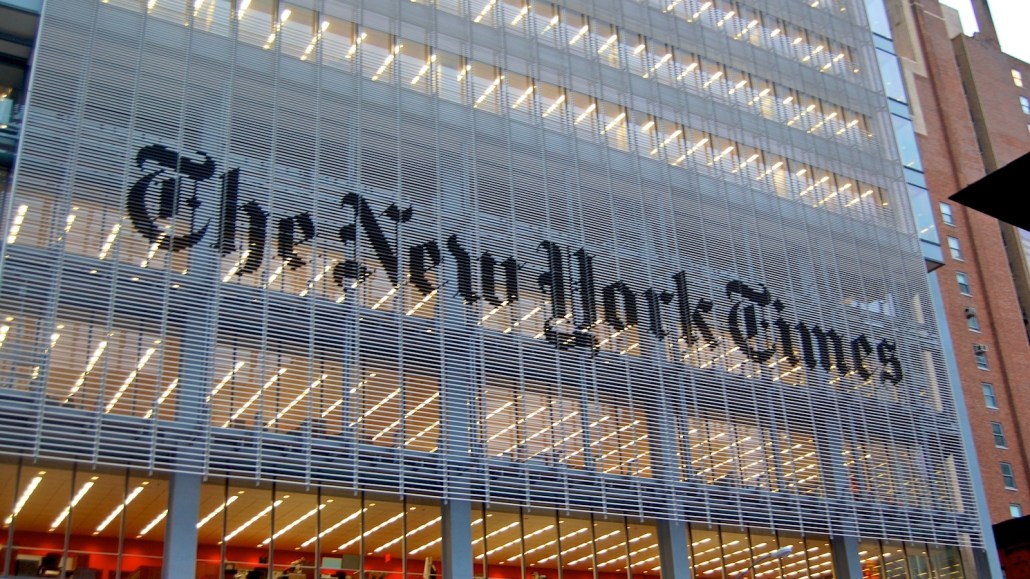 Didn't get up early enough Monday to make it to The New York Times' NewFronts presentation to buyers? We've got you covered with the Digiday NewFronts Cheatsheet.
What they're pitching
The New York Times introduced a new hub with 14 channels that cover the range of Times editorial, from news and politics and business to culture and style. The content includes new, original programming based on existing Times features like Modern Love, 36 Hours and Vows, and features journalists with strong followings like David Carr and Mark Bittman. Surprisingly funny was Verbatim, a new offbeat series in which comedians read actual court transcripts aloud. The Times also is partnering with Vimeo to create branded video content.
Prospects for success
The Times is using conventional channels to promote its content outside nytimes.com, including YouTube, Yahoo and Grab Media and, of course, its Facebook and Twitter feeds. But the Times, being the Times, is focusing first on quality video and with it, quality audiences, so the core of The Times' promotional efforts is its own hub. The Times is betting that making its online video easier to discover and sift through will drive more views by its existing (and coveted) audience, whether they're accessing the site via desktop, mobile or tablet. For advertisers, the Times introduced "branded video playlists," where marketers can place their own, native-style videos in a given channel. Sotheby's International Realty is the first to use the format.
The scene
Long waits outside in the chilly morning and standing-room only drew some grumbles from attendees, but they warmed up when Times brought out some of its best-known journalists doing video, including the self-effacing Carr, who alluded to his personal style as "a garbage bag with a pair of legs."
Notable quote
"We want to build scale, but quality always comes first." — Times CEO Mark Thompson.
Buyer's take
Eden Gorcey, vp and managing director for Microsoft's portfolio at Starcom MediaVest Group, found the Times' content "refreshing. They are being very cognizant of challenging banner blindness with creating more meaningful ways to engage their consumers."