In the new issue of Digiday magazine, 'game over' for Facebook and media
March 7, 2018 • 3 min read
•
•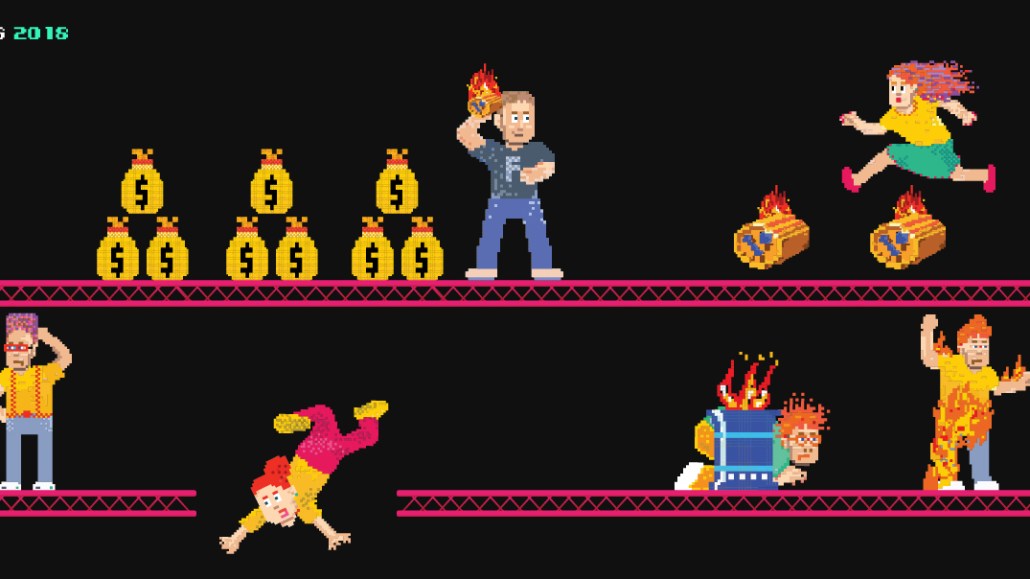 The media world, seemingly perpetually in flux, is in the midst of what appears a more significant period of upheaval, with tech giants sucking up the majority of ad dollars, digital advertising plagued by a lack of transparency and controversial content, companies taking a hard look at their role when it comes to workplace fairness and cultural impact, and the need to stake out a global claim taking on new urgency.
For our cover of the new issue of Digiday magazine, we turned to early video games and Donkey Kong. We wanted to show, in a tongue in cheek way, the current mood of publishers as Facebook continues to shift its often awkward and overbearing relationship with media. We carried the theme throughout the issue: Look for tributes to Frogger, Qbert, Pac-Man and Punch-Out, among other classics.
Of course, fixing massive industries isn't as simple as hitting a button and starting the game over. But as we show in our ninth issue, media and marketing are in ways large and starting anew from an era where scale trumped loyalty, reach obscured impact and the short term dominated the long term. We see the media and marketing world becoming less reliant on Facebook, more transparent, increasingly globalized, and belatedly more inclusive and representative. These themes run throughout the issue, with a "Master Mechanics" section highlighting those in the trenches mastering the tactical expertise that will define what comes next.
In media, our focus is on how publishers are attempting to cobble together a sustainable, independent future, free, as much as possible, from the whims of the duopoly. As the recent demise of LittleThings shows, very little in digital media has proved lasting. One day, LittleThings was boasting how it shot to 50 million users; months later, it was winding down operations. Nothing speaks to this more than Jonah Peretti, once Facebook's biggest booster, pleading publicly for more money for publishers from the sprawling platform. Peretti and other media executives are finding their voices in vocally opposing platforms like Facebook, a turnabout from their recent acquiescence to the whims of Facebook. (See video, pivot to.) Joanna Coles, head of content at Hearst Magazines, takes the long view, telling us the recent travails of fake news only prove the necessity and power of editing.
We also profile the unsung heroes of the modernization of the media, from the newsletter editor to the subscription czar to the head of data protection.
But for change to happen, it must follow the money, and in media, that means the marketers. Shareen Pathak spent time with Norman de Greve of CVS Health, who is at the forefront of the trend of chief marketer as politician, intent on making purpose-driven marketing not just a gimmick. Change will also come externally, as detailed in the shadowy pressure groups springing up to force marketers to clean up their acts. For agencies, change is always afoot, with the current disruptors coming in the guise of the big consulting firms.
For our part, at Digiday, we're embracing change by building out our premium membership program, Digiday+, which includes exclusive benefits like this magazine, research, Slack town halls and live events. If you're a member, the digital version of your magazine will arrive via email later today. We will be publishing the digital version of articles throughout the next two weeks. If you're not a Digiday+ member, please consider joining. It's $395 a year — and if you don't like it after the first 30 days, you'll get a full refund. If you join before Friday, we'll send you a print copy of the 68-page issue of Digiday magazine.
https://digiday.com/?p=278455
October 2, 2023 • 1 min read
•
•
The publishers who attended DPS were focused on the potential upsides of applying the technology to their operations while guarding against the downsides.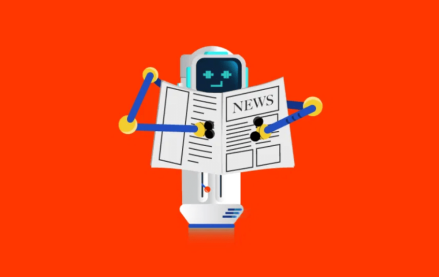 October 2, 2023 • 4 min read
•
•
Now that ChatGPT users can surf the internet for information, some publishers are reconsidering the weight of the issue.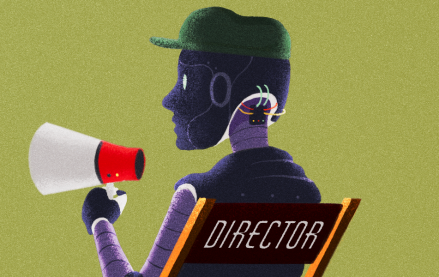 October 2, 2023 • 5 min read
•
•
As Meta makes celebrity-like chatbots, ChatGPT learned to "hear," "see" and "speak" while Spotify is piloting AI-translated podcasts.