It goes without saying that those pesky millennials have different expectations of work. Companies have had to adjust to attract and retain young people who are known for job-hopping. For the new batch of digital publications, that means rethinking timeworn newsroom practices.
The result is everything from increased operational transparency to job flexibility and cross-department collaboration. Here's how several newsrooms are catering to the newest generation of Woodwards and Bernsteins.
Training
One feature of digital publications is that they give young people a chance to learn on the job and gain responsibility early on. But lack of experience can be a drawback. So some newsrooms have focused on training (which also plays well to the idea that continuing development is more important to Gen Y than raises, according to a survey).
At Daily Dot, where the average employee is 31, peer-led teaching is a hallmark of the organization's regular department meetings, said Nicholas White, editor in chief and CEO. At NowThis, where all of editor Sarah Frank's staff is 30 or younger, there are companywide and newsroom-specific sessions on topics like reporting how-tos and ethics, often in an interactive format.
"It's much more learn-by-doing, and millennials respond more heavily to consistent feedback," said Frank.
Collaborative spaces
The youngest part of the workforce is well-known for its love of collaboration. At Bustle, the vast majority of its full-time newsroom staff is under 34. To cater to its young staff, Bustle has assigned seats, but there are lots of lounge areas and open spaces for people to work in.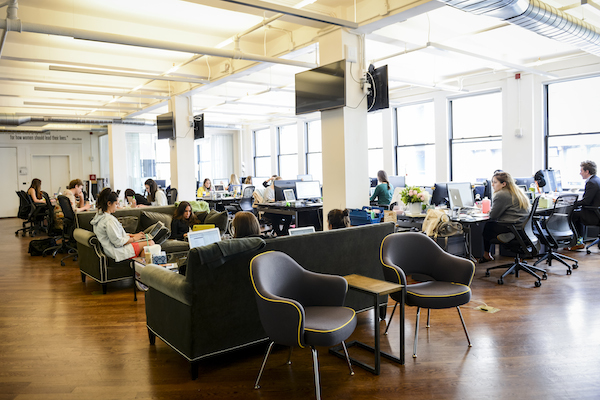 Flexibility
Flexible work arrangements are important to millennials, and policies have adjusted to reflect that. About 20 percent of Vox Media's full-time employees work remotely, while Business Insider has an unlimited vacation policy, which recognizes that while young people are willing to work at odd hours, they want freedom and independence in exchange.
Refinery29's newsroom is organized around traditional beats, but to keep its mostly millennial staff motivated, it encourages them to pursue stories outside their beat if they're passionate about them. That openness has led to a story by an entertainment reporter on a Tennessee woman freed from death row and a beauty reporter co-producing a story on albino children being hunted in Tanzania.
Neha Gandhi, Refinery's vp of editorial strategy, said while informal, the cross-pollination is encouraged by department heads who discuss stories they're working on during thrice-weekly meetings. "If someone in the food vertical has a passion for entertainment, we're always willing to let people take a shot," she said. "One of the things we often say about this generation is that they don't want to be put in boxes."
Constant feedback
The days of the annual review are coming to a close. More offices are moving to much more regular feedback, in part out of a desire of younger staff to know where they stand. At millennial news site Mic, for example, Gen Y staffers don't want to wait a whole year for feedback, so they have goal-setting every three months, where they get a new project along with new goals and rewards. Similarly, Business Insider has quarterly reviews (and bonuses) in addition to annual ones, and the best stories each month are publicly called out and rewarded with a $50 bonus, president and COO Julie Hansen said. These policies speak to Gen Y's need for frequent feedback, but as Hansen pointed out, the benefit wasn't limited to the employees.
"It started out in part in response to the millennial urge for frequent recognition," she said, "and as a startup, we needed to pay attention to what we were doing."
Image courtesy of Bustle.
https://digiday.com/?p=160888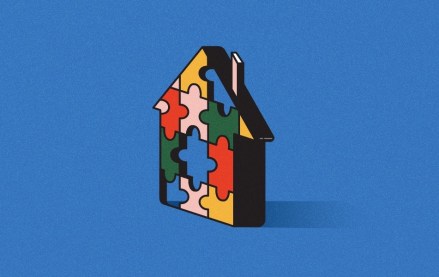 September 22, 2023 • 4 min read
Apartment Therapy's president Riva Syrop took the stage at the Digiday Publishing Summit to discuss the convergence of commerce and sponsorship revenue within its Small/Cool event.
September 22, 2023 • 4 min read
Media execs took stage at the Digiday Publishing Summit to discuss the growing importance of ROI in ad campaigns this year.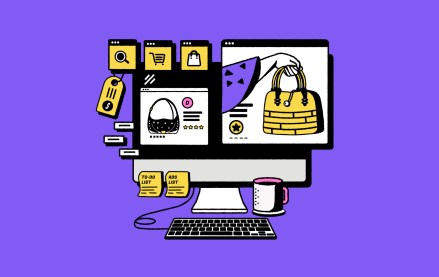 September 22, 2023 • 4 min read
CEO Satya Nadella said AI assistants will be as ubiquitous as PCs and will help users navigate across apps, operating systems and devices.