Study: More than half of all ad blocker users would disable them to read content
March 1, 2016 • 2 min read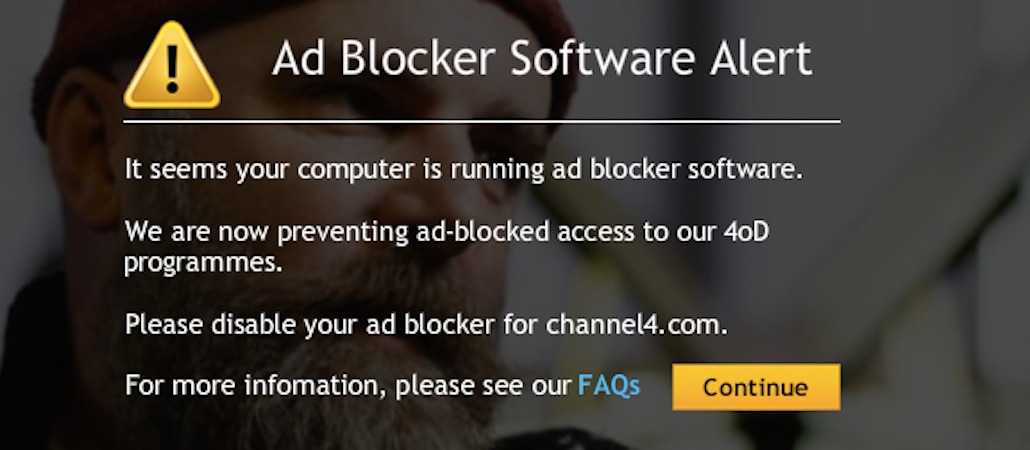 The latest IAB/YouGov study on the state of ad blocking in the U.K. contains more bad news for publishers — and a few glimmers of hope. While it finds that the number of people using ad blockers has increased to 22 percent, it also shows that over half of users are likely to disable blockers in exchange for content.
The IAB, which has a vested interest in supporting an ad-funded Internet, found the use in ad blockers has increased by 4 points since October, in a sample of 2,000 U.K. adults.
Ad blockers are still most popular with the 18-24 year old age bracket, with 47 percent of respondents in this demographic using them.
"That will soon be the majority," warns Martin Ashplant, digital director at the Metro. "It adds to the sense that the rate of ad blocking is only going to grow if nothing is done to address the issue."
Even so, Ashplant, formerly digital director at City A.M. during the time that the publisher's ad blocking trials took place, said it's "heartening" to see that 54 percent of those who have seen publishers' responses to them using ad blockers would consider turning them off if they felt this was the only way to access content. Publishers like Axel Springer, GQ and Forbes have been preventing people running ad blockers from seeing their content until they disable the ad blockers.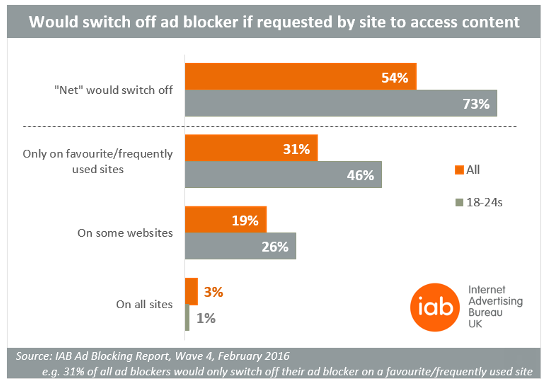 "This chimes with what we saw at City A.M., where those users who valued the content did indeed turn off their ad blockers — and went on to consume far more than the average number of pages per user," added Ashplant.
Publishers who produce more mainstream (and less differentiated) content will have a harder time persuading readers to disable ad blockers, said Ashplant.
Piers North, strategy director at Trinity Mirror, said the study suggests readers have a strong understanding of the role advertising plays. "There's a value exchange with any publisher that is putting its content up online. That doesn't come for free, and I think consumers are starting to appreciate that perhaps more than they used to, by accepting in return for such content they will need to give us the opportunity to serve them ads."
Ultimately, it's up to the publishers to keep educating their readers, according to John Barnes, managing director of Incisive Media and former AOP chairman. How they do it is up to them. For example, Barnes points out that those who use ad blockers don't know that the blocking companies profit from publishers paying to have their sites whitelisted.
"Users don't know that ad blockers are making money out of them," he said. "That's disingenuous. If all publishers pay to be whitelisted then users would start complaining to the blocking companies for letting in all the ads. We could play them at their own game."
https://digiday.com/?p=164442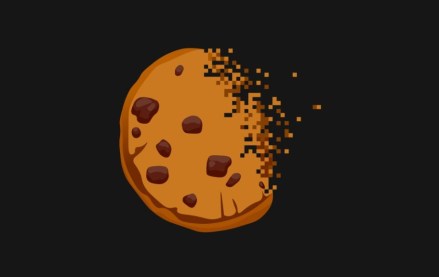 September 25, 2023 • 1 min read
During the Digiday Publishing Summit, execs from companies including Condé Nast, Dotdash Meredith and Thomson Reuters assessed the industry's readiness.
September 25, 2023 • 5 min read
Publishing executives shared their honest and unfettered opinions on the rise of generative artificial intelligence technology and its impact on traffic, IP protections, content production and jobs at the Digiday Publishing Summit last week.
September 25, 2023 • 5 min read
Here is A sampling of other AI-related news from last week.