Apple's new iPhones could supercharge mobile video consumption.
The iPhone 6 and its husky cousin, the iPhone 6 Plus, boast substantially larger screen sizes than earlier Apple phones. The iPhone 6 packs a 4.7-inch display, and the iPhone 6 Plus includes an even bigger 5.5-inch screen with a super-sharp 1080p resolution. Well-produced video on both devices is going to look great — and the data suggests Apple fans who snap up these bigger iPhones will watch a lot more of it.
Mobile video consumption has surged over the last few years. A June 2014 report from video technology specialist Ooyala measured a 532 percent year-over-year increase in mobile video viewership since 2012. Apple's phones and tablets play an outsize role in that swift rise: Despite Android device shipments topping iOS more than four-to-one, Apple gadgets accounted for 64 percent of mobile video views worldwide in the first quarter of 2014, according to the report.
That figure is likely to rise as consumers get their hands on bigger iPhones. A February 2012 study from comScore correlated larger device screens with increased content consumption. NPD Group's data from November 2013 supports that finding, measuring nearly 20 percent greater video consumption on phones with screens larger than 4.5 inches than on phones with smaller displays.
"I'd definitely expect the new iPhones to drive more video consumption, as watching video on the 4.7″ and 5.5″ screens is going to be a much better experience than on the existing phones," Jan Dawson, chief analyst at Jackdaw Research, told Digiday.
Spiffier video is not just the byproduct of larger iPhones but a driving factor behind their development, suggests a recent survey conducted by Jana Research. Across nine countries, the vast majority of respondents indicated they use apps to watch video content, indicating substantial demand for high-quality smartphone video.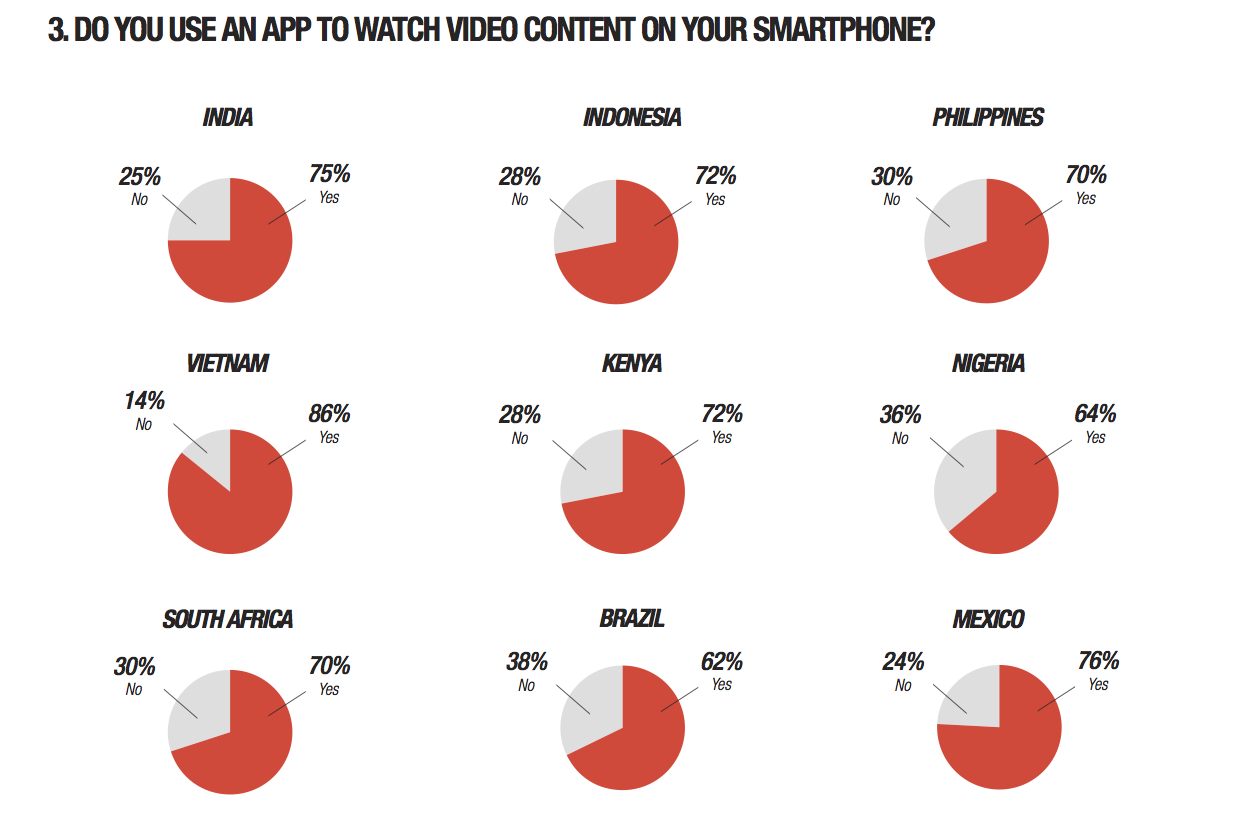 This surge toward mobile video is prompting video makers and aggregators to embrace more mobile-friendly content strategies. Most content on Netflix is 22 minutes or longer, but the video-streaming giant announced plans last week to slice up its videos into shorter clips to cater to their mobile users.
"I'd expect we'll see more of this sort of thing as more Apple customers get bigger smartphones and start hunting for mobile-friendly content," said Dawson, referring to Netflix's mobile strategy.
Video makers from Sports Illustrated to AOL have embraced brief, short-form video in large part because that's what appeals to the mobile audience, whose average viewing sessions are shorter than folks sitting in front of a desktop or television.
"Content-wise, we absolutely do think about the digestibility of our shows on small screens versus larger screens," said Nate Hayden, AOL's vp of originals and branded entertainment. "The tendency is to want more snackable content on a smaller screen."
But not everyone is slimming down their content for mobile. As screen sizes grow, some Web publishers are actually considering lengthier videos to match. That's the case over at video publisher Defy Media, which owns popular Web properties like Smosh and Break.
"Our mobile and connected devices strategy is central to our product roadmap, and the idea that a new iPhone is coming hasn't exactly been a secret, so we've been building with these devices in mind," said Keith Richman, president of Defy Media. "With larger and higher-resolution devices becoming more common, it increases the appetite for diversified content, including longer and higher-resolution content, so we'll be incorporating that in the coming months."
https://digiday.com/?p=87653