The Financial Times has come up with an ingenious way to recruit its next batch of developer interns: The publisher is hiding the application form in the HTML code its new site.
Toggle to the original source code from the FT's homepage and the application can be found underneath the recognizable FT letters written out in dummy code. It reads: "Graduate? Hello! You've been inquisitive enough to find a link to our graduate scheme application," with a link to the application form for the FT's Technology Graduate Application 2017.
"Putting a job ad in the HTML comments tags means it'll only be found by people curious enough to look at the site's source code," said Andrew Girdwood, head of media technology at agency Cello Signal. "Anyone can do that but people rarely do."
This isn't the first time newspapers have used the tactic. Girdwood cites the Daily Mail in 2010, which put a job advert for a search engine optimization manager in their robots.txt file. "That's an obscure location where only other SEOs and search engines tend to look."
The FT's application is an example of a publisher easter egg, something hidden but meant to be found, albeit designed for recruitment. Condé Nast's snuck dinosaur pop-ups onto its sites for Vogue, Wired and GQ that would materialize when readers typed the Konami Code on their sites.
The only reason more publishers don't play with them, theorized Girdwood, is due to "the usual silos between developers and everyone else in the organization, and making the business case for it."
Update: Since writing this article the FT has responded to say that it accepts two applicants each year for the technology graduate program, which started in 2015, and for the 2016 intake, a third of those who applied did so via the post hidden in the source code of the new ft.com homepage.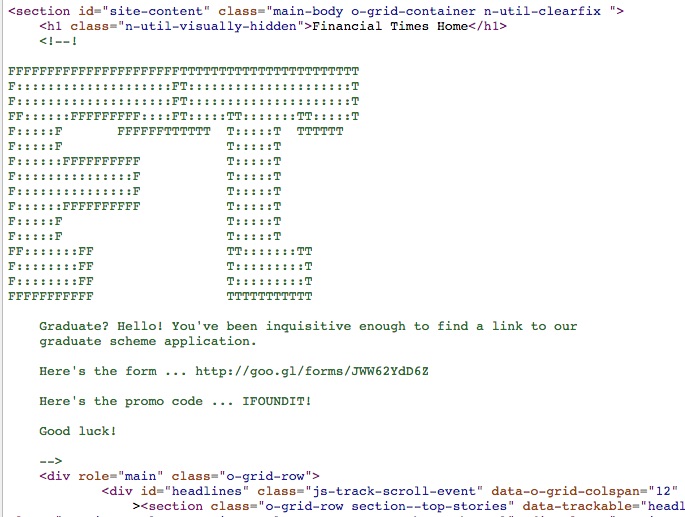 Image courtesy of Steven Johnson/Flickr.
https://digiday.com/?p=202124