The Financial Times' unconventional approach to video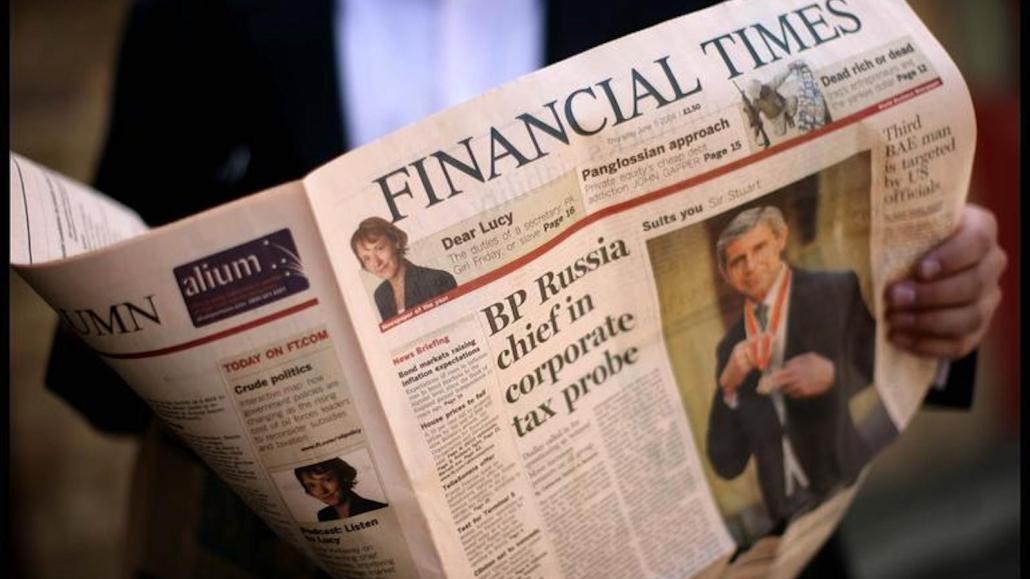 Publishers all over are clamoring to produce more online video these days, and The Financial Times is no exception. But while others have been enamored lately with the 15-second format in pursuit of the Instagram audience and Twitterati, the FT is content to experiment with a range of video lengths, which can run from reporters' one-minute field dispatches to eight-minute conversations with newsmakers.
"I think the jury's out in terms of what the optimum length of video is on different devices," said Veronica Kan-Dapaah, the FT's head of video. "I think form has got to follow content."
Kan-Dapaah is leading the business publisher's plan to expand its U.S-based video production, aided by a new video studio that's opening at the paper's New York headquarters May 19. In the first quarter of 2014, the FT produced about 152 videos per month. She'd like to get that up to 200, through more coverage of topics like U.S. markets, politics, Silicon Valley and technology reviews, using existing video staff of 14 and the FT's journalists, who are increasingly trained to shoot and edit their own dispatches.
Most of the FT's content stands firmly behind its online paywall, making it an exception to the rule of scale that dictates online publishing. The paywall contributes to a consumer subscription strategy that, enviably, generates more than half the paper's overall revenue.
And yet, as with other publishers behind paywalls, the FT makes an exception with its video. The Wall Street Journal's WSJ Live is free to view, as is The New Yorker's. The New York Times took down the paywall from its video in 2013. In so doing, the publishers can reach the broader audiences sought by online video advertisers. There comes with it the risk of leaving subscriber money on the table. But ad rates are so much higher for online video than for display ads, and high-quality video inventory's scarcity makes it in high demand, so the ad revenue payoff may be too great for publishers to overlook.
FT video shows up in a variety of places. In addition to YouTube, it's on its social feeds, Flipboard and connected TVs. Making video freely available aligns with the FT's strategy of having its content available on all platforms and serves audience-development purposes.
"We see FT video very much as an ambassador for the FT," Kan-Dapaah said. "One of the best things video can do is let someone who's not an FT reader find out they are an FT reader."
With its narrow audience, the FT has a limited number of advertisers to work with in the first place. But putting the video before the paywall will make it more appealing to advertisers and potential subscribers, said Paul Verna, analyst with eMarketer.
"If there's any expectation of viral success, that's going to be easier to realize before the paywall than behind it," he said.
Ad buyers would like bigger scale for online video, but here, the FT may actually have an advantage, according to Eric van den Heuvel, managing director, The Gate Worldwide. "The problem is, the market responds by creating 'crap' supply," he said. "I'd rather buy a small volume of quality than invest in a large pile of crap."
Nor is the FT trolling for traffic for its own sake. As you'd expect, the FT videos are an extension of its global coverage, which doesn't come cheap. Take these recent reports from Myanmar, and the Caribbean in economic distress, for instance. "Were we to go for pure scale, we'd go for video that would cost a lot less to produce," Kan-Dapaah said.
As the FT ramps up its video production, it keeps one eye on the impact of mobile devices on news consumption. Already, nearly half of its overall online traffic comes from mobiles that are more suited to reading (and sharing) short-form content.
Kan-Dapaah said that as the FT collects more data on video viewing, it will look for patterns in consumption by device. But so far, people are equally watching long videos as well as short ones. "I'm not seeing the viewer numbers be determined by the length of the ad," she said. "When the video is compelling, people are willing to give us time."