The Financial Times readies paid posts for advertisers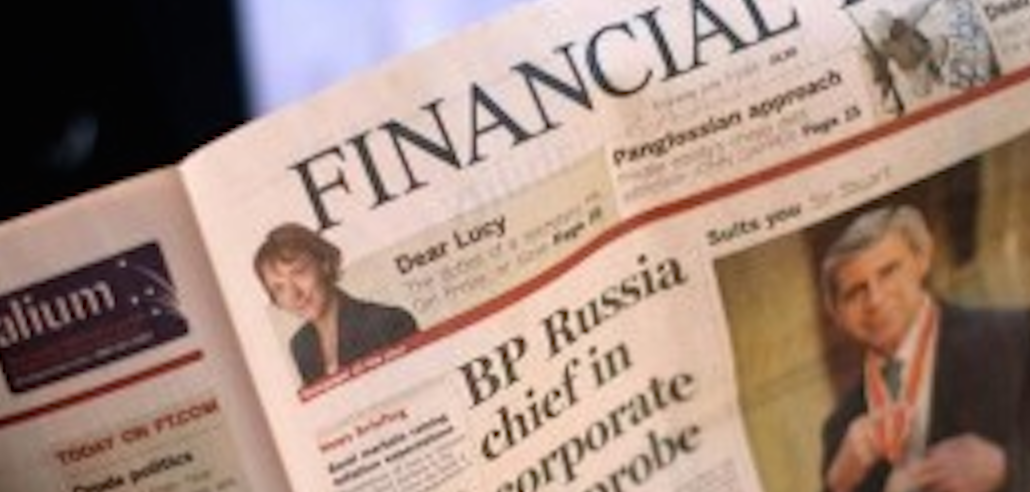 The Financial Times is revamping its approach to branded content, with the aim of giving advertisers more options.
The publisher is uniting its existing content marketing packages and launching a sponsored content offering "paid posts," under a newly branded unit, FT Squared, dedicated to these kinds of advertiser partnerships.
"We're launching Squared and paid posts to show advertisers we're serious about content marketing," said Dominic Good, FT's global advertising sales director. "We're not racing to predict that it will become 30+ percent of our revenues by a certain date, but it's an important step forward."
Brands will be invited to "take a point of view" on topics and write their own paid posts, which will then be served alongside an image in a prime position on the FT home page. Once a reader clicks through the ad labeled "paid post" they will be taken to a branded-content page which can include videos, and other articles and images of that brand's choosing.
Previously advertisers wanting branded content had two main options: sponsored editorial, whereby the FT would determine a topic independently of a brand partner, for them to sponsor; and a longer-term package (typically six months) in which it would promote a brand partner's existing assets such as white papers or videos, using contextual and semantic targeting, across its digital properties.
"We have a hard-to-reach, discreet but deeply engaged audience and so our ad offering has to reflect that and put emphasis on the reader's needs, so it's all about creating quality experiences people want to spend time with," said Good. "Paid Posts speak to what audiences want. We're not a race-to-the-bottom programmatic-type model. Just like our time-based selling (CPH) model it's not built on mass volume of impressions, but a more scarce, premium, engaged audience and so our direction of travel must defend that position."
The FT's commercial team can advise on the direction of content if required, drawing on its data to show where its audience's interests lie. The branded content will also receive on- and offsite promotion, ensuring it gets in front of the audience it is most relevant to. This, along with existing products such Smart Match, a semantic content-matching technology, will now be available to advertisers as part of FT Squared.
The FT plans to work with up to 10 brands, using its existing brand content staff and network of freelancers.
This week the publisher will begin to pitch the product to agencies in London and New York, while also eyeing opportunities in Asia. According to the Good it has 12 "live discussions" underway with prospective clients.
One thing the FT is not calling this: native advertising.
"Native has become a discredited word," Good told Digiday. "We do see a place for brands having a space in which their voices can be heard. But we will be very selective with our partners, ensure it is a quality experience and that the audience is never confused as to whether it is editorially independent or not."
Content marketing products have been part of the FT's offering for a while, but this marks the first time it has swept them all under one banner. And it has done so to help clarify its message to advertisers, in what has become a highly competitive area for media owners.
It has launched paid posts after audience research revealed 74 percent of its readers said they found value in promoted content from advertisers if labelled correctly, while 58 percent thought promoted content was as valuable if not more so than traditional advertising on FT.com.
Zurich Insurance, Santander, and an unnamed third brand will be the first brands to run paid post campaigns in the next few weeks.
"There are lots of good examples of native advertising, but also lots of bad examples," said Good. "It's where the editorial crosses the line of who is speaking, that's where problems arise. As the saying goes: trust arrives on foot but leaves on horseback."
For now the publisher will not open up the new products to its time-based selling model, which is currently creating some decent revenues, generating £1.5 million ($2.2 million) in new revenues, accounting for seven percent of all its impressions served this year. It wants to bump that up to 30 percent next year.
https://digiday.com/?p=137959