Publishers have embraced fast-loading Facebook Instant Articles, but a common gripe is that are hard to monetize, especially with native advertising.
Publishers will soon have greater ability to run native ads in Facebook Instant Articles. Ad tech company Polar is extending support for its platform to Instant Articles, which will enable its clients — among them The Washington Post, The Huffington Post and Slate — to run native ads in their articles there, just as they do with display ads.
The move would provide another needed monetization stream to those publishers. Many of them are increasingly relying on native ads because they can command higher rates than traditional display ads, and because they look like real editorial content, readers are more likely to click on them. Getting enough distribution for native ads to justify the high production cost is a challenge, though, so publishers need all the amplification avenues they can get.
Kunal Gupta, CEO and founder of Polar, said Polar is extending its support now to be ready for when Facebook makes Instant Articles accessible to all publishers, scheduled to happen at its F8 conference April 12.
"We've seen publishers' feedback on Instant to be positive in terms of the user engagement and content," said Kupta, who wrote more about the subject here. "But there are a lot of questions around how they will monetize it, knowing they have less ad positions on Instant. Branded content is typically the highest margin format the publisher has. This lets them get their highest-value formats into this platform."
If a reader clicks on one of these ads, they'll be taken to the publisher's mobile site. The ads will be served through the publisher's ad server, just like display ads, so the workflow is the same and the publisher gets the same data on the ad's performance that they'd get for their display ads.
Native ads have been criticized for not always being clearly labeled, risking reader confusion. It'll be up to the publisher to decide how to label the Polar ads on Instant Articles, Gupta said. They haven't appeared on Instant yet, but they'll look like they do on a publisher's mobile site, as seen below in this Booz Allen ad on The Washington Post.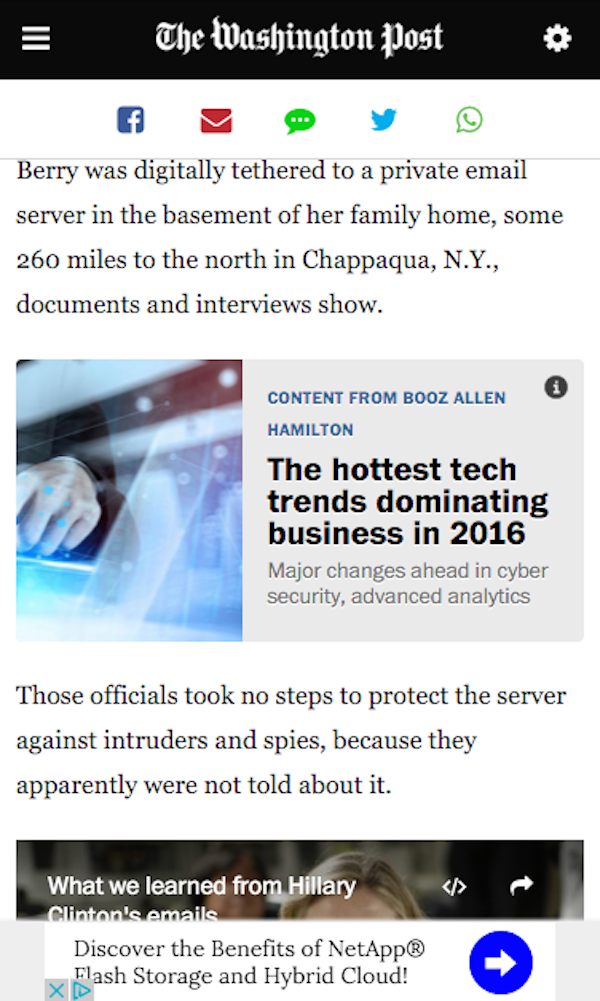 The move may be welcome news to publishers who have been eager for more ways to monetize their Instant Articles, particularly in the area of native and video. "Having support for native advertising would be great," Slate vice chairman Dan Check recently said.
Drawbacks remain, though. Publishers still can't publish native ads in the form of actual Instant Articles. Currently, publishers can run native ads as one of the four related articles that run at the end of an article, but native ads are rarely seen in Instant Articles. A publisher complaint has been that they're not supported and that if they run a native ad as a related articles, they can't get data on the performance, which they need in order to satisfy the advertiser.
https://digiday.com/?p=169149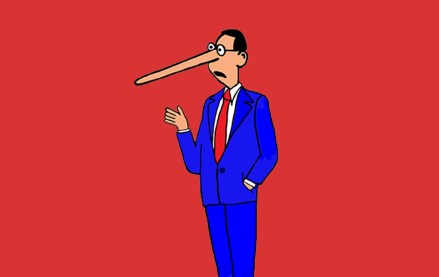 October 3, 2023 • 7 min read
•
•
A new definition for MFAs is available but the vague nature of the guidelines is leading to a lack of standards that might prevent adoption.
October 2, 2023 • 1 min read
•
•
The publishers who attended DPS were focused on the potential upsides of applying the technology to their operations while guarding against the downsides.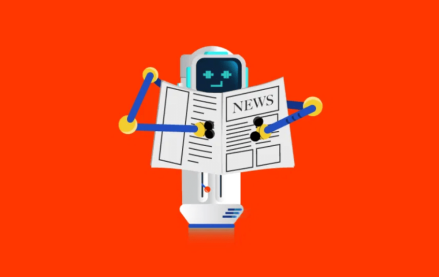 October 2, 2023 • 4 min read
•
•
Now that ChatGPT users can surf the internet for information, some publishers are reconsidering the weight of the issue.