'Every vendor has this problem': Why website redirects keep plaguing publishers
December 7, 2017 • 5 min read
• By
Digiday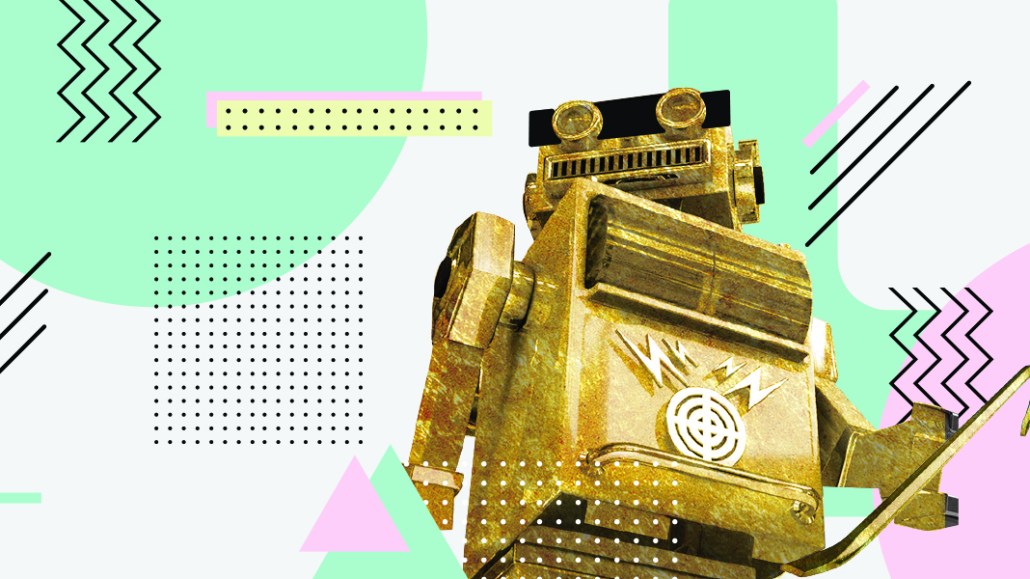 This is the third article in an occasional series on ad fraud. Other posts examined the state of video ad fraud and why old fraud tactics won't die.
In a publishing environment that often resembles a house of horrors, the mobile redirect is one of the most infuriating — to both users and publishers. A person clicks a link they think will take them to a story on a reputable news publisher only to suddenly end up in the app store to download a random mobile game. Most users would end up hating the publisher for such an underhanded move, only the publisher more often than not has no idea the redirect is taking place.
"Every vendor has this problem," said a programmatic specialist at a news publisher, requesting anonymity to avoid drawing attention to the crappy ads being served on his company's website. "I've tested turning off everyone but Google AdX, and I still have issues. I can't just keep these exchanges turned off because there is too much money on the line with them. That'd be like cutting off your nose to spite your face."
The security of 0.5 percent of all ad impressions sold programmatically is compromised, and the main culprit of these attacks is site redirects, according to tech firm Confiant, which specializes in blocking bad ads from publishers' webpages. While low-tier ad networks that resell inventory without the publisher's authorization are part of the problem, even the ad industry's most prominent buy-side and sell-side platforms are hooking publishers up with spammy ads that lead to redirects.
While 0.5 percent sounds like a low number, remember that webpages can be crammed with dozens of ads and that users see thousands of impressions in a single day. If a user spends much of their time online on sites that sell their inventory through programmatic exchanges, it's likely the user will regularly get hit with redirects.
The website redirects that publishers complain about are familiar for anyone who spends a lot of time browsing the internet. They occur on both desktop and mobile, but they function slightly differently in each environment.
For example, on desktop a user opening up an article will get forced onto a new browser tab where a suspicious advertiser claims to be giving away Amazon gift cards in exchange for the user's email address. On mobile, the redirects are more likely to be geared toward getting the user to download an app to their device.
This can be done by ripping users away from the article they're reading and forcing them into the app store where an install for a malicious app begins. Mobile redirects can also send users to new webpages that beg them to download their app. As seen in the photo below, one tactic is to tell users that their device is damaged by a virus that can be quickly eradicated if users download the shady advertiser's app, which claims to be a cybersecurity product.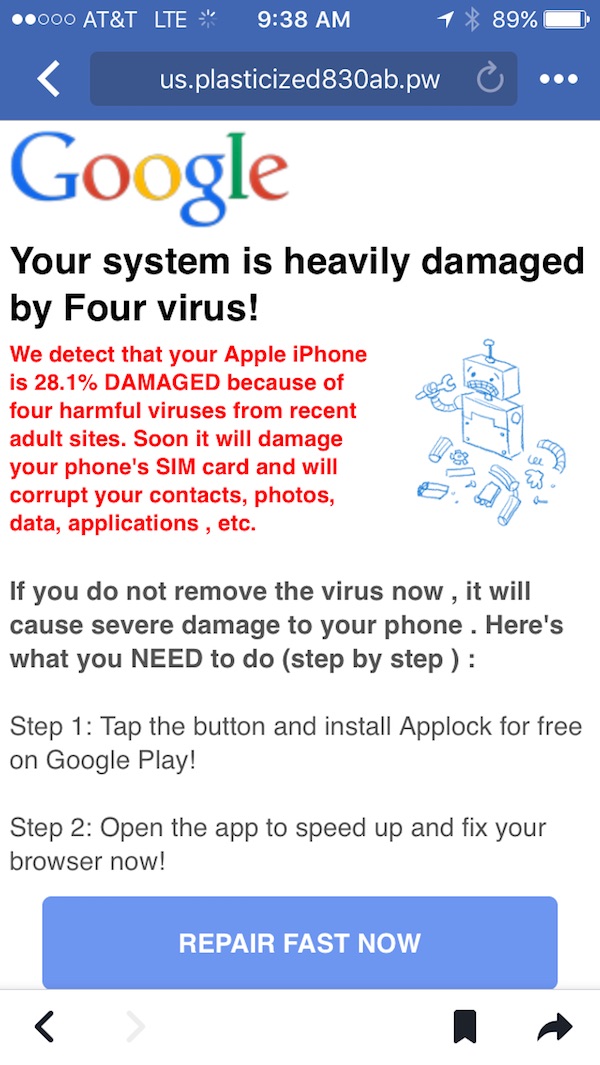 These publishers' observations were all anecdotal. Because the people behind the site redirects take a lot of precautions to obfuscate where their ad calls will lead users, publishers could not quantify how often redirects happen on their sites.
It takes some technical know-how just to catch and monitor a single ad that forces readers to another website. To do this, publishers have to set up a Charles Proxy, a server that allows web developers to monitor all of the code that a device exchanges with the internet. The bad actors forcing the redirects are careful to not ruin user experience too often, said Louis-David Mangin, CEO of Confiant.
"There is a fine balance to making something profitable for the bad guys but not painful enough that it prompts the industry to crack down on it completely," he said.
Publishers were quick to blame supply-side platforms for their redirect issues. And that makes sense since SSPs are the vendors that publishers have direct relationships with. But SSPs are just one stop in the ad supply chain that is responsible for the problem, said Justin Kennedy, COO of Sonobi, a programmatic platform that operates on both the buy and sell sides.
Many demand-side platforms allow buyers to self-declare the type of creative they're serving, and there is often little human oversight to check whether the advertisers submitting the creative are telling the truth, Kennedy said. The sales structure at many DSPs is also incentivized to bring as many advertisers into the platform as possible, which means lots of ad creatives get passed through without much vetting.
In November, Google announced it was working on an update to its Chrome browser that would block unwanted site redirects. Chrome controls about 60 percent of the internet-browsing market, according to NetMarketShare, so this could help publishers mitigate the problem. But publishers that spoke to Digiday for this story are only cautiously optimistic about getting help from Google. They also fear the ad blocker coming to Chrome could hurt their businesses.
Raising price floors is another tool publishers can use to lessen redirects since spammy advertisers tend to buy remnant inventory. However, of the two publishers that told Digiday they raised price floors to reduce redirects, only one said they've seen a decline in how often users contact their site to complain about redirects.
One source from a gaming publisher quipped: "It's why we can't wait to get away from the open exchange."
https://digiday.com/?p=266572