In an era of video, podcasts struggle to break through on social media
February 9, 2018 • 3 min read
• By
Digiday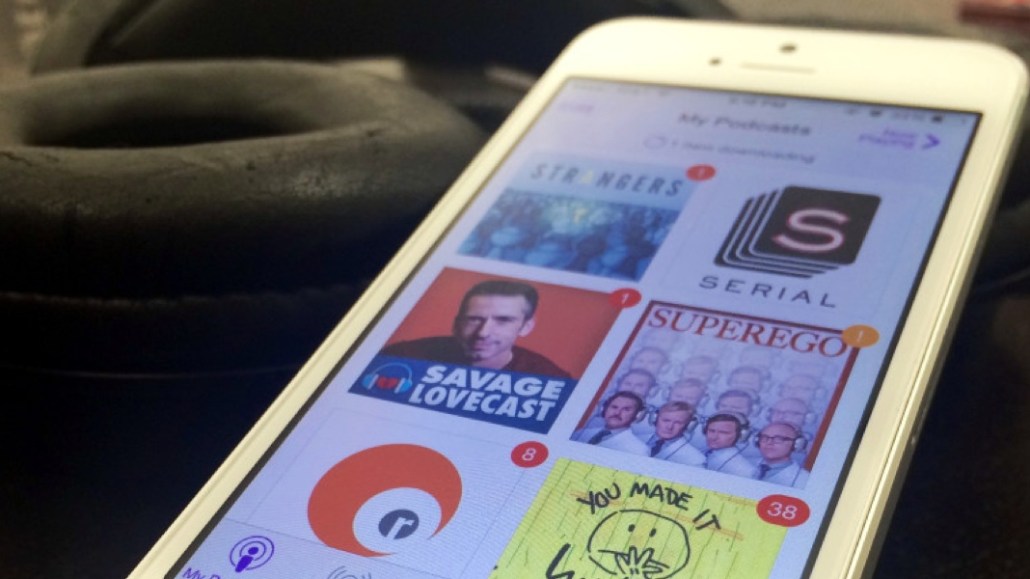 As social media platforms have pivoted to video, they've gotten publishers to adapt. But one medium has been left out: podcasts. The audio form has been a boon for publishers seeking engaged audiences, but podcast producers have had to be extra creative to get it noticed on social media.
"Social media platforms are incredibly visual. They really emphasize video," said Michael Gold, social media strategy editor at The New York Times. But the default format is to have video on mute, while audio is all about sound.
This creates a challenge for podcast teams to get their content discovered on social media. One strategy audio and social media producers have tried is converting audio into short video clips to promote their podcasts. WNYC created an open source tool to create audiograms out of its podcasts. The New York Times uses a modified version of WNYC's tool to do the same. There are also other free apps available, like SpareMin.
These clips have proved to be successful. "They are very engaging," said Jorge Caraballo, engagement editor for "Radio Ambulante," a Spanish-language podcast distributed by NPR. "We get more comments and shares."
If you can't beat 'em
Publishers are also using video formats to their advantage. They're testing ideas like going live during the recording and posting behind-the-scenes footage, leading to spikes in likes, shares and responses. "They [audience] are part of the conversation. We see increases on the days we do these videos. It helps to push the episodes," said Caraballo.
"Without video, we hit a plateau; we could not go past 10,000 [downloads]," said Andrea Raquelle, producer and content provider for the "Hey Frase" podcast. "When we started doing video recordings, we saw the best growth. It took two months to get to 35,000 [downloads]. We noticed other influencers and podcasters in the space [with big download numbers]. We can't even compete with that if we don't have video."
Video is good for reaching an audience, but publishers also need to nurture the relationship with listeners. For some like "Radio Ambulante," that's where newsletters come in. It uses its twice-weekly newsletter to tease upcoming episodes and make recommendations.
"You cannot rely on a private company to build a relationship with your audience. If you rely on Facebook, you will suffer with any change," said Caraballo. "We do not depend on an algorithm to reach our audience."
Facebook groups
Publishers are also using groups on Facebook and WhatsApp to promote podcasts.
The New York Times has a Facebook group, called The New York Times Podcast Club, with over 23,000 members, that wasn't designed expressly to promote its own podcasts, but members do anyway. "We don't promote our podcasts, but people talk about 'The Daily,'" Gold said. "We have created a loyal audience to the group, and we don't get the same responses in other ways."
"Radio Ambulante" has Facebook and WhatsApp groups for their podcast listeners, also with the goal of creating community. The Facebook group has over 700 members; the show wouldn't give numbers for its WhatsApp group. "The group is for really loyal followers," Caraballo said. "If you promote your work all the time, people will ignore when they don't have the time. We highlight other Latin American stories all the time."
Producers also lean on their podcast hosts to promote their podcasts via social media. Jonathan Capehart, columnist and host of The Washington Post's "Cape Up" podcast, for example, talks with listeners who engage with him on Twitter and Facebook, said Jessica Stahl, director of audio at the Post.
"We find that people discover the podcast on those platforms because he's talking about it and excited about it, and people see that," she said. "A really common tweet is, 'Tell me how to listen!'"
But all of these tactics are underscored by the fact that the behavior of podcast listening is the opposite of the flyby nature of Facebook or Twitter. "We can't promote podcasts in the same way as stories," said Gold. We learned that first with video, and now we're learning that with podcasts."