Like all big stories, the ongoing Ebola outbreak is showing the best and the worst (and ugliest) of how news is covered and distributed online.
To some, the Ebola story offers opportunities to experiment with new reporting forms; to others, it is just another click-bait vehicle. Here's a look at some of the highs and lows of the coverage of the most viral story of the year.
The Good
To keep people informed about Ebola, the BBC is turning to WhatsApp, which it's using to send people in West Africa multi-lingual updates and heath alerts about the virus. So far, BBC efforts have centered on helping people avoid infection.
"We wanted to try to come up with more creative ways to reach people in the region," said Trushar Barot, apps editor at The BBC World Service. "It's clear that mobile is an important platform to get this information to people in that part of that world."
WhatsApp, which has over 500 million users, is one of the most popular messaging apps in West Africa, which explains why BBC went with it over competing apps. One challenge to the effort, Barot said, is to figure out the balance between keeping people informed while not overwhelming them with too much information. This is why BBC doesn't expect to send out more than a pair of updates a day.
First update from BBC Ebola WhatsApp service – text in English and French… 1/2 pic.twitter.com/fXLwRpVCS6

— Trushar Barot (@Trushar) October 16, 2014
The real challenge, however, will be breaking through the noise of speculation that has emerged around the Ebola story, which is still very dire for the people BBC is trying to help. The hope, according to Barot, is that the strength of BBC's brand would make people more likely to trust it over other news sources.
The BBC isn't alone. Another novel coverage effort from comes from Ebola Deeply, a single-topic news site created by News Deeply, which previously gave a similarly detailed look at Syria. Ebola Deeply's goal is to add layers of context to the Ebola story, with more in-depth reporting that a looks at the story from a variety of angles — including public policy, science and health. The site also uses interactive elements like maps and timelines to tell the story as it unfolds.
"News has a big-data problem — there is so much content from so many places," News Deeply founder Lara Setrakian told Fast Company. "Organizing information has become a major challenge and an opportunity to leap ahead with innovative news design."
The Bad
On the opposite end of the spectrum are the many news sites and cable channels stoking fear in an effort to attract more eyeballs to their news coverage. "Could terrorists turn themselves into Ebola suicide 'bombs'?" asks MailOnline in a recent story that has so far been shared 10,000 times. The story is the same offline, where Ebola is bringing out the worst in cable news. One CNN report asked if Ebola could be considered the"ISIS of biological agents."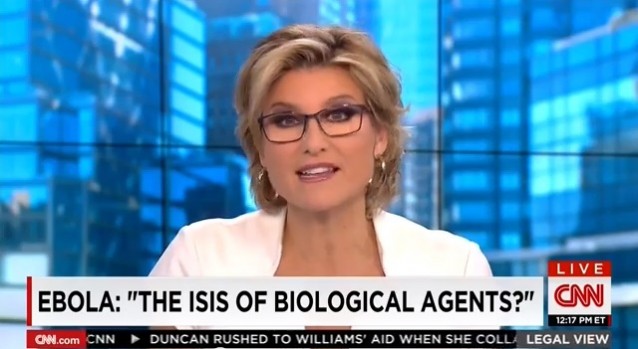 "Cable news channels have been some of the worst offenders," said Craig Silverman, founder of Emergent, which tracks how rumors spread online. "They do it to keep people watching and make them feel like there's a sense of urgency about it, but it's a bad way to express what the real danger is."
Even print publisher Businessweek added to the paranoia with a recent sensationalist cover that proclaimed "Ebola is coming" in red paint.
The Ugly
Bad news travels fast, but on the Web, fake news travels even more quickly. On Tuesday, satire news site National Report ran a story claiming a Texas town was quarantined after an entire family tested positive for Ebola. Predictably, the story went viral on social networks, so far netting over 240,000 shares on Facebook, according to Emergent.
While the report was very quickly debunked by sites like Snopes and The Epoch Times, the story traveled far. The Snopes story came the closest with nearly 30,000 shares, while the Epoch Times only generated 252 shares.
"There's a huge amount of fear around this, so if you produce something that hits on that, you're going to see people react to it," said Silverman, explaining the discrepancy. "Fear is powerful emotion that gets people to share things. It drives viewership and clicks, and there are people who are preying on that."
Finally, the SEO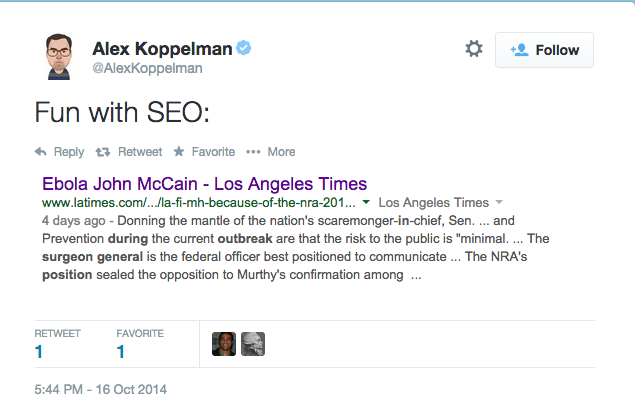 Image via Shutterstock
https://digiday.com/?p=92095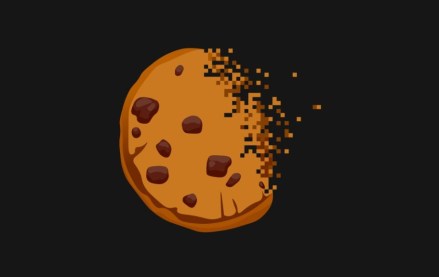 September 25, 2023 • 1 min read
During the Digiday Publishing Summit, execs from companies including Condé Nast, Dotdash Meredith and Thomson Reuters assessed the industry's readiness.
September 25, 2023 • 5 min read
Publishing executives shared their honest and unfettered opinions on the rise of generative artificial intelligence technology and its impact on traffic, IP protections, content production and jobs at the Digiday Publishing Summit last week.
September 25, 2023 • 5 min read
Here is A sampling of other AI-related news from last week.