Digiday Research: Publishers rate YouTube's revenue potential over other platforms'
June 3, 2019 • 3 min read
This research is based on unique data collected from our proprietary audience of publisher, agency, brand and tech insiders. It's available to Digiday+ members. More from the series →
When it comes to generating revenue from major platforms, publishers say they're banking on YouTube ahead of others in the long-run.
Thirty percent of 122 publisher executives surveyed by Digiday this May said they believe YouTube offers the most meaningful long-term revenue opportunities for publishers, ahead of Facebook and Google AMP, each with 24% of the vote, and Instagram and Apple News at 8% and 7% respectively.
Publishers' attempts to earn revenues from many platforms have been tumultuous at best. Facebook and Snapchat promised publishers flashy new sources of income through products like Facebook Watch or Snapchat Discover channels. But those products failed to live up to the lofty expectations of some publishers even after they invested significant resources to them.
By contrast — and in a time of rapid upheaval to publishers' business models — ad payments from YouTube have remained a constant source of revenue for many.
"Compared to some of the other platforms, the rules for how things operate on YouTube have been codified," said Natalie Mayslich, chief financial officer and head of business development at CH Media. "It's been very clear for how publishers can succeed on the platform which makes it a straightforward partner to work with going forward," she added.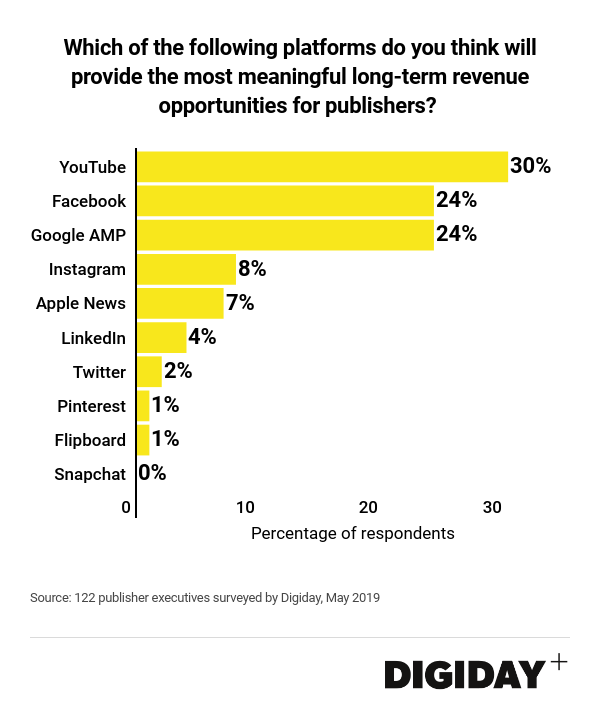 However, YouTube has had its own challenges with numerous brand-safety scandals in recent years. But despite those scandals, ad dollars aren't leaving the platform either. The majority of advertisers said brand-safety issues will not limit their investment in YouTube advertising, according to previous Digiday research.
Beyond reliable ad payments, YouTube's other investments give publishers signs to think it will be beneficial to them in the long-term. The video platform released the Players for Publishers product last year which allowed publishers to embed YouTube's video player into their sites and keep 100% of the ad revenue.
And although YouTube Premium is delivering incremental revenue to publishers, some see YouTube as a tool to fuel their subscription businesses. "Our viewership is more intentional on YouTube and the conversion rates we're seeing for Dropout looks promising," noted Mayslich.
Publishers aren't giving up on Facebook, of course. While it is anyone's guess what will become of Facebook Watch and what its latest change away from premium videos means for publishers, the social network still provides publishers the greatest reach to potential audiences among platforms, according to Digiday research.
Additionally, as publishers increasingly eye subscription revenue, the ability for Facebook to drive subscriptions could make it an increasingly important tool to provide revenue opportunities going forward. "Facebook has been a reliable partner in terms of driving audience but the jury is out if can drive subscribers," said Mayslich. Rising ad revenues from mid-roll ad units on Facebook videos would not hurt either.
Elsewhere, publishers remain enthusiastic with Google AMP. Publishers were struggling to monetize their ad units on Google AMP pages early on. But due to AMP's importance as a key driver of mobile traffic and its relative consistency compared to other platforms, similar to YouTube, it too offers promise to deliver meaningful revenue for publishers in the long-term.
https://digiday.com/?p=335887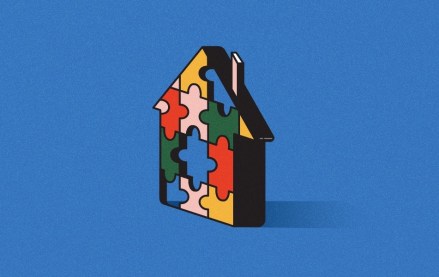 September 22, 2023 • 4 min read
Apartment Therapy's president Riva Syrop took the stage at the Digiday Publishing Summit to discuss the convergence of commerce and sponsorship revenue within its Small/Cool event.
September 22, 2023 • 4 min read
Media execs took stage at the Digiday Publishing Summit to discuss the growing importance of ROI in ad campaigns this year.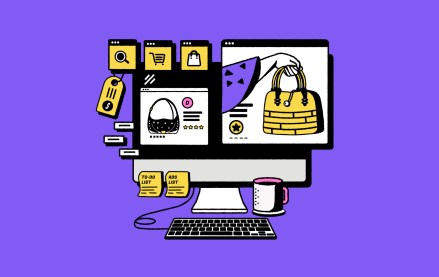 September 22, 2023 • 4 min read
CEO Satya Nadella said AI assistants will be as ubiquitous as PCs and will help users navigate across apps, operating systems and devices.