Digiday Research: Branded content production costs are growing
Branded content has become a critical piece of many publishers' revenue mix over the past decade, especially in video. But preserving sustainable margins when producing branded content is becoming increasingly challenging, according to Digiday research.
In a survey of 82 publishing executives conducted by Digiday this May, 51% of respondents said the cost of producing branded video content has increased over the past twelve months. On top of that, paid distribution for that content is also getting pricier. Sixty-eight percent of publisher respondents said the cost of distribution has also grown in the past year.
One branded video producer told Digiday that when it comes to branded content, "margins are definitely being squeezed, and there's not much fat in our production budgets anymore. Even fixed staples like executive production fees are being questioned. Our clients are used to getting more for less and have a plethora of competitive options for each production job."
While publishers can't point to one major factor driving up production costs, some say increased competition could be playing a role. The basic costs of producing a piece of content may have remained the same, but many publishers are spending more time, effort and resources than they were a year or two ago. "With everyone trying to outdo the other players in a crowded field, you're inevitably going to invest more resources on any given project," said Jeremy Elias, executive creative director of Re:think, The Atlantic's branded content studio.
Some publishers are even opting to walk away from branded content deals that aren't profitable enough. PopSugar CRO Geoff Schiller has found the publisher has to compete with other venture-backed publishers that are all too willing to lose money on branded content campaigns in the hope of winning future work. With some publishers happy to take a loss on campaigns, it can drag the market down.
As margins slim, growing distribution costs are making matter worse for publishers' profit hopes. With a glut of high-quality content available to consumers, publishers are sometimes struggling to complete campaign objectives on their owned platforms, forcing them to pay for more distribution. To make matters worse, the cost of that distribution is increasing in many instances, too.
"Paid publisher campaigns are having to work across longer activation windows and with platforms to deliver benchmark KPIs, driving up costs. Average paid media costs are probably around $50K" noted the video producer.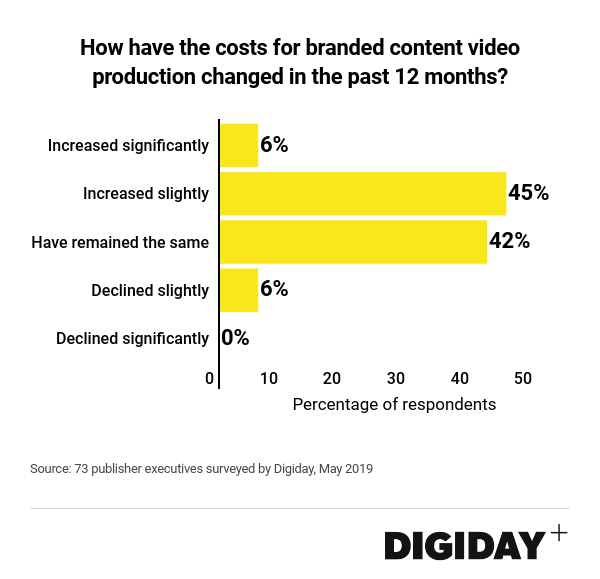 Rising ad prices on social platforms like Facebook are making a serious impact too. Prices for branded video distribution on Facebook rose to $0.50 per click from $0.23 per click last February according to one person at Facebook.
Despite the challenges, many publishers still say they're counting on branded content revenue growth this year, so finding ways to make it work is crucial. "Video is a healthy portion of all the branded content we produce and has been part of some of the most profitable programs we've executed," said Elias
In previous Digiday research, 81% of publishers said they monetized branded content and over 25% said it was responsible for at least a quarter of their revenues.
In-housing more elements of branded content production could be one way for publishers to make it a more economically viable revenue source, but in-house publisher studios can be susceptible to growing pains. "We've made a conscious effort over the last two years to bring more capabilities in-house when it comes to video production. That's not only about economic efficiencies, but it's also about retaining control of our creative," said Elias.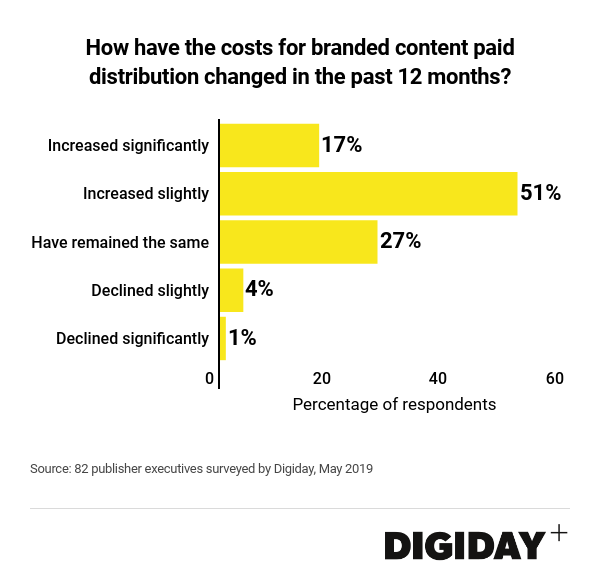 https://digiday.com/?p=334998