Complex Networks CEO Rich Antoniello: To build a real media business, you need a brand and a business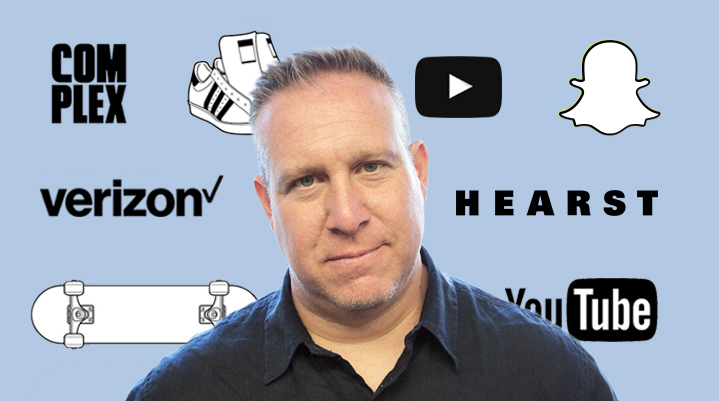 Subscribe: iTunes | Stitcher | RSS
Complex Networks has been in the business of verticals for a long time. The company has gone through major shifts in medium, ad revenue streams and products. The brand's credibility has pulled them through it all, and ahead of the curve sometimes.
"Agencies back then didn't understand digital brands because they were either buying networks or portals for reach and scale," Complex CEO Rich Antoniello said on this week's Digiday Podcast. "They needed the credibility of a Complex namesake. [It was important] to organize all these verticals and bring that reach together enough to scale to be meaningful to the advertisers."
Now, media companies are trying to expand into verticals that include lifestyle. Antoniello joined Digiday editor-in-chief Brian Morrissey to talk about what it took to develop these verticals, being independent of social and video platforms, and loopholes in the video and vertical expansion strategies of new media brands.
Edited highlights appear below:
Doing verticals before anyone, unlike anyone
"[We are] an amalgamation of the most meaningful vertical topics that no general massive media companies and publications were actually covering. We started that a long time ago and owned all those vertical voices. When we think about social media, people talk abut communities all the time. These communities are not what drives social media. It's when you have this verticalized content that cuts across all those communities."
On pivoting into a digital medium
"At the end of '06, I said, 'Good news, bad news, guys.' As a small independent magazine, we've already broken even. But bad news is, going into 2007, every penny of profit, I need you to give me back. I'm not going to start paying you back for your initial investment because I need every penny to pivot into digital first. Everyone says digital first now. But in '06 and '07, a lot of print players that were even experimenting, were putting half of one toe into the pool."
The onset of social networks benefited Complex Media's verticals
"We had the best-in-class voices. Social networks were free amplification with no tamped down organic reach at that point. It was the discovery platform. People had interest in those things, but were never exposed to those websites because people did not do mass surfing at the time. They did very targeted surfing. Social networks democratized the internet even further. Especially for smaller verticals."
A cohesive brand across verticals becomes a premium environment for ads
"We didn't make a move from print to digital out of duress. Around 2008, as we started to get scale, what we realized was that not only do we have a differentiated audience because of the topics we were covering, but because we were brand and magazine sellers, we could do branded and sponsored content back then. A lot of people just wired sites for scale. We wanted sites that would complement each other within its vertical, and then have those related verticals be able to cross-pollinate the hip-hop to sneaker sites. It was a very key thing for us. When we realized that it's the like-minded with a lot of frequency, then what we could do is we could create one piece of sponsored content and distribute across the entire network, and actually charge a massive premium on a margin basis."
Jumping into video without YouTube was a huge lesson
"I was convinced that we had such a powerful network that we don't need YouTube to get into video. And in 2012, we tried to do it without YouTube, and not as many people saw it. It opened my eyes and I realized that we need them as a partner, and it's a different audience on their platform that consumes video vertically. It was one of the few places that was just video at the time from the digital perspective. And also it was very young, and our content is very young. We dominate 18-24. We have more 18-24 than ESPN does."
On carving out a video strategy
"We launched long-form programming first. We rebooted MTV News to make Complex News, but with our voice. Nobody was doing cultural news at that point. Everybody's running toward Syria or politics. It exploded, and now we're doing 45-50 million views on just this news product from a cultural perspective. Video is the center of what we're doing. YouTube is huge for us, we have a collective-oriented [Multi-Channel Network], owned platform — significant percentage of views. We do a little bit of making specific formats for Facebook, not as much as most people do. When a person watches the whole video with sound, is that equal to a 3-second view without sound?"
The Verizon-Hearst joint venture is a huge opportunity
"Verizon-Hearst made a joint venture right before they acquired us. It's the greatest opportunity in the world. I'm producing 200 hours of content whether somebody buys them or not because we have a distribution and we have a guaranteed dedication for Complex and our other brands to build libraries of super-premium content in the marketplace."
Skinny bundles are like SVOD services
"Everyone is throwing around that term [skinny bundles]. I don't think skinny bundles [are] there because people want to spend less on their cable bill. People want to consume better content vertically. What's the right size for a skinny bundle? I could argue it's three channels. It's a version of SVOD for all intents and purposes."
Complex Media does not depend on a single platform
"We have a tremendous relationship with Google and YouTube. Facebook has been very good to us. But I'd like to get more money from them for the audience I'm bringing to the table. They've been more open to an equitable relationship. It's a love-hate relationship. They definitely helped make us very early on. But so did Twitter; it helped us a lot when they launched. Black Twitter is a thing, and we owned hip-hop and hip-hop culture. It has been a massive play for us from day one. We are multibrand play that's all about context of our brand and content. But we're not dependent on any single platform. Snapchat is a tremendous partner for us. They're more important from a money perspective than Facebook for us, right now."
Most brands are expanding into verticals without authenticity and credibility
"They're reverse engineering it. It's a great way to be completely irrelevant to the consumer. All those networks were not about user experience; it's all about an ad network. Was that organic to you? Is that part of your touchstone? Do you honestly have authenticity and credibility in that?"
Going into video is not a strategy
"It's a theory; it could work for us. How are you going to do it? How are you differentiating yourself? Does your content and what you're known for from a consumer's perspective translate to video? Sometimes the content is better received in text form or audio. In this video trend, a lot of people are going to fail miserably. They're going to spend a lot of capital doing it, and it's going to be really painful."
The succeeding Vice business model and the BuzzFeed non-brand
"BuzzFeed is so smart, fast and automated. I don't think of them as a brand. BuzzFeed means something to a lot of people, but it doesn't mean the same thing to all those people. That's not really a brand. Vice have possibly the best business model I've ever seen in my life. They took a very distinct, differentiated audience. They got a lot of people to pay a lot of money for them to develop good video content. The long-form HBO stuff is really good. Over the last year and a half, they've done a tremendous job in licensing and syndicating."
https://digiday.com/?p=236828