'He didn't have the long-term vision': Why Chris Hughes failed to revive The New Republic
January 12, 2016 • 4 min read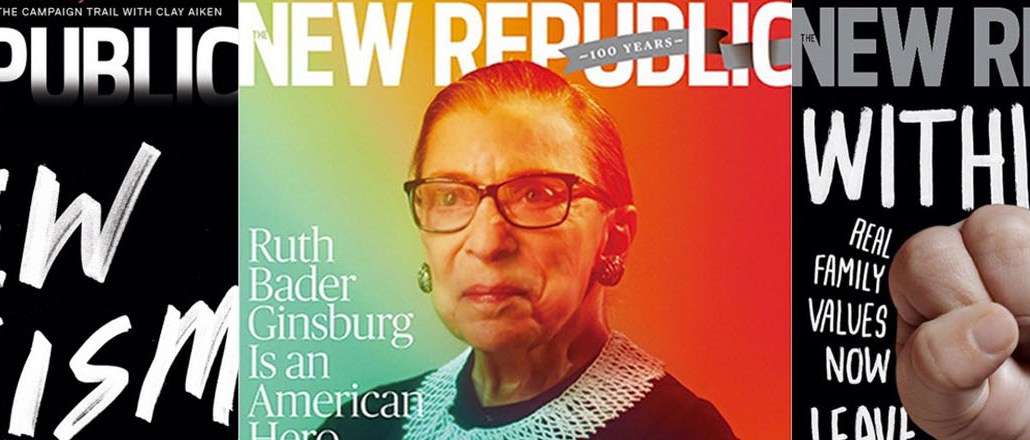 Chris Hughes's tenure at the helm of The New Republic was short, but not at all sweet.
The Facebook co-founder said on Monday he's selling the magazine he bought just four years ago. The New Republic "needs a new vision that only a new owner can bring," he wrote on Medium (though, oddly, not on The New Republic itself). "I do not have the silver bullet," he added. Hughes said he put $20 million into the company, which he purchased for just $2.1 million, before throwing in the towel.
Here's why he struggled to take the brand digital.
The New Republic's core brand is niche.
The New Republic is historically a Beltway insider publication that once billed itself as "the in-flight magazine of Air Force One." That gave it a place in the pre-Web days, but less of one today. The New Republic has failed to capture a significant audience online. ComScore put its monthly traffic at 2.3 million in November, a 37 percent drop compared to the year before. Its Facebook fan base, at 140,000, is also small compared to The Atlantic (1.3 million) and Mother Jones (1.1 million). Its print circulation clocks in at just 41,000, according to The Alliance for Audited Media. Hughes and his team never figured out how to make it the "vertically integrated digital media company" it aspired to be. One bright spot: Over half of The New Republic's digital audience is 18 to 34, comScore says.
"Both the audience and the brand itself are self-limiting," said Peter Kreisky, chairman of the Kreisky Media Consultancy. "Hughes fell in love with an idea for its future that was not actionable or practical."
The New Republic's content is not an easy fit for the Web.
Print publications shifting to the Web face as many editorial questions as they do business questions. The New Republic, which trades in left-leaning political and cultural commentary, didn't have an obvious role on the Web. At one point, the site published TV recaps and video game coverage next to its core politics coverage.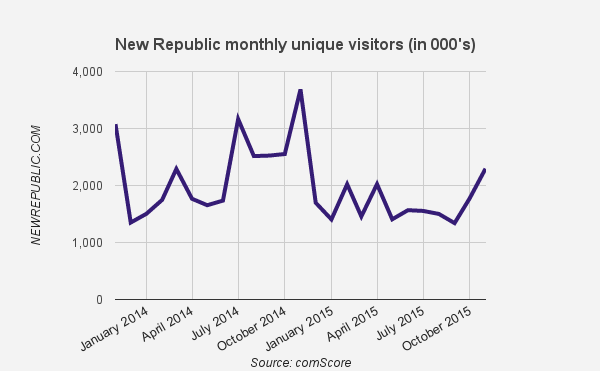 It's native ad bet hasn't paid off.
The New Republic, recognizing that its limited scale would make it hard to develop a sustainable display ad business, decided last year to place its bets on native advertising. It hired content marketing vet Kayvan Salmanpour as its CRO, and last June launched Novel, a mission-driven content marketing agency "with an editorial mindset." But despite the big names on The New Republic's masthead, and the claim that the site reaches a select group of influencers, its lack of scale made it a non-starter in the eyes of buyers.
A steep dropoff in advertising suggest the publisher has been in a sales transition. After a period of stability, The New Republic's print ad pages dropped 83 percent to 28 pages from 2014 to 2015, according to MediaRadar. The number of online advertisers rose 78 percent year-over-year, to 1,767 brands. But 95 percent of them were placed programmatically, suggesting low CPMs.
"You can tell a media buyer you're influential with an audience, but if they can only buy a few million impressions, you just don't matter," said Erik Requidan, vp of sales and programmatic strategy at Intermarkets, which helps publishers including Drudge Report and Political Insider with ad sales. "There's nothing exclusive about The New Republic's audience."
Silicon Valley and media don't always mix.
The idea that a tech company magnate can swoop in and rescue a flailing media company is closer to a fantasy than a reality. Hughes bought The New Republic with the ambition to make it "the magazine New York and D.C. and L.A. people read on the weekends," but struggled to get existing staffers on board with his vision. When Hughes announced plans to relocate the New Republic to New York City and appointed Guy Vidra as CEO, the news was greeted with multiple resignations from over 30 TNR staffers. Hughes's Silicon Valley style of management clashed with the newsroom culture of a staid print brand.
In the end, though, Hughes's biggest sin was that he wasn't willing to stick around long enough to see his investment through.
"He didn't have the long-term vision. You have to be very patient with building media companies, and he wasn't," said Kreisky.
https://digiday.com/?p=155430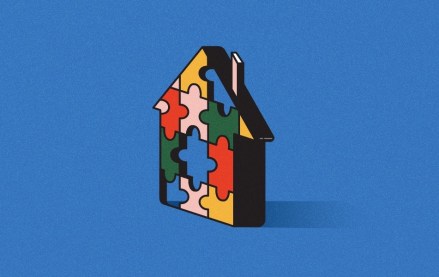 September 22, 2023 • 4 min read
Apartment Therapy's president Riva Syrop took the stage at the Digiday Publishing Summit to discuss the convergence of commerce and sponsorship revenue within its Small/Cool event.
September 22, 2023 • 4 min read
Media execs took stage at the Digiday Publishing Summit to discuss the growing importance of ROI in ad campaigns this year.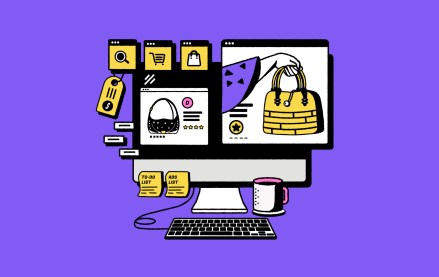 September 22, 2023 • 4 min read
CEO Satya Nadella said AI assistants will be as ubiquitous as PCs and will help users navigate across apps, operating systems and devices.