David Carr on the state of media: 'The consumer is making out really well'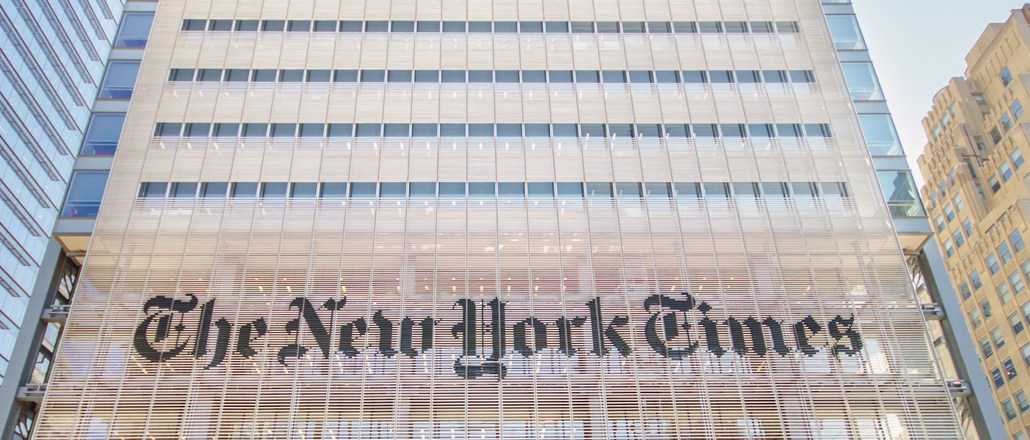 From media columnist David Carr's perch at The New York Times, it's a good time to be in publishing. In local news, as he pointed out in a recent column, the Texas Tribune is evidence of a thriving site. He has celebrated Vice's commitment to hard news. In old medialand, Jeff Bezos has brought "confidence and financial stability" to The Washington Post, aided by "strong journalistic leadership." (He did, however, allow that things aren't so rosy for the rest of the newspaper industry.)
In a conversation, lightly edited, he explains why, even though digital publishing strains to find a workable business model, staffs continue to shrink and media outlets are increasingly at the mercy of the platforms, he's still upbeat about the future of publishing.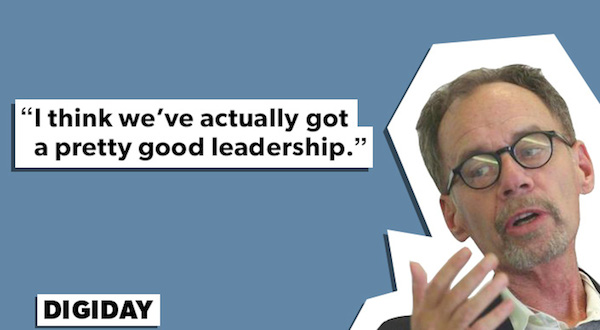 It's been a big year at the Times, with Jill Abramson getting fired and the Innovation Report coming out. How do things feel now?
That was all weird and scary as hell when Jill got fired. Things never really calmed down that much. '09 was dark and tough, and we kind of rode the up-alater with consumer revenue. Now we're looking for the next thing. What am I worried about? I get worried still about the primacy of the print product. I get worried that our CMS doesn't allow us to add the news quickly. We're facing some pretty significant headwinds. I think we've actually got a pretty good leadership. I think Meredith [Levien] is a killer. The next generation of Sulzbergers: They're really good. I think people have really missed the value and execution of the food app. I don't really care that there's not a consumer charge for it. It can be a goofy and frustrating place for people to work, but it seems like things are happening.
The Times has embraced native advertising in a big way. A year ago, there was a lot of hand-wringing about it. Is skepticism out and acceptance in?
It depends on your execution. You have to find a way to put a floor on your CPMs. Otherwise, you can't make a living. I don't like what's happening at Forbes. I think they've damaged their brand. I don't think you can let your readers into the mix as primary contributors. I think you have to be super careful.
This was a big year for new media startups. How sustainable are they?
What would happen if you took away all the exits and people had to make a living off existing CPMs?  It would be pretty bloody. You just saw ReadWrite, XoJane pull back. There could be more of that. People could get native to scale or have that unique relationship that gets them to scale, but the trend in general: not great. And the idea that video is going to save our bacon doesn't really look great.
You did raise the alarm bells about Facebook's growing leverage with publishers, too. It seems troubling the way they hold all the cards.
I talked to the Facebook guys. They seemed very serious and sincere in wanting to work with publishers, but so did [Google chairman] Eric Schmidt. I think a lot of publishers don't have any idea how much traffic is coming from Facebook. The hopeful thing is that when you talk to the Facebook dudes, they seem deadly sincere about actual dialogue. They don't brush aside concerns. I do think for publishers, having Facebook publish those pages [directly on the app] is a mistake. Losing custody of the data and customers is never a good idea.
You're still an optimist, though. Why?
It's in my nature to be optimistic. I keep being told that the sky is falling, and while there's been a diminishment of resources, boots on the ground, especially regional news, the in-migration of capital is amazing. There's a trend of consumers paying for things they like. Capital New York is free but they have premium products. You're seeing people pay for actionable information. Metrics, which were our enemy forever, could become our friend. I still see The New Yorker killing it, supposed dinosaurs like Esquire finding its way. I don't know how Kara [Swisher] is pulling off Re/code, but the stuff coming out is very impressive. The consumer is making out really well.
You've had a change of heart on Vice, too.
It's funny, I was never a Vice hater. I did the first story that took them rather seriously. With Vice, with BuzzFeed, with the Huffington Post, whenever they get a spare set of nickels, they hire reporters. We're in the video space as aggressively as anyone else. Not that anyone has cracked the code. I do think that this expanded tool kit we're working with could lead to expanded journalistic opportunities.There's some grim challenges ahead. The Times had a rough year; now, our ownership is ensured. There were those, including my former [Inside] boss Michael Hirschorn and [Business Insider CEO] Henry Blodget, who suggested there was a strong possibility the New York Times would fold or go away somehow. [They were] dead fucking wrong. You can quote me on that.