City AM becomes first UK publisher to ban ad blockers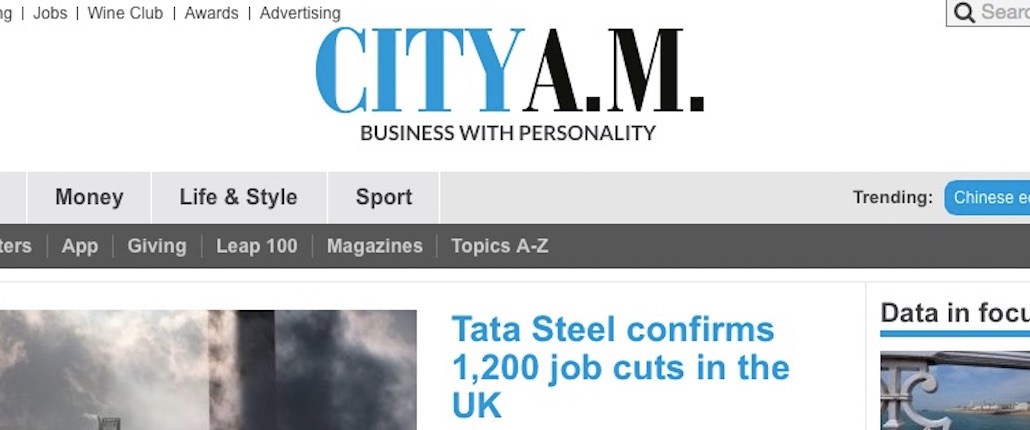 Free business and finance newspaper City A.M. has become the first U.K. publisher to ban Web readers who use ad blockers. Starting today the publisher is running a trial in which readers running Firefox browsers with ad blocking software enabled will themselves be blocked from accessing content.
The homepage itself will not be affected, but once readers click on an article they will see blurred-out text along with a message explaining why the article has been blurred. The trial comes after internal research revealed that 20 percent of City A.M.'s traffic was being affected by ad blocking, a figure that sent alarm bells around the company.
Currently 8 percent of its 1.2 million monthly visitors use Firefox, and the plan is to later extend it to other browsers such as Chrome, and potentially mobile further down the line. For now, it is on desktop, where it makes the bulk of its digital revenue, that it stands to lose the most. That means it won't block ad blockers on mobile using ad-blocking apps unleashed after Apple allowed content blocking in its latest operating system update.
"I was expecting it to be more like 10 percent, but the actual figure was a definitive realization that we couldn't ignore the issue," said City A.M. digital director Martin Ashplant.
He also predicted that the 20 percent is likely to continue increasing on desktop traffic alone if it does nothing, regardless of what might happen on mobile as a result of Apple introducing ad blocking extensions as part of its new operating system.
"This isn't going to magically go away. We value our content, this needs to be a value exchange and we hope we see from this trial that our readers appreciate that it's hurting our ability to make revenue."
It's not the first publisher in Europe to take a firm stance on the issue. Last week Axel Springer also banned ad blockers to its tabloid paper Bild, and introduced a subscription model as an option. It said readers using ad blockers could either disable them and access the content for free, or buy a subscription.
In the U.S. The Washington Post began redirecting some desktop users last month to a subscription page if they are using the popular AdBlock software.
Ashplant said City A.M. will consider the potential for introducing subscriptions itself, based on the outcome of the trial.
The Internet Advertising Bureau (IAB) has also called on the adverting industry to take responsibility for the ad blocking issue. Last week IAB rolled out its L.E.A.N ads program, aimed at providing advertisers with guidelines around what ads are acceptable and which are not, and which are most likely to get people flocking to ad blockers in the first place.
Guy Phillipson, CEO of the IAB U.K. praised City A.M's move calling it an "important trial".
"We expect to see more publishers follow suit with their own tests," he added.
He cited recent IAB/YouGov research which shoed 56 percent to the people using ad blockers don't realise that advertising pays for content and journalism. "City A.M.'s access message makes it very clear, and I'm sure the results of their trial will be useful for the industry," he added.
The use of ad blocking software grew 42 percent year on year, according to a report from Adobe and Irish start-up Page Fair, which sells technology that lets publishers bypass ad blockers. In the U.K. 20.3 percent of internet users block ads.
Ian Twinn, public affairs director of the British advertisers' trade body ISBA, said the approaches by these media owners is a natural reaction if they are to remain free and continue funding their content.
However, he added that advertisers are also aware the issue requires a collective responsibility.
"Advertisers do recognize that ad blocking is a reaction by consumers who are being targeted with too many ads that are not relevant, that autoload and that interfere with and slow the online experience of the user. Even worse in mobile, these ads take over precious screen space and squander people's data allowances and their battery life," he said.
"The solution lies in moderation."
https://digiday.com/?p=141735