Blavity to continue building its virtual event model in the metaverse after successful AfroTech
November 29, 2021 • 6 min read
•
•
Ivy Liu
To many, the metaverse entered the everyday lexicon once Facebook announced this past summer that it was transforming itself into a metaverse company over the next five to 10 years.
But for Blavity Inc., the metaverse has been core to its virtual events strategy for nearly two years. The digital media company used the medium to combat Zoom fatigue and passive engagement from attendees during the online version of its annual AfroTech conference.
As the metaverse becomes a more welcoming place to users — and advertisers — publishers are likely to continue innovating for the digital world.
The second virtual iteration of AfroTech — a conference that brings together Black tech enthusiasts and innovators to connect them with dozens of job recruiters — took place earlier this month from Nov. 8 through 13. AfroTech 2021 reincorporated some in-person happy hours and micro-events in various cities across the U.S, but the bulk of the conference took place in the company's custom metaverse space for the second year in a row.
It's a permanent shift in strategy rather than a temporary one, said Morgan DeBaun, co-founder and CEO of Blavity, who pointed to the positive uptick in attendance and revenue.
Events in the metaverse will still take place separately from in-person events throughout the year, so as to not overload its production teams, who have needed to transfer their duties from in-person operations to digital.
By the numbers — AfroTech 2020 vs. AfroTech 2021:
People were willing to pay more to attend: Ticket prices increased year-over-year between 57-75%, from $199 for general admission and $349 for corporate admission in 2020 to $349 for general admission and $549 for corporate admission in 2021.
More sponsors paid to advertise in the metaverse: AfroTech had 120 sponsors in 2020 and 170 sponsors in 2021. These partners paid between $15,000 (for early bird rates) and $500,000 for booth sponsorships in the expo hall. Total sponsorship revenue was up year-over-year as a result, though the company declined to share hard numbers.
Total attendance increased: The last fully in-person AfroTech conference in 2019 saw about 10,000 attendees, compared to 15,000 people who attended the first metaverse conference in 2020. In 2021, however, 16,7000 people attended both the metaverse and in-person AfroTech events.
AfroTech's metaverse was built on eXp World Holdings' virtual world platform by Blavity in collaboration with the metaverse tech vendor and was fully customized for the first virtual conference last year. Everything from the digital job expo hall to the program stages to the avatars themselves were designed to resemble the real-life AfroTech conference and its attendees, including incorporating a full range of skin tones, hair styles, facial features and outfits that users could choose to build their custom characters.
Working in the same virtual space again this year, DeBaun said her team was able to iron out the wrinkles from year one — including making better onboarding instructions and creating more memorable moments — to get both attendees and sponsors even more excited about what is possible in this medium for year two. Doing so led to an increase in ticket revenue and sponsorship deals, indicating that both attendees and advertisers are willing to adopt the metaverse at a time when in-person events are slowly coming back into the mix.
The AfroTech metaverse is a "fully immersive experience that should be [treated] different [from] the real in-person experience, but is certainly better than a flat kind of Zoom conference," said DeBaun. "People were getting used to it last year so we didn't have to innovate much beyond just existing. This year, we were more advanced."
But before the AfroTech team could change too much about its world, the first barrier was making the users feel comfortable and oriented in the space. DeBaun said they started sharing how-to videos on social media before the event and led orientational trainings upon log-on so that users could figure out how to move around the space, change their avatar's appearance and communicate with other attendees during the conference.
"We spent a lot more time educating, which, frankly, is a part of AfroTech's mission: Make sure that Black folks are able to participate in the latest trends and in the latest technology, and that they feel like this is made for them," DeBaun said.
Her team also needed to get the sponsors, which included GoDaddy and PayPal, onboard with making memorable moments and activating in the space too. This was particularly crucial because unlike its in-person events, advertisers did not have the ability to post display ads or create virtual billboards in the AfroTech world, partially because those ads are difficult to program into the metaverse, but also because they don't leave a strong impression on the attendees, DeBaun said.
GoDaddy, for example, decided to throw a flash mob near their virtual booth in the expo hall with the company's CEO and other employees, and the sponsor posted on social media ahead of time to get a large turnout.
Sponsors of events held in the metaverse should take care to respect people's boundaries in virtual spaces, as in physical spaces, and not impose on attendees' avatars because they happen to be near a sponsor's booth, according to Brian Swichkow, managing partner of One Inc Cooperative, a communication technology company that teaches companies how to make meaningful connections with consumers online and in metaverse spaces. In the example of GoDaddy, inviting people to participate in an event was a way to break the barrier.
"I think that our growth and engagement was partially driven by companies that were really open to trying something different," said DeBaun.
The other change this year was bringing on the same number of employees that AfroTech had to run its live event in 2019 to operate in the metaverse, said DeBaun, which consists of about 70 full-time staff, contractors and other support. Animators were hired to animate the presentation screens, DJs were brought in through the six days and performed sets in the metaverse's virtual club, and a comedian was hired to host a number of activities.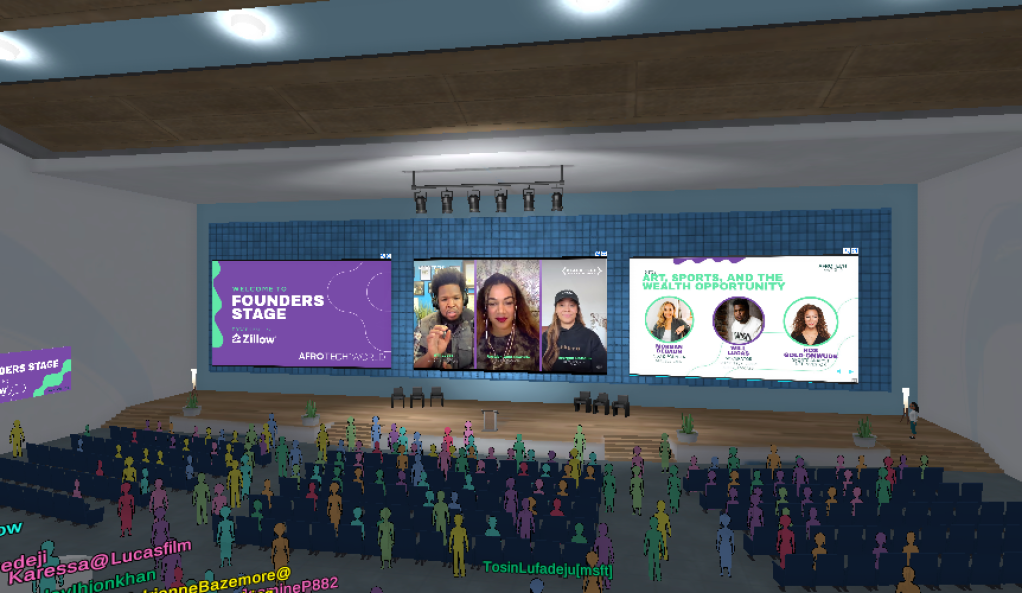 Image description –
An image from the conference stage in the AfroTech metaverse, courtesy of Blavity.
Hosting an event in the metaverse "is technically cheaper because we're not physically building stages and booths. There [aren't] material and shipping and printing costs. So operations are physically cheaper. However, the labor cost is the same," she said. "We have just as many people in support, we have just as many people at ticket registration, we have just as many people in all these different parts of running a conference."
Other publishers have also experimented with gamifying the virtual conference experience, like Complex's digital twist on ComplexCon, ComplexLand, which saw a 60% increase in sponsorship revenue from its first iteration to its second.
The more time that publishers and brands spend in the metaverse, the better the metaverses they're inhabiting will become. "The more you use the space, the easier it becomes to process," said Swichkow. "If you spend enough time in it, [activations and use cases] start to seem obvious."
https://digiday.com/?p=433575
October 2, 2023 • 1 min read
•
•
The publishers who attended DPS were focused on the potential upsides of applying the technology to their operations while guarding against the downsides.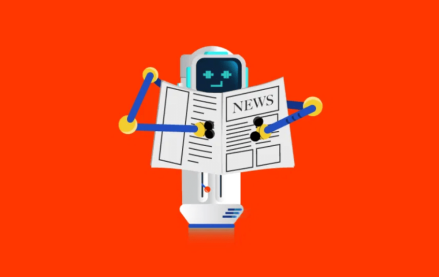 October 2, 2023 • 4 min read
•
•
Now that ChatGPT users can surf the internet for information, some publishers are reconsidering the weight of the issue.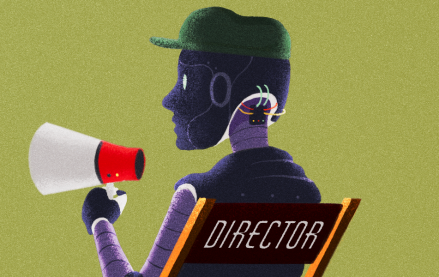 October 2, 2023 • 5 min read
•
•
As Meta makes celebrity-like chatbots, ChatGPT learned to "hear," "see" and "speak" while Spotify is piloting AI-translated podcasts.