Digiday is at SXSW giving you the latest industry news out of the festival at Austin, Texas. More from the series →
South by Southwest is in full swing, which means 80,000 people in tech and media have descended on Austin in search of thought leadership, booze, barbecue and tacos. As SXSW is hitting a bit of a midlife crisis, we're reviving the worst people of SXSW with an updated and expanded batch of loons doing their best to keep Austin weird. (Feel free to send us your thoughts and suggest others on Twitter @Digiday.)
The Moocher
For some, SXSW is an inspiring glimpse of the future. For others, it's a good excuse to cadge some free drinks and appetizers. This person, many times a member of the reporter class, not only knows how to sneak into all the parties with open bars, but can weasel their way into film premieres and private gatherings. While they have no plan to open their wallet, they likely shelled out the $10 on the SXSW Free Shit Guide back in February.
The Gym Rat
Brand rules everything. Just because you're at SXSW doesn't mean that your workout selfies should stop. This species would rather skip SXSW sessions and go to the gym at their hotel. That's dedication. Your company pays thousands of dollars for you to get inspired by creative people at SXSW, but you opt to get on the treadmill at 10 a.m.?
The Vape Enthusiast
This isn't Denver, so pot isn't legal here (technically), but vapes are. One moment you're walking down the street, minding your own business, the next you're suddenly enveloped in a cloud faintly reminiscent of, what is that, tangerines? It's not just you: It does smell like a Paul Simon concert. By the time you escape the first billow, you're eclipsed by another. Might as well not fight it.
The Guy Who Didn't Get His FT Weekend
Memo to every hotel everywhere that charges $$$ for rooms. Times and Financial Times should be available in print if people want it.

— Colin James Nagy (@CJN) March 11, 2017
The Power Outlet Clogger
This person's battery is running low but has to keep tweeting, so they plug into their phone as soon as they see a power socket. It does not matter where this outlet is. They feel a sweet relief of their phone charging, ignoring all around them.
The Disgruntled Tweeter
Air travel can bring out the worst in us. Flight delays are never fun and what better catharsis than to complain about it on Twitter? This person knows ultimately there is no advantage to this — no, Delta will not get your flight there sooner as a result of your complaint, and they likely won't cut you a discount either. But, damn, does it feel good to complain in 140 characters.
The worst time to go to Austin. Come on @JetBlue pic.twitter.com/uY2hQpDtBv

— Yuyu C (@chenilleyuyu) March 11, 2017
The Overly Friendly Twitter Acquaintance
This person usually means well, but after a few drinks may start blowing up your @notifications and sliding into your DMs. Though you've never met IRL, what better time to strike up conversation and propose a meet up than when sloshed with thousands of industry peers?
The Grumpy Cat fangirl
Shouldn't you be working?
The Agency VIP
You'll notice this person because they have paper bracelets covering their arms up to the elbow. There will be no waiting in long lines with the unwashed masses for this major domo. Don't you know who he is?
The Food Tourist CEO
You might think he's the CEO of an agency, but he's really a food influencer. If only barbecue looked as good in photos as it tastes.
The meats. https://t.co/tiUA3y0f8w pic.twitter.com/RV0ZlOPYyf

— Ian Schafer (@ischafer) March 11, 2017
The Panel Monopolizer
They typically start a conversation with their own business and achievements. People who attend this person's panel at SXSW cannot help wondering "Are you actually going to ask questions?" Yes, they will, but not until 20 minutes into the discussion.
The Public Napper
SXSW is draining. This person unabashedly sleeps anywhere and everywhere. We're talking in the front row of a panel, leaning against the wall of the Austin Convention Center, or fully sprawled in a public lobby, covered in all their belongings.
The Disgruntled SXSW Veteran
They take every opportunity to let you know that this is their 10th SXSW trip. They will quickly tell you how much SXSW has jumped the shark and how it was different when Foursquare launched here, yadda, yadda, yadda.
The Disgruntled Non-Attendee
This person is not at SXSW — and wants you to know!
This is about the time I mute anyone going to SXSW. Blah blah, tacos, margaritas and lone star.

— Jason Zada (@jasonzada) March 9, 2017
The Clueless First-Timer
Not only has this person never been to Austin before, but they have no idea how to navigate the expansive schedule of panels, events and Joe Biden appearances. They are most likely to become a Power Outlet Clogger or Sleeper because they constantly feel like all their faculties are falling apart.
The Airbnb Mogul
Many Austinites grumble about SXSW, but the more capitalist among them see an opportunity to charge $500 a night for a fleabag apartment on the outskirts of town with a murphy bed and two cats.
The Branded Yogi
This person is most likely hanging out at the new Zen Den session at the fifth floor of J.W. Marriott, enjoying a nice massage. But first they're participating in a brand-sponsored morning yoga session and drinking a green juice. Gotta seek serenity from the chaos of the conference somehow.
The Social Media Business-Life Guru
If Washington is Hollywood for ugly people, Austin during SXSW is Hollywood for social media charlatans. In the normal definition of celebrity, these people do not apply. They typically spout saccharine truisms about working harder and smarter and following your dream. But thanks to Facebook and Twitter, their self-help entrepreneurial preachings mean the faithful will congregate. Never forget: It. Is. All. About. The. Hustle.
With reporting from Yuyu Chen
Photo courtesy of SXSW Eco
This post has been updated to include a photo of the author with Grumpy Cat.
https://digiday.com/?p=227148
December 8, 2023 • 3 min read
For Atlas Creative, expanding into Roblox is not solely a play to scale up. The company believes there are concrete benefits that will come with having a hand in multiple metaverse platforms.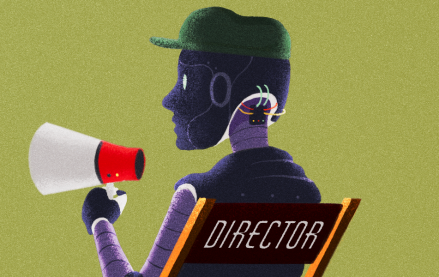 December 8, 2023 • 5 min read
Since ChatGPT became a breakout hit, the names of numerous AI companies and products have entered the cultural vernacular.
December 8, 2023 • 4 min read
Even as linear TV ad spend declines, 23andMe is reinvesting in the channel to boost brand awareness.