'We don't post much organic content': Pepsi sees TikTok as a pay-to-play platform
April 19, 2021 • 4 min read
•
•
Ivy Liu
Money can't buy you creativity on TikTok, but it can buy the reach that gets it noticed — as Pepsi is discovering.
As ever, knowing when to pay-to-play on social networks remains a hot topic among marketers.
"We're still seeing pockets of markets that are probably spending too much money creating content and not putting enough money into distributing it," said PepsiCo's global director of digital transformation and marketing capability Aman Matharu. "It's on us at the global team to create something that's powerful, sell it into those regions so that they can see why it will work and put the money behind it."
The latest creative idea is Pepsi's #PepsiChallenge on TikTok.
It's the brand's first challenge on the app so Matharu and his team thought extensively about what it would take to launch a popular challenge. After all, a challenge is one of TikTok's more expensive formats and cost marketers in the U.K. $130,000, per a rate card from last Spring. At that price, Pepsi needed to ensure it had every chance of succeeding.
Understandably, the team focused on what separated TikTok from other social networks.
"TikTok provides user-generated content at a scale at which no other platform can provide," said Timothy Armoo, CEO of influencer marketing agency FanBytes. "If this content is the main differentiator between TikTok and other platforms and challenges are the way to get there then they become the defacto way in for brands like Pepsi."
So Pepsi let fans reply to videos from accomplished soccer stars — Leo Messi, Paul Pogba, Shanice Van de Sanden, and Jadon Sancho — with their own tricks. The videos are then shared side-by-side on-screen using the Duet feature on the app. Each video features "Rotate," the latest track from singer Becky G and two-time Grammy-nominated Afro-fusion musician Burna Boy that was penned specifically for the campaign.
"Challenges will continue to be a part of what we do on the platform, especially when you think about the brand equity that's already built into the Pepsi Challenge from the taste tests years ago," said Matharu. "We can take that idea into different formats."
So far the plan seems to be paying off — at least superficially. Total video views are around 601 million in those markets where the campaign has gone live — Turkey, Romania, Saudi Arabia, Oman and Bahrain, per PepsiCo. Total likes and total shares to date are 47 million and 3 million, respectively. Furthermore, there have been nearly 300,000 videos created by fans.
"Views are short-term metrics, but they do allow us to sell ideas into various regions," said Matharu.
Not that views and likes are the only metrics Matharu cares about: sales uplift and brand effect studies are usually set up to give PepsiCo marketers a clearer picture of how well campaigns like the #PepsiChallenge perform.
For example, a brand effect study in one market showed that the #PepsiChallenge campaign was a success across recall and recognition, brand differentiation, awareness, and brand association, per PepsiCo.
"We don't post that much organic content and often when we do it's via the likes of [Jadon] Sancho or Shanice [Van de Sanden] who have big followings," said Matharu. "We need to focus on the media part of social media. Trying to play in the world or organic posting is a big waste of time."
All things considered, it's an encouraging start for Pepsi on TikTok, especially given the challenge is yet to target people across Western Europe, where the brand has worked with the platform to "have the brand safety guardrails in place," Matharu said and ensure the ad won't be shown to those 16-years-old and younger.
It's a tricky problem for marketers: when someone signs up to TikTok, they self-select their age, meaning there's a chance that kids will register much older than they are for their accounts.
Doing so means they are served content, including ads, deemed too old for them. The workaround for marketers is to use third-party verified data, which can be used as a targeting audience on TikTok. Pepsi declined to say when the challenge would run in Western Europe but did explain that it would be buying specific TikTok media that can guarantee to target people who are over 16 years old to adhere to local guidelines.
"It's important that brand safety is upfront in any negotiation," said Matharu.
https://digiday.com/?p=411088
December 8, 2023 • 3 min read
For Atlas Creative, expanding into Roblox is not solely a play to scale up. The company believes there are concrete benefits that will come with having a hand in multiple metaverse platforms.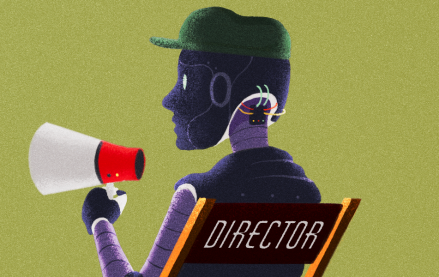 December 8, 2023 • 5 min read
Since ChatGPT became a breakout hit, the names of numerous AI companies and products have entered the cultural vernacular.
December 8, 2023 • 4 min read
Even as linear TV ad spend declines, 23andMe is reinvesting in the channel to boost brand awareness.