Virgin Atlantic rides American Anglophilia to brand success
April 13, 2015 • 4 min read
•
•
This is ThinkTank, a new series from Digiday where we quiz CMOs and brand chiefs on where their industry is heading.
Virgin Atlantic, which posted its first annual profit since 2011 this year, said in March that it was targeting a record profitability by 2018. Part of the plan is a renewed emphasis on the U.S. market, where the brand is increasing the frequency of its flights and offering more connections. It is also capitalizing on the 2-year-old association with Delta, which bought a 49 percent stake in the brand.
Leading that U.S. marketing focus for the Richard Branson company is Simon Bradley, the brand's head of marketing for North America. Digiday chatted with Bradley about the brand's latest campaign, why Americans love Brits and making safety videos "fun."
Your last job was working for VisitBritain here in the U.S. You have a history of working to bring British brands stateside. Is there a specific challenge marketing that? 
There's so much goodwill for anything connected with the U.K. in the U.S. There's a lot of empathy in the country with the U.K. and U.K. brands. It's a great opportunity to get your brand and bring it to a market that's naturally sympathetic to a brand, and then adapt it for the U.S market. But adapting your messaging is the hard part. And certainly the U.S. requires a good degree of adaptability, and we need to talk differently about the brand here.
What do you mean? Do you have an example?
Around 2012, there was tremendous interest in the U.S. around all things British because of the London Olympics and the Queen's Golden Jubilee. It was a big year. So we created a campaign called "London by Virgin Atlantic." The funny thing was it didn't run in the U.K. at all. People there already know they're there. It had an activation in New York's Union Square where we renamed it Union Jack Square. It was an adaption of what we're about, where we don't just talk about our airline, but also our story.
What is it like to lead a "challenger" brand?
Our position in the market is we're not the biggest. Having a joint venture with Delta does change things, but our airline isn't the biggest airline, and we've never tried to rely on size. So what we try to do is classic challenger-brand behavior, which is leverage our size to our advantage, and leverage our smallness. We have to be able to be nimble and much closer to our customers so it's about finding those advantages of being a smaller player in the market.
So you have to reach customers between flights, since they may not be flying you all the time?
Yes. We try to broaden out our brand beyond the flight experience. We have to remind people we exist. We have events throughout the year where we invited club members. We'll give people benefits not connected to flying — maybe a hotel booking or a car rental.
How does the Delta joint venture change the brand?
The premise of our venture is two brands working together. We're not trying to merge the brands in any way. In some cases the two brands attract different customers, but working together, we can really increase our reach. That's the premise. There's a lot of cross-pollination, a good example is the frequent-flyer program where if you're a member of one, you get a lot of deals on the other. And we bring that to the airport environment, making us share locations at JFK or at Heathrow. There's a great synergy going on there.
What's the biggest challenge for the airline industry today?
In this industry, you're working with a perishable product. Those seats on planes leaving today will never be seats you can sell again. Once they're gone, they're gone. There's a certain amount of urgency in terms of driving purchase.
Are you over "fun" safety videos?
[laughs] Safety videos are a great way of communicating a brand and an important message. But we don't feel the need to keep creating fun safety videos and use them as a communications channel in that way. We have a new one we did last year; it's great. We'll keep it for a while. Other airlines have staked their territory on that. They use that genre to build the brand. Good luck to them in doing that. It's smart. But for us, there are other things we want to do as well.
You're targeting business travelers in your new campaign. Is that a difficult demographic for you?
Business travelers are a key audience for us in the U.S. The thing is, business travel has turned into this thing you do. It shouldn't be a neutral experience. We want to provide an experience where they come off our flights better than when they started on them. Business travel shouldn't be seen as mundane or tortuous. It's an exciting adventure. It's a tough statement to make, but we're making it.
https://digiday.com/?p=114360
December 8, 2023 • 3 min read
For Atlas Creative, expanding into Roblox is not solely a play to scale up. The company believes there are concrete benefits that will come with having a hand in multiple metaverse platforms.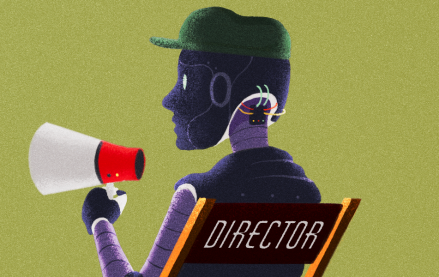 December 8, 2023 • 5 min read
Since ChatGPT became a breakout hit, the names of numerous AI companies and products have entered the cultural vernacular.
December 8, 2023 • 4 min read
Even as linear TV ad spend declines, 23andMe is reinvesting in the channel to boost brand awareness.