'Unconventional': Veuve Clicquot toes the line between democratic and aspirational on Tumblr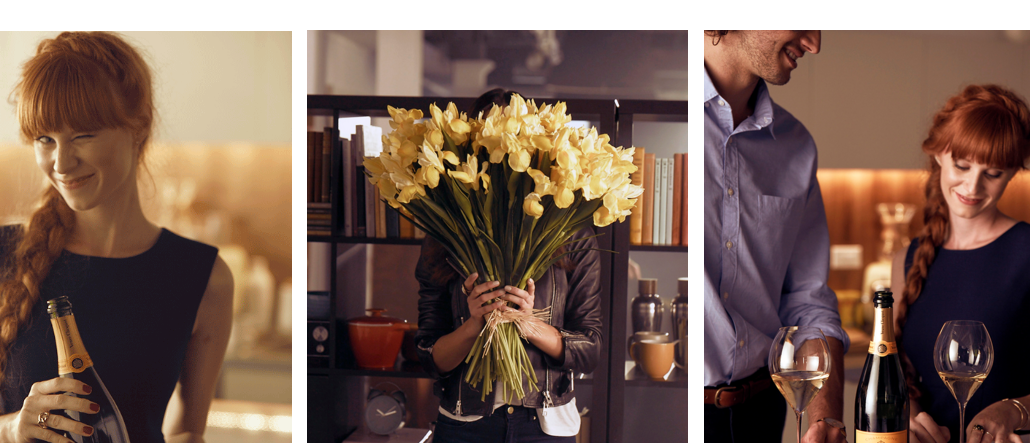 Champagne evokes images of private yachts and fancy flutes.
Which, unfortunately, is a tough sell among millennials. Lux champagne brand Veuve Clicquot is trying to bring its image down to earth with a new campaign and platform strategy — one that relies exclusively on Tumblr. If that sounds unconventional, that's the point.
"When you used to think about champagne, it's very formal, very classic," said global marketing director Chloe Stefani. "But that doesn't need to be the case."
This week, the 244-year-old brand launched its first-ever digital ad campaign. Called "Let life surprise you," it's a set of three short videos narrated by Madame Clicquot herself (played by Juliette Binoche). The eponymous widow ran the company in the 19th century taking the reins of the business from her husband when she was widowed at 27 — highly unusual for a woman at the time. The appeal to millennials is that the brand approaches life with the same unexpectedness they do.
"Millennials across the world follow their convictions, not convention, just as Madame Clicquot lived life without being limited by the expectations of others," said John Noe, CEO and founder of Rokkan, which created the campaign. "Our goal as the creative lead in developing this new campaign was to bring her story to life in a way that would resonate and inspire a new generation."
The videos are full of "unexpected" situations, such as entertaining guests via a pop-up dinner party (but inside in an office) or sneaking into an exclusive party but to deliver a resume to a guest who may be a potential employer.
The overarching theme of the Tumblr campaign is to highlight all the informal places where champagne can be drunk. For Veuve, the use of Tumblr is as unexpected as its messaging: Only about 15 percent of alcohol brands have an official presence on Tumblr, accordingto L2 analyst Colin Gilbert. Stefani says Tumblr has allowed the brand to extend the lifespan of GIFs and content sourced from events or tastings without using up too many internal resources — most things on the brand's Tumblr are crowdsourced and user-generated. The brand has had 95,000 interactions on Tumblr in the last year.
Sister brand Moet & Chandon has also seen a similar trend of visual content aimed at millennials in informal situations — although unlike Veuve Clicquot, it makes it a point to distance itself from its French heritage.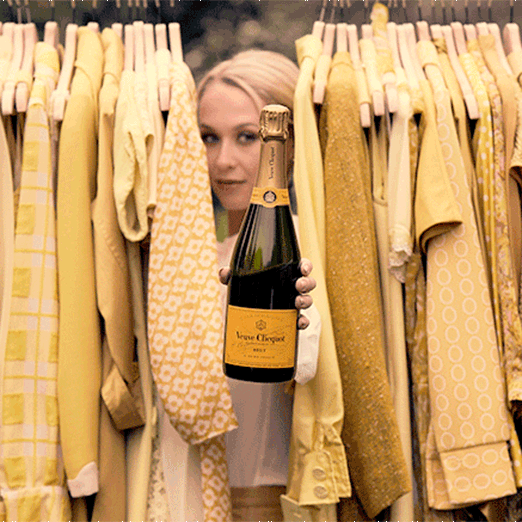 On Tumblr, the LVMH-owned brand has a trending tab that pulls in related posts from around the platform, plus a social gallery that lets users organize the user-generated images. There are also custom cinemagraphs, artsy GIF-like images, created by Rokkan. The Tumblr page has an e-commerce component to it as well: Users can click through to buy the bottle featured in any given photo and sign up for the brand's email newsletters. "Luxury is about the environment you drink our product in, so we have to manage that aspect very carefully," said Stefani, who said that she walks a fine line between making her product accessible, but also keep it aspirational since it is a premium brand.
Veuve Clicquot is not without its challenges as it moves deeper into the digital space. For starters, there are restrictions on how much digital marketing the brand can do. On platforms, brands can only advertise where at least 71 percent of users are of legal drinking age, and even then, there is age-gating. User-generated content also has to be moderated regularly.
Also, luxury is seen as aspirational or even unattainable — and the whole point of digital (and especially Tumblr) is that it is more democratic. "I think we have to convince this new generation of consumers that that we're unconventional in some ways," said Stefani. "But that's we're still living our product history and heritage, just in digital."
https://digiday.com/?p=165765