The Rundown: TikTok 2024 spending
November 3, 2023 • 4 min read
•
•
Ivy Liu
Ad spending on TikTok is poised for another substantial increase in the coming year, with an even more rapid influx of capital fueling the growth.
According to ad execs, those rises for next year are set to be as much as 25% more than they have been this year.
What you need to know
Shray Joshi, founder and CEO of the Good Peeps, which has clients including protein snack brand Chomps, and Chinese chilli hot sauce Fly By Jing, said his team's goal is to get marketers spending at least 20% to 25% of their budget on TikTok in 2024. The same goes for Power Digital, which works for clients such as Procter & Gamble, Uniqlo and Casper.
Meanwhile Ryan Detert, CEO of Influential, expects most of his clients, which include Fortune 500 companies, to spend around 10% to 15% more on TikTok in 2024.
TikTok is expected to take up 2.2% of total digital ad spend worldwide this year, rising to 2.6% in 2024 and 3% in 2025, according to forecasted data from Insider Intelligence.
Behind the numbers
While these gains are notable, there are some important things to keep in mind. One big one is that the money advertisers are pouring into TikTok is just a drop in the ocean compared to what they're spending on tech giants like Meta. When it comes to TikTok, the cash is mainly split into two areas, as Tucker Matheson, managing partner of Markacy, pointed out: there's the investment in creating TikTok content, and then there's the effort to make ads more efficient or meet specific goals. Marketers are used to working like this, and until they do their advertising on TikTok will always be capped.
"It's [TikTok is] a different playbook than Meta, which requires 2-3x the content production volume to do it right and test consistently," Matheson said. "On TikTok you need to be posting content 3-4-5-6 times a week and advertising anything that hits to tap into the algorithm scaling up showing that content to more people."
With that in mind, Matheson wouldn't be surprised if traditional CPG brands, for example, that were testing the platform this year increase spending from around the 5% they did in 2023 to somewhere between 8% and 10% next year. He added: "Some brands with a heavy Gen Z focus might see that go to 20% plus if they have the right content and narrative there."
Best laid plans
TikTok isn't the type to leave anything to chance when it comes to securing more ad dollars. Which is why the platform has already been sending out a "rare limited-time offer" to select advertisers, to beef up 2023 holiday spend and get a head start on next year.
The offer, which was shared with Digiday, states that advertisers will "get $14,000 in ad credit in Q1 2024, provided they spend $70,000 on ads in Q4." Though TikTok did not respond to Digiday's request for comment.
The incentive appears to have gone well, at least for the most part. Some advertisers think it's a strategic move that would encourage more spending on the platform beyond the first quarter of 2024.
"This is a smart way for TikTok to expand investments from Q4 into next year, ensuring that any increase in advertising dollars they experience now won't just be short-term," said Amy Rumpler, svp search and social media services at Basis Technologies, who reviewed the offer that was shared with Digiday. "If the incentives help show that ads can continue performing (and not just in Q4), brands may be more likely to consider heavier, or more long-term investments, in 2024."
For others, these types of incentives aren't the way to go because they almost encourage spending to receive a freebie, rather than because the channel is the right fit for a client.
"We prefer to use client-level ad credits whenever possible to keep our fiduciary motivations in place," said Tucker Matheson, managing partner of Markacy, who also reviewed the offer. "This way, clients can recoup the ad spend they deserve, and we can assess whether the testing opportunity aligns with their business goals, considering that we're a financial-focused marketing group."
Reality check
Here's the deal: TikTok's impact on culture has always been more significant than its impact on ad dollars. However, it's slowly bridging that gap. But that gap won't truly close until TikTok manages to bring all its different parts together. From short videos to shopping, music to search — it's like a puzzle. And when TikTok ad execs figure that out, the app will be a must-have on media plans, not just a nice-to-have.
Mindgruve, for instance, whose clients have included Budweiser, eBay and Groupon, still sees TikTok as a place for experimental advertising. But the increased focus on advertiser options and capabilities has meant that the agency's group media director Haley Feazell, would love to see at least some clients shift maybe 15% to 20% of their budgets to TikTok — with the understanding that the platform has varying KPIs compared with Meta. As things stand, around 90% to 95% of Mindgruve's clients' social budgets are still geared toward Meta and LinkedIn.
https://digiday.com/?p=524305
December 8, 2023 • 3 min read
For Atlas Creative, expanding into Roblox is not solely a play to scale up. The company believes there are concrete benefits that will come with having a hand in multiple metaverse platforms.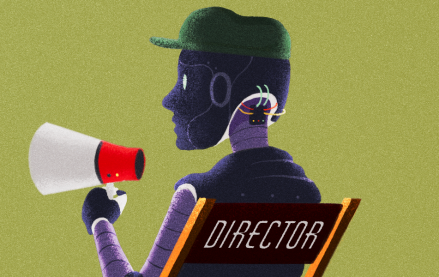 December 8, 2023 • 5 min read
Since ChatGPT became a breakout hit, the names of numerous AI companies and products have entered the cultural vernacular.
December 8, 2023 • 4 min read
Even as linear TV ad spend declines, 23andMe is reinvesting in the channel to boost brand awareness.