Wireless carriers aren't very popular. So you'd expect that they spend most of their time on Twitter apologizing and putting out fires. Not so for Tesco Mobile, the United Kingdom's value wireless provider.
Tesco Mobile is differentiating itself with a cheeky Twitter account that isn't afraid to mix it up. Starting last June, its "#nojoke" campaign, with the help of agency Jam, has been remaking the carrier's image with its young target audience by showing that the brand has a sense of humor. But don't expect any corny jokes. Instead, Tesco Mobile — which is a virtual network provider operated by Tesco (the Walmart of the U.K.) — is showing remarkable self-awareness by trolling its haters.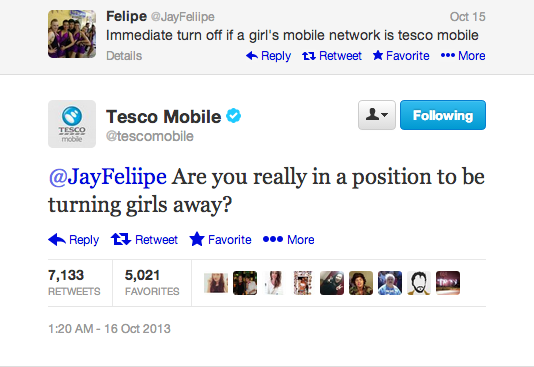 A risky move, perhaps, but it has paid off. It's this type of funny interaction that started getting Tesco Mobile tons of online attention. Each of those tweets were retweeted thousands of times, and sites like BuzzFeed and Adweek reported on the viral buzz. And more important, it helped the bottom line. In 2013, Tesco Mobile went from 3.5 to 4 million customers, and the "#nojoke" campaign was "a key factor in achieving this," according to Kennedy.
"It was a small evolution of that friendly informal tone we already had on social and making cheekier and poking fun at people who were poking fun at us," said Matt Kennedy, senior digital marketing manager at Tesco Mobile of the "#nojoke" campaign, which Kennedy noted as the real turning point for the brand's social media presence.
As Kennedy explained, the success of the "#nojoke" campaign and the resulting funny Twitter voice is all thanks to the young social media team behind the @tescomobile account. The team, along with Kennedy, consists of a digital marketing manager who reports to Kennedy and oversees the day-to-day social media content planning in conjunction with Tesco Mobile's agency partners along with 11 20-somethings who sit within customer care and are the ones responding to all of the customer tweets and mentions of Tesco Mobile on social.
"Our care team has always been about individuality, and we've always empowered them to be themselves and relate to customers — there's always been an informal banter," said Kennedy.
Tesco Mobile has also gotten attention for interacting with other brands on Twitter, like this conversation with a customer that ended up attracting other brands like Yorkshire Tea and Cadbury. Engaging with other brands isn't a deliberate part of Tesco Mobile's social strategy, but the brand does play along with these kinds of interactions when they come about naturally.
Tesco Mobile doesn't have any formal social media guidelines or physical handbook for its social media team. Instead, before launching the "#nojoke" campaign, Tesco Mobile and Jam conducted a short training session with the social team to go over what kinds of tweets to interact with and how to make the right judgement calls about reading sentiment and picking which people to hurl some jokes at — for example, avoiding butting in on any private one-on-one conversations between people and avoiding people who regularly tweet "horrible or racist tweets," as Kennedy put it. Other than that, it was just about trusting his social team and being ready to apologize if anything is taken the wrong way.
"There wasn't huge concern about ["#nojoke"] backfiring — we had faith in the team who deal with people day in and day out, but we did put contingency plans in place in case anything was taken the wrong way or a line was crossed," said Kennedy. "But we let the team know they are the voice of Tesco Mobile and we trust them to make the right call."
You won't see things like weak Grammys tweets from Tesco Mobile. As Kennendy explained, aside from planning some content ahead of time in collaboration with marketing campaigns and occasional topical posts about the holidays, the social strategy is mostly reactive. The social team spends most of its time monitoring mentions of Tesco Mobile — and a lot of the Tesco Mobile tweets are @ replies.
"Maybe there's a TV ad we are doing for the 'The X Factor,' so we purposely tie in tweeting with that because our audience is there and watching it, but we don't jump on real-time bandwagons — we don't feel that pressure," said Kennedy.
For Tesco Mobile, the laid-back, funny social strategy is working. According to Kennedy, before the "#nojoke" campaign and bringing humor and sarcasm into its Twitter voice, Tesco Mobile didn't have many followers, but since last June, its Twitter following has grown 700 percent. Today, it has just under 56,000 followers.
Being funny on social media is no small feat — many brands try and only get to cheese-ball dad humor — so it's pretty impressive that Tesco Mobile has been able to pull it off. And as Kennedy sees it, Tesco Mobile owes it all to its young social media team.
"These aren't pre-planned marketing tweets, these are the personalities of the people we hired for the team," said Kennedy. "They are fun people, and that's the reason the tweets are funny."
https://digiday.com/?p=63102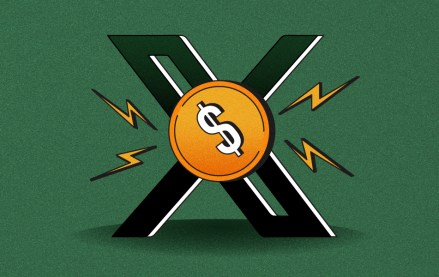 December 4, 2023 • 4 min read
Less competition for ad inventory means lower prices, but at the cost of associating with a platform facing ethical challenges.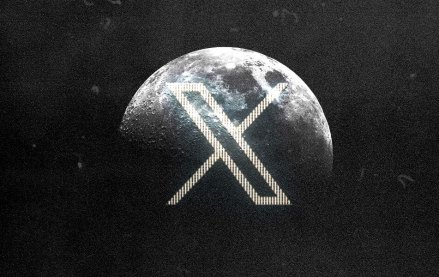 November 30, 2023 • 4 min read
In the packed DealBook conference in New York yesterday, owner Elon Musk bluntly told them to shove it.
November 30, 2023 • 2 min read
WorkTok, or CareerTok, is in full force. Combined, those hashtags on TikTok have over four billion views and it is benefiting Gen Z.