With Target+, Target gets an Amazon-like marketplace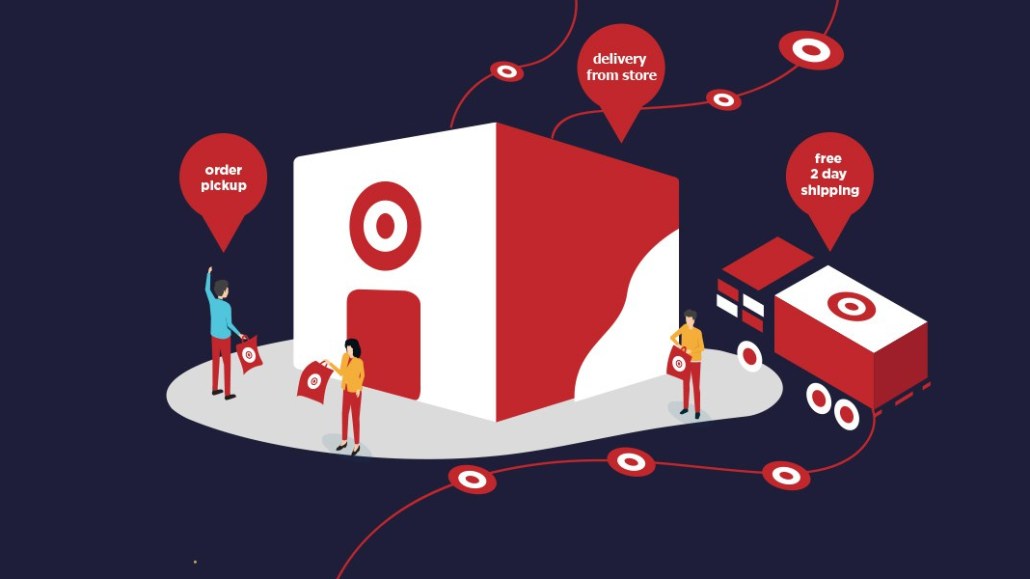 Target, which has invested in equipping its big box stores to become online fulfillment hubs, is looking to grow online revenue through a third-party marketplace on its website. The program, called Target+, will let the retailer compete with Amazon and other retailers' e-commerce platforms, generate service revenue from third-party sales, and drive traffic back to stores through product return drop-off points.
Target is billing this move as an extension of its in-store and online inventory, supported by Target's expertise as a product curator.
"Guests look to Target for great products," wrote Target's chief marketing officer and digital officer, Rick Gomez, in a blog post Monday. "With Target+, we aim to give them easy access to even more great products by partnering with best-in-class specialty and national brands." Target customers who hold a loyalty card get 5 percent off and free shipping, an additional lever to lock in the customer.
Like Walmart and Macy's before it, the marketplace lets Target grow its fee-based revenue from third-party sales. It's a strategy that's worked for Amazon, where third-party sales have proved to be a profitable channel. Target has an extensive store network to bolster its third-party marketplace presence and look after customer service needs should problems arise. Target's e-commerce growth was up 25 percent last year, according to results in December.
Unlike Amazon, Target is taking a cautious approach to growing its marketplace through its invitation-only process. Taking control over which sellers get to participate helps Target control the customer experience more closely and avoid problems other marketplaces have encountered with counterfeit sellers.
"They have a real advantage by sourcing reputable sellers; with Amazon, they end up with so much crap being sold since no one has any sense of the quality with questionable brands," said Kiri Masters, CEO of digital agency Bobsled Marketing. "By going out and cherry picking, they have a massive edge over Walmart and Amazon."
It's also a loyalty play. The platform encourages loyal customers to stay within Target's ecosystem, while Target extends its reach to its customer base by vetting third-party products and owning the sale that takes place within its platform.
Adding third-party items also lets Target grow its inventory without having to take on the risk of holding the items in its stores or warehouses. The retailer reportedly will require third-party sellers to take on fulfillment costs, and the company did not comment on how revenue-sharing arrangements will work. Sellers can create their own Target storefront (which, for example, Mizuno has done), but Target handles the customer interaction if there are follow-up questions.
Control over the experience, however, has its disadvantages from the seller's point of view. For example, brands that have sold on Walmart and Amazon have often complained about the lack of access to customer data to help them more effectively market to customers for retention purposes. Aaron Luo, CEO and co-founder of luxury bag and accessories brand Caraa, which sells through Nordstrom, Urban Outfitters and Athleta, said marketplaces "owning" the customer relationship is a disadvantage. Caraa is not part of Target's marketplace and sold its products on Amazon for eight months last year.
"The more you can make that [review and discovery] data available to sellers, that's extremely powerful," said Luo, who added that information about how customers find a brand on a marketplace, and whether sellers can be assured that their products will place favorably among search results, are important considerations.
Beyond data, making sure the experience is consistent for customers, including shipping, is also critical, said Juozas Kaziukėnas, CEO of e-commerce research firm Marketplace Pulse.
"Target is late to the game given that many other retailers already have marketplaces, so there are questions around what more Target is doing beyond allowing other people to list products on their website," he said. "The challenge for Target is to integrate the shipping and buying experience."
When Amazon sellers can build Fulfillment by Amazon fees into their product prices, it helps them maintain a consistent experience with predictable costs. By contrast, if sellers have to cover free two-day shipping costs, it could cause some margin pressure for smaller sellers. It's a concern some Walmart sellers have expressed, and skews third-party selection to large brands with established reach.
"Customers have become accustomed to free two-day shipping," said Cory Checketts, product marketing specialist at Seller Labs, a company that develops software tools for third-party sellers on Amazon. "You would have to be a big household brand or a brand the size of an anchor on Amazon to make that work."
https://digiday.com/?p=323675