Inside the Super Bowl Social Media Command Center
More than 400,000 out-of-towners are expected to descend on the New York area — lost and confused as they navigate the concrete jungle in the days leading up Super Bowl Sunday. Never fear, weary travelers. A team of 40 volunteers put together by the NY/NJ Super Bowl Host Committee of volunteers (created by the owners of the New York Giants and the New York Jets) will be responding in real time to the befuddled masses in an attempt to make their Super Bowl stay easier. This is what the command center looks like on Super Bowl Boulevard, formerly 53rd Street and 7th Avenue in Midtown Manhattan.
The NY/NJ Super Bowl Host Committee, in partnership with the NFL, will be monitoring and posting on Facebook, Twitter, Instagram, YouTube, and its blog, Inside the Huddle. The plan is to pick up queries directed at @NYNJSuperBowl or using the #SBQuestions hashtag and respond from a long list of pre-prepared answers to almost every imaginable dilemma. Canned answers aside, committee volunteers are encouraged to be human in their replies as to not come off as formulaic or bot-like. So far so good: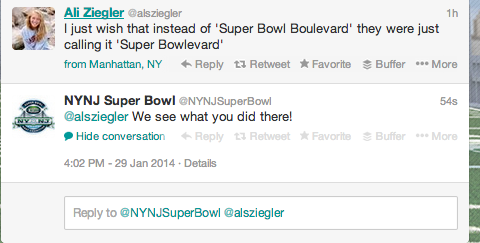 This is the third year in a row in which the Super Bowl Host Committee has set up a Social Media Command Center. Sponsored by Visa, the center is essentially a computer lab-cum-concierge. The lab is made up of 45 computers running a social media management software called tracx. Tracx allows the volunteers to track questions on social platforms over a period of time, monitor whether someone on the team has responded to the question, and assign questions to members who have responded to similar questions in the past.
There will also be a content creation team working on video and sharable images for fans during the game, though the primary focus of the effort is to be an information channel for visitors.

If the interactions for some reason become overly abusive or trolling, volunteers have been given a flow chart of possible responses to avoid conflict. And if the flow chart doesn't help or if something goes truly awry, the command center has the NYPD, MTA and other governing bodies at its fingertips.
Since launching last week, the command center's Twitter handle has more than 12,000 followers, and more than 22,000 on Facebook, a mere fraction of the masses who will be arriving in town over the next couple of days.
https://digiday.com/?p=62773