Brands: Put your logo on a Super Bowl streaker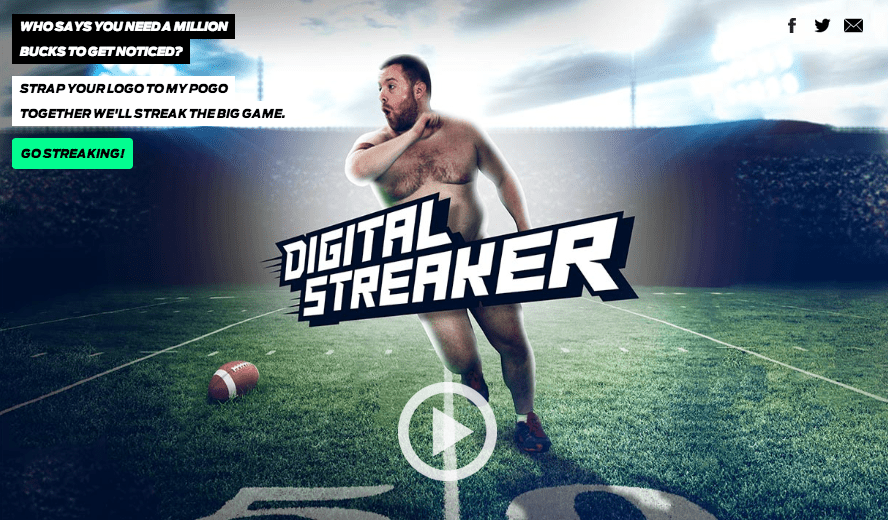 If you're a brand that doesn't have $4 million to drop on a Super Bowl spot, fear not. There is still a unique advertising opportunity for you — and it's totally free.
Digital Streaker is a fun side project from a group of 21 R/GA staffers that let's anyone take part in Super Bowl advertising. Not an official agency project, the site lets you upload your brand logo onto a portly dude's privates who then digitally streaks across a selection of sports websites, including Grantland and ESPN, or you can enter in any website of your choice.
"The whole idea of streaking is making a comeback, but we were wondering why no one has every done it at the center of the world: The Internet," said Jenna Livingston, senior copywriter at R/GA who worked on the project. "But it needed a business angle, some kind of hook, which is how we thought of brands who can't afford Super Bowl ads."
The group of R/GA employees working on the project didn't take it lightly. They held three castings of men running around in their underwear to find the perfect dude to be the digital streaker. The results are pretty glorious.
The site just launched this morning, so no word yet if any brands have actually tried it out, but check it out for yourself — Digiday did:
https://digiday.com/?p=62759