Adore Me acquires maternity brand as it seeks to build brand portfolio
Not a Digiday+ member? You can get the Retail Briefing delivered to your inbox every Monday, Wednesday and Friday. Subscribe here.
Adore Me, the online subscription lingerie brand, has acquired maternity brand Belabumbum as part of its growth strategy to add more product categories each year.
It's the first brand bought by Adore Me, which currently sells bras, underwear, lingerie sets and sleepwear in sizes ranging from small to 6XL. Morgan Hermand-Waiche, Adore Me's CEO, said that the company plans to scale in part by introducing more products, in categories like swimwear, loungewear and maternity, either in-house or through more acquisitions. Adore Me's membership program requires customers to sign up to shop at discounted prices on a monthly basis, and CEO Morgan Hermand-Waiche said that the company now has more than 1 million members and "north of $100 million in revenue," though he declined to be more specific. Belabumbum was bought for an undisclosed amount.
Hermand-Waiche said that Belabumbum was bought for its expertise in the maternity supply chain, and that Adore Me is leaning towards merging most teams, including marketing and e-commerce, into Adore Me's business, rather than having Belabumbum operate independently.
"We have to take everything we've applied to Adore Me, and apply that to another brand. We go from being a player to a coach, and that's interesting to change perspective," said Hermand-Waiche. "Once you have it done yourself, you have a lot to share and teach."
Adore Me is well-versed in building customer data profiles, using technology like artificial intelligence to personalize product feeds and marketing, and driving customer retention and loyalty. Before it acquired Belabumbum, most of what Adore Me has built has been in-house: its membership model, AI marketing technology and Adore Me Services, a robotics-equipped distribution center, have all been launched by the company in the past three years.
Now, by bringing more brands into the fold with an acquisition strategy, Adore Me is establishing itself as a digital lingerie player that could vacuum up some of the competition as an increasingly crowded market needs to consolidate. Online lingerie startups have boomed as the category's dominant player, Victoria's Secret, has struggled to respond to changing customer behavior. Lively, ThirdLove, True&Co, Knix and others have popped up online to offer new alternatives, bent on body positivity and size inclusivity, to swell the $24 billion U.S. lingerie market.
Adore Me, which is profitable and owns its manufacturers, has built a robust logistics infrastructure on the back of its once-controversial membership model (customers filed complaints that they were being charged a recurring fee without their awareness) that could act as a blueprint for the brands it brings into its portfolio.
"It's becoming increasingly clear that brands need more than savvy marketing to become lifelong companies," said Schlomo Chopp, managing partner at Case Equity Partners. "And as some companies build up scale, fulfillment and distribution, their next move will be to buy up the ones who have only built brand awareness." — Hilary Milnes
How to launch an indie skin-care brand on Amazon
Skin-care brand Pour Moi is launching on Amazon to grow its U.S. business. Right now, the brand is sold primarily through its e-commerce site, as well as on The Shopping Channel, Canada's home shopping network. Foregoing specialty retailers like Ulta and Sephora for its U.S. push, Pour Moi is diving headfirst into Amazon's beauty business, where reviews drive sales, competition is unparalleled and not knowing how to navigate marketplace logistics can sink a business.
To launch, Pour Moi hired the Amazon agency Stella Rising to manage its business and get it up to speed on Amazon's marketplace.
Stella Rising CEO Andrea Van Dam laid out the brand's launch strategy on Amazon.
Build a brand off of Amazon first. Pour Moi was founded in 2014, and has built up social media followings and influencer relationships around its products, which are formulated to cater to people in different regions, reflecting a belief that climate has a specific impact on skin. By building up brand awareness first, Pour Moi isn't launching on the site with a blank slate. "So much of what is driven on Amazon happens off Amazon," said Van Dam, pointing to traffic as the biggest factor. When potential customers see an influencer talking about a skin-care brand, search on Amazon increases, said Van Dam.
Wait to advertise. Amazon is becoming notoriously pay to play, but Ulli Haslacher, Pour Moi's president and founder, said the brand won't be bidding on search keywords or buying display ads on Amazon until the foundation of its business on the platform is built. According to Van Dam, the top priorities are getting Pour Moi content onto the brand's landing page, including imagery and information around how the products work, and then building up reviews. "We can identify pockets of opportunity by following key searches and categories that women are most interested in in the beauty category, and when we have that down, we can start putting money behind what will perform best," Van Dam said.
Stay hands on. Haslacher said that the Amazon business requires daily attention, particularly for an indie beauty brand that's still figuring out how its algorithms work and the best way to navigate Amazon-specific problems, like being flagged with a hazmat regulation in the Amazon warehouse for selling skin cream. "If you don't have feet on the street where you can get on the phone with Amazon and know what to ask, it can be an impossible to navigate marketplace," said Van Dam. — Hilary Milnes
Quadropoly?
Walmart is building up its advertising business in the image of Amazon, using its network of Walmart.com, Jet.com and 4,600 Walmart stores to target customers with ads. With media buyer power shifting to retailers, the two companies could be the next Facebook and Google in a few years' time. According to Jeff Greenfield, COO of C3 Metrics, "Walmart's entry into ad sales is a shot across the bow of Amazon and should be a major concern at both Facebook and Google." C3 Metrics predicts that over the next 18 months, Walmart and Amazon will dilute Facebook and Google's share of brand dollars by 25 percent.
According to Digiday Research from last April, Walmart still has a lot of catching up to do to Amazon. Of 63 media buying executives surveyed, just 13 percent were buying ads with Walmart.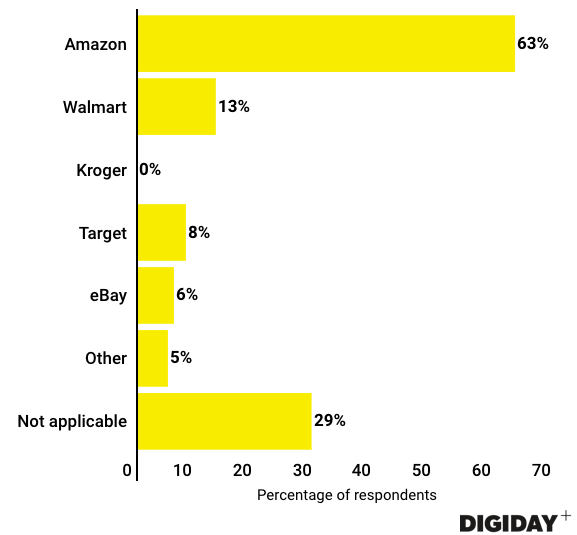 Home Depot's DIY delivery
Home Depot is focusing on delivery and in-store pickup capabilities to drive up sales volume. It's a strategy Walmart, Target and Lowe's have undertaken to leverage large store networks as fulfillment centers for online orders. For now, it's helping these retailers use online orders to drive store traffic once customers go to stores and seek additional advice.
Home Depot reported Tuesday in its fourth-quarter earnings that online sales grew 22.7 percent in the fourth quarter and 24.1 percent in 2018, making up 7.9 percent of Home Depot's total sales. Overall, the retailer reported lower than expected sales growth, with same-store sales up 3.2 percent from last year.
Linking its physical stores to its online business has proven promising. As of the fourth quarter, 50 percent of online orders in the U.S. are picked up in stores. "Our strategic efforts to drive an enhanced customer experience through investments in both the physical and digital worlds are yielding solid returns," CEO Craig Menear told investors.
On the storefront, Menear said the company has refreshed 40 percent of its stores with a new look and feel, and 1,000 stores now have automated online order pickup lockers. On the delivery front, the company has made an ambitious investment of $1.2 billion to create the fastest delivery network possible; it expects a full rollout of its revamped delivery capacities by 2022. Home Depot, like Walmart, is working with last-mile delivery partners to help achieve this objective (Walmart is experimenting with companies Point Pickup, Skipcart, AxleHire, Roadie and Deliverr). On Monday, Home Depot, along with Warren Stephens and Eric Schmidt's TomorrowVentures, invested $37 million in Roadie, a last-mile delivery service that taps into unused capacity in passenger vehicles already on the road. In September, the retailer announced that it was working with startups Roadie and Deliv to roll out same-day or next-day delivery for 35 cities across the U.S. — Suman Bhattacharyya
What we've covered
Target+: Target is building its own marketplace, but it's going about it differently than Amazon and Walmart.
Don't sleep on Loblaws: The Canadian retailer has a digital strategy in place to stave off Amazon.
Lingerie meets private label: Target's next private-label brand is the product of a perfect storm of opportunity and industry competition.
https://digiday.com/?p=323924