It's Alien Day.
In case you've been living on another planet, today is a day where fans commemorate the classic 1979 sci-fi thriller "Alien," starring Sigourney Weaver. The connection to today is tenuous: The planet's name in the movie is LV-426, and today is April 26, or 4/26. To mark the occasion, Reebok is releasing a limited edition shoe based on the pair Weaver's character wore called "Alien Stompers."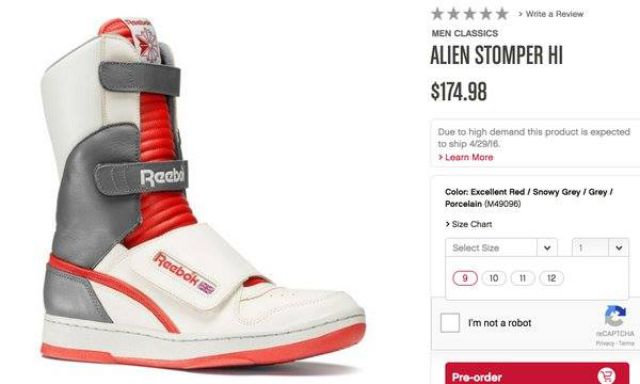 They went on sale at noon today and sold out within an hour. After all, Reebok only produced 426 (get it?) pairs. These "limited edition" sales often sell out quickly and often result in ordering problems, as happened here. But fans also lashed out the promotion because Reebok only made shoes in men's sizes. Shoes that were, after all, worn by a female character in the movie.
That led to a barrage of complaints directed at Reebok:
So @Reebok released Sigourney Weaver's "Alien Stomper" Alien replica shoe. Only men's sizes. #AreYouFuckingKiddingMe pic.twitter.com/RMaanyfAxv

— lisa (@PhysicistLisa) April 26, 2016
Even the smallest size, Men's 6, would be 2 sizes too big for me. What makes @Reebok think women don't want to wear Ripley's shoes??

— Yaya Han (@YayaHan) April 26, 2016
The Alien reeboks are only in men sizes. Since a man wore them, you know. Oh wait

— melissa kay (@mechamelissa) April 26, 2016
We're bombarded w/ shoe ads, b/c "Women Shoes!" Except film's most badass lady's shoes. THOSE'RE FOR MEN ONLY. @ReebokClassics #AlienDay

— Erika Ishii (@SamuraiErika) April 26, 2016
Lol @ReebokClassics @Reebok why DID you only make men's sizes of the Ripley, smallest size equated to a women's 10.5 pic.twitter.com/Xckl3b49ne

— Horse Parties (@arismash) April 26, 2016
So @Reebok makes limited ed replicas of Ellen Ripley's kicks from Aliens…and doesn't offer them in women's sizes. Brilliant move corporation

— Luke of the Wheel (@Burning_Luke) April 26, 2016
The comments were echoed on Instagram, too. "Men's sizes only? For the shoes of the greatest Sci-Fi movie heroine ever? Way to be a cliché of a thoughtless bro," a user wrote.
Reebok blamed a mis-categorization on its website for the error, telling Digiday the shoes were for sale "in a unisex style and was produced in sizes U.S men's 3.5 to 12, which is a typical size range for a unisex model."
If it's any consolation, pairs of the $175 shoes are already selling for upwards of $400 on eBay.
https://digiday.com/?p=174717