'Powerful for industry networking': With in-person meetings still on hold, ad talent job hunters turn to Twitter
October 16, 2020 • 4 min read
•
•
Since 2008, Christie Cordes has been telling ad execs to get on Twitter. Doing so is a must for finding new ad talent as well as being discovered by recruiters, according to Cordes, the founder of executive search firm Ad Recruiter.
"I've been saying it for 12 years; it's finally taking hold," said Cordes, adding that she often helps ad industry talent craft new, more professional bios that can make it easier for recruiters or execs to not only find and follow them but consider them for new gigs. "It's helped many people get discovered."
Using Twitter for professional networking, searching for a job or job candidates isn't new. If you ask industry execs about it you'll hear some say they've used the platform to move from job to job to job over the last few years. However, with the pandemic disrupting the in-person networking altogether over the last six months, using the platform to do so has become (at least, anecdotally) more popular.
Last month, for example, Jack Appleby landed a gig at Twitch as a senior creative strategist. The job opportunity came through Twitter after Appleby posted that he had been laid off. "My new boss saw my tweet and DMed me, asking if I was interested in a Twitch role," said Appleby. "A few months later, now I'm here!"
In May, David Hoos, marketing director at Conversmart, saw a post from Arri Bagah, CEO of Conversmart, that said Bagah was looking for a director of marketing. Hoos sent Bagah a direct message asking for more info about the role. "After a short back and forth we set up a time to talk more about it via a Google chat that Friday," said Hoos. "By the following Monday evening, I had an offer letter."
Appleby and Hoos aren't alone in using Twitter to find a new gig this past summer. In July, Matthew Kobach left his job managing social and digital for the New York Stock Exchange to become the head of content marketing for the e-commerce start-up Fast. That transition started with a Twitter DM: Kobach had sent Fast co-founder and CEO Domm Holland a "cold DM" this past spring asking to learn more about the company. At the end of their conversation, Kobach told Holland to let him know if Fast ever needed help with marketing. Six months later, Holland reached out about the job.
That advertising and start-up execs are using Twitter to seek out talent isn't about the platform, per se, but how people use the platform, according to industry execs.
"I don't think these stories [of finding new jobs through Twitter] are uncommon, although I don't know they are entirely 'from' Twitter," said Adam Singer, Think3 CMO. While Singer believes the platform can help with networking — his most recent gig came after he tweeted that he'd moved to Austin, Texas and was seeking new connections there — he says what matters is how people interact on the platform. "Twitter is just the communication vehicle to connect — typically I think people who get a job from Twitter do other things, which they share on Twitter, which helps their cred, and results eventually in a job or opportunity."
That said, some industry professionals believe the platform allows people to be more true to themselves than other professional networking platforms.
"No one's 'nice to e-meet' on Twitter — you get a nice mixture of personality and professional thoughts from people without the faux professionalism that makes LinkedIn so bland," said Appleby.
Kobach compared connecting on LinkedIn to exchanging business cards at a conference. In doing so, there's the intention of making a professional connection, but none of the follow through, per Kobach. Connecting on Twitter, however, is more akin to getting drinks with someone at the same event and fostering a real connection, explained Kobach.
Cordes believes that people seeking their next gig in advertising should use the platforms in tandem. "Twitter is more powerful for industry networking than LinkedIn," said Cordes. "However, your LinkedIn is the place where people check your legitimacy. Connect LinkedIn and Twitter and use both platforms together; list your LinkedIn link on Twitter and list a Twitter link on LinkedIn."
"The ultimate place to find talent and to be discovered is Twitter," said Cordes. "It's up to each person to use it in this way — or to use it to goof off or rant."
https://digiday.com/?p=380760
December 8, 2023 • 3 min read
For Atlas Creative, expanding into Roblox is not solely a play to scale up. The company believes there are concrete benefits that will come with having a hand in multiple metaverse platforms.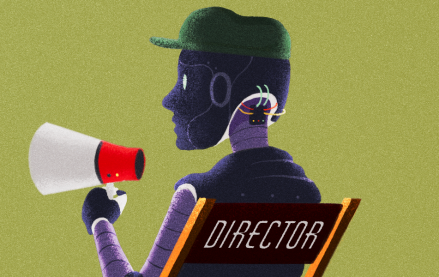 December 8, 2023 • 5 min read
Since ChatGPT became a breakout hit, the names of numerous AI companies and products have entered the cultural vernacular.
December 8, 2023 • 4 min read
Even as linear TV ad spend declines, 23andMe is reinvesting in the channel to boost brand awareness.