Pitch deck: How Pinterest is pitching itself to advertisers in 2023
October 9, 2023 • 26 min read
•
•
Ivy Liu
This article is part of an ongoing series for Digiday+ members to gain access to how platforms and brands are pitching advertisers. More from the series →
Pinterest has always seen itself as a platform that can effectively target and engage users at various stages of the marketing "funnel" but now it really wants marketers to do the same.
Anyone who's read its main pitch deck for 2023 since the Spring will be aware of that. In fact, even the ones who haven't — seven of them spoke to Digiday — say the message is starting to ring true. It hasn't always, with Pinterest being used more as a place for brand advertising than anything else.
After reviewing the deck that was shared with Digiday, Adam Telian, vp of performance marketing at New Engen said that it supported how he views the platform for a lot of clients, noting that in the last few months, about 20%-25% of them have been active on the platform.
"We're recommending it for a couple of campaigns that we're working on right now," Telian added. "Our rationale was, it's not a place to doom scroll. You go there for a specific reason. And the campaigns that we're planning are driven by a need for creative inspiration."
The pitch
The deck, which has been doing the rounds since April, begins by boldly touting the platform's mission: "To bring everyone the inspiration to create a life they love" and highlighting that nine out of 10 users say that Pinterest is an online oasis.
"Users inherently trust the content on Pinterest, thus a brand's presence alone on the platform positions their messaging in higher regard in comparison to other social platforms," said Jenny Lewis, director of social media investment at Basis Technologies, who has around a single digit percentage of clients that buy ads on Pinterest.
That percentage would probably be bigger if marketers felt they could reach more people. At last count, Pinterest's user base was around 465 million in the second quarter, up on 445 million global monthly active users shared in the deck. For context, Instagram had over two billion monthly active users at the start of the year. Simply put, Pinterest is growing, albeit slowly. That's something it will need to address if its pitch — and subsequent ads business — are to amount to something more.
Jeremy Goldman, senior director of marketing, commerce and tech briefings at Insider Intelligence, compounded the point. He said that growth of Pinterest's user base is forecast to be between 0.7% and 1% year over year (YoY) through 2027. It's a sobering predicament for Pinterest's much-publicized ambitions.
"Pinterest has a vision, but they have an inability to grow their user base," he said. "With its ability to inspire purchases and track ROAS and attribution, it falls flat if the user base doesn't grow."
Maybe, the key will be how successful it is able to reach a wider breadth of people. The deck points out that Pinterest doesn't just cater to a Gen Z audience like a lot of apps do these days. In fact, the platform has 35% more millennial pinners YoY, according to Pinterest's internal data, said the deck. And its Gen Z pinners have increased 50% YoY, as well as its male pinners (24% increase YoY).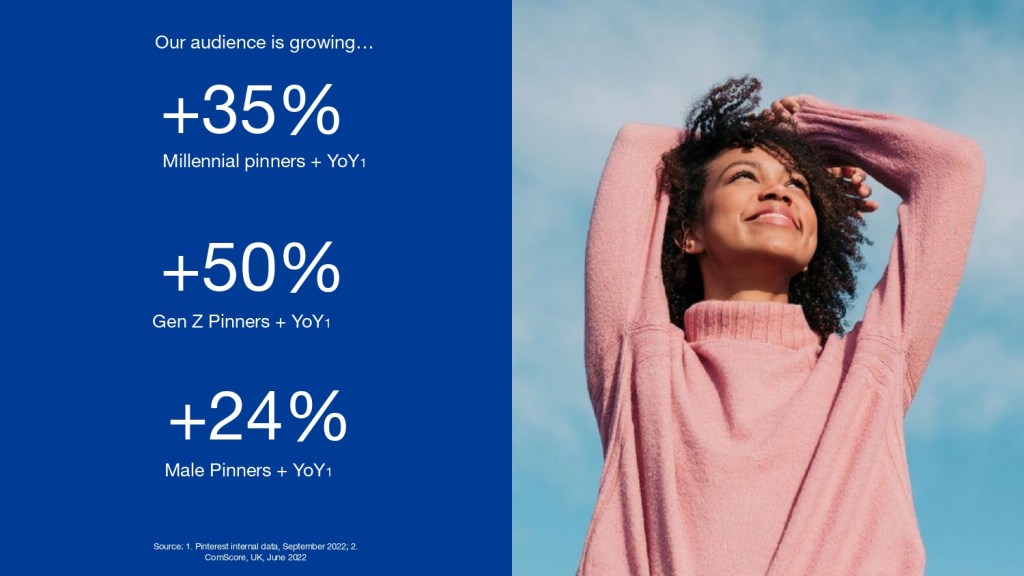 And Goldman did highlight that Insider Intelligence projections going into 2025 show that Pinterest is expected to reach $3.95 billion in ad revenue globally, of which $2.7 billion will come from the U.S. alone. While these numbers sound promising, they're a drop in the ocean compared to the hefty figures that the likes of Meta and TikTok boast. Keep in mind that Meta made nearly $32 billion in the second quarter of this year alone.
The differentiator
A key point of difference between itself and other platforms is that users aren't as quick to ditch Pinterest as they do others, according to the deck, which quoted one anonymous user: "There's no confrontation, news or drama. Pinterest is about ideas — not opinions." Moreover, they're actively encouraged to use the platform to inspire their actions off platform, in real life. That's because Pinterest user are future focused — they actively use the platform to do things like plan weddings and house renovations as well as explore fashion and beauty trends to name a few.
While a number of pages in the deck point out where Pinterest differs (and in its eyes, is better) from its platform peers, the seven marketers Digiday spoke to all agree that a key strength is that it's a mix between a social media platform and a search engine — something TikTok has been leaning into more recently.
"Like Google, users visit Pinterest with an intention – scouting gift ideas, looking for fashion inspiration or finding the perfect décor pieces for their home," said Bryan Armit, head of social at Tigerbond, who does organic social on Pinterest with about 10% of clients. "This means users are open to discovering new brands, engaging with relevant content and making a purchase."
Even so, it's going to take a while before this narrative converts from being a place for inspiration, to more ad dollars.
Armit said his clients seem reluctant to reallocate ad spend from Meta or TikTok to Pinterest because of their comfort with those platforms. But as CPMs increase on Meta and brands worry about the brand safety of X, more and more clients are seeking alternative channels, and Pinterest is a credible alternative to some of those clients, Amrit explained. "Pinterest is being involved in the conversation more and more, and I would be surprised if we weren't spending more on the platform by this time next year."
What about CPMs and ROAS?
What will likely pique the interest of marketers who look through the deck is that Pinterest has claimed it has a more "efficient CPM" than its contemporaries. The deck says that Pinterest on average sees a £3.10 CPM, while the CPMs for its max width video and standard video ads see CPMs of £3.80 and £2.40, respectively.
While the document highlighted U.K. example figures, Sarah Saffari, CEO and founder of influencer and social media marketing agency InfluencerNexus noted that CPMs on Pinterest in the U.S. are typically lower than other platforms. This is what she's seen from the 30% of clients who use the platform organically, while half of that percentage use paid ads. "They range between $2-$5 CPM [on Pinterest], while channels like TikTok average between $9-$10 for traditional ads and $6 for spark ads and Instagram is the most costly at around $12 CPM," she said.
However, Brittany Eber, CEO of Block & Tam, which has about a quarter of its luxury e-commerce clients on Pinterest, said while she has seen similar CPMs on the platform, conversion rates (CVRs) are about 40-50% lower on Pinterest than Meta. In other words, Meta's conversion rates are stronger than Pinterest right now — for this contingent of advertisers, at least.
The deck further drives home the point by stating that the platform "performs highest in terms of relative ROAS". Although this doesn't necessarily resonate with all marketers.
Eber explained this may be true for smaller brands than the high tier luxury brands she works with. "While ROAS is an important metric, it really only matters in relation to conversion volume," she said. "In simple terms, Pinterest can't compete with some of the other platforms in scaling conversions."
It's a similar view held by Jack Moore, head of social at U.K. based agency Hatch Group, which has about 15% of clients currently on Pinterest. Moore said he's seen a slightly better ROAS on Meta and TikTok from campaigns he's run recently (though declined to share the specifics on the ROAS), but caveated that by noting that he runs a lot more campaigns on those other channels.
The full deck is below:
https://digiday.com/?p=521013
December 8, 2023 • 3 min read
For Atlas Creative, expanding into Roblox is not solely a play to scale up. The company believes there are concrete benefits that will come with having a hand in multiple metaverse platforms.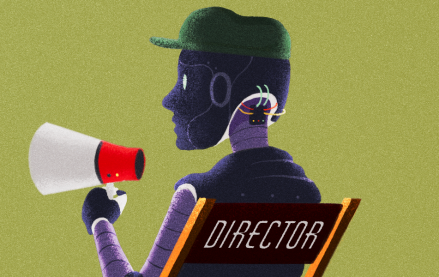 December 8, 2023 • 5 min read
Since ChatGPT became a breakout hit, the names of numerous AI companies and products have entered the cultural vernacular.
December 8, 2023 • 4 min read
Even as linear TV ad spend declines, 23andMe is reinvesting in the channel to boost brand awareness.