Digiday covers that latest from marketing and media at the annual Cannes Lions International Festival of Creativity. More from the series →
Pandora is going beyond the standard yacht to entertain clients at the Cannes Lions this year, as it tries to capitalize on creatives' and buyers' growing interest in audio.
At this year's festival, Pandora is unveiling a 45-minute showcase where guests will be blindfolded at points to showcase how audio can drive or influence campaigns. Called "The Six Dimensions of Sound," the experience walks attendees through different sensory experiences such as augmenting taste by listening to particular sounds while eating chocolate.
For Pandora, Cannes is a way to show off its scale. While Apple and Google expand their audio offerings, and although Spotify's number of monthly active users far exceeds Pandora's, Pandora claims to be the largest publisher of digital audio ads in the U.S., and it owns two-thirds of all digital audio inventory, the company reported in its quarterly earnings last year.
"We're first and foremost a music company, but we're also a data and analytics company," said Roger Gehrmann, Pandora's group creative director of ad creative. "We've been playing music to people more than a decade now, so we have the data to back up. Everything we do within the headphone space affects how we can keep audiences on our platform and continue to be comfortable with the ads that they listen to."
Gehrmann said the so-called headphone space — or audio industry — has reached new heights, with 368 million headphones sold in 2017. On a personal note, he shared that his 1-year-old's first word, uttered earlier this month, was "Alexa" — yes, the name of Amazon's voice assistant. Even Snapchat's Cannes experience, called "Sound Stories," is dedicated to audio.
"Sound is important not just in music and advertising, but it's important to us as human beings," Gehrmann said. "We're experts in the way we can manipulate, augment, amplify and influence our audience. "
Pandora's Cannes activation is exclusive and invite-only. The company will run four sessions, led by Lauren Nagel, Pandora's vp and executive creative director, and it will host six agencies and three major brands, including General Mills.
Digiday got a preview of Pandora's experience, where Gehrmann explained each of the six dimensions and played several sounds related to each of those categories. For example, for the first dimension, called Connection, Gehrmann played waves and described how and why they conjure feelings of relaxation while bird songs can range from calm to alarming.
To describe the dimension called Identity, Gehrmann played Intel's theme.
"There was a test that found Intel's sound was the second most recognized after a baby's cries. I call it the world's greatest media plan ever," Gehrmann said.
That type of brand association via audio can travel across mediums, from TV to radio to when people simply read "Intel" or think of it. As Gehrmann said, sound effects are meaningful, but can also be far less expensive than other creative.
"I like to call it cheap art direction," Gehrmann said. "Shooting a car down the beach is expensive, but playing the sounds is cheaper."
https://digiday.com/?p=291872
December 8, 2023 • 3 min read
For Atlas Creative, expanding into Roblox is not solely a play to scale up. The company believes there are concrete benefits that will come with having a hand in multiple metaverse platforms.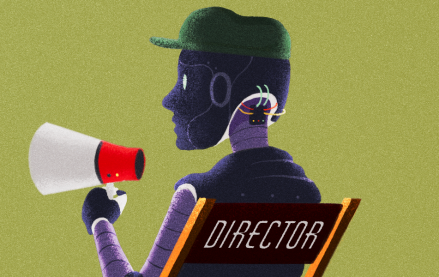 December 8, 2023 • 5 min read
Since ChatGPT became a breakout hit, the names of numerous AI companies and products have entered the cultural vernacular.
December 8, 2023 • 4 min read
Even as linear TV ad spend declines, 23andMe is reinvesting in the channel to boost brand awareness.