Now Israeli soldier Halloween costumes are sparking outrage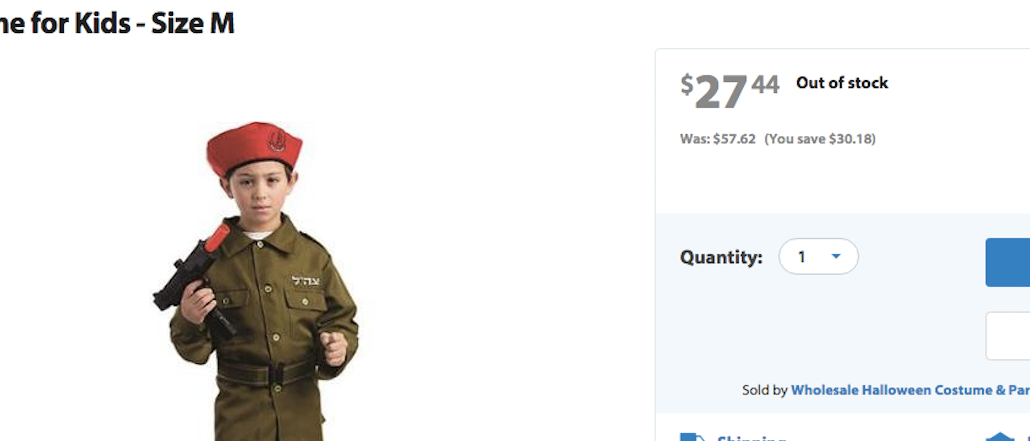 Halloween costumes are the new political battleground.
Both Amazon and Walmart are under fire for selling children's costumes of Israeli Defense Forces soldier, complete with olive green top embroidered with Hebrew lettering roughly translated as "Israeli Army," pants, belt and a red beret. The toy gun is not included, apparently.
Cue social media mobs. Walmart has attracted the ire of social media for selling a kid-sized Israeli Defense Forces costume for the everyday low price of $27.44. It's since has sold out on Walmart's website, but it's still available for purchase on Amazon where it's averaging a one-and-a-half-star review. The product comments section has pretty much become yet another place to argue the merits of the intractable conflict.
The IDF uniform joins a long line of other controversial costume that happens every year as Halloween nears. A Caitlyn Jenner costume that's been on sale since August was blasted as "transphobic," although Jenner herself said she wasn't offended by it.
The rhetoric toward the polarizing costume was similar on Twitter, too:
Israeli Soldier Kids Costume. the scariest Halloween concept I've EVER seen. https://t.co/Ym6FMXmXef

— Rosa Rad (@rosarad47) October 27, 2015
Hey @Walmart, do you realize your supporting the killing and occupation of innocent children with this costume? https://t.co/oFoyM75sUP

— Adeeba. (@Adeeba__) October 27, 2015
For an easy $28.81 at Walmart, your kid can be an apartheid soldier for Halloween! https://t.co/2A7oaIrwCP pic.twitter.com/MwJLNZ50zC

— SMPalestine (@SMPalestine) October 27, 2015
Walmart is selling an Israeli soldier costume: https://t.co/o7aN7YJuyR For only $29, your kid can dress like he guns down Palestinian kids!

— Andrew Kadi (@imAK48) October 27, 2015
Walmart and Amazon did not immediately respond to Digiday's request for comment.
The Israeli soldier costume isn't the only polarizing military-themed costume for sale on either of these retailers. There's a similarly priced, gun-wielding U.S. Special Forces kids costume and a grenade-holding U.S. Navy Seal child's costume, too.
Perhaps it's just easier to dress up as Pizza Rat.
https://digiday.com/?p=143146