Nothing represents the zeitgeist more than a newly approved selfie emoji.
Unicode Consortium released 77 new emojis yesterday, including the highly anticipated avocado emoji, two strips of bacon, a (very topical) gorilla and an arm taking a selfie. Also included a handshake, pancakes, a green salad and a drooling face.
However, the new emojis doesn't include a condom, as Durex petitioned for in an effort to promote safe sex, or 13 "true-to-life representations of professional women" emojis that Google proposed.
The new emoji package, called Unicode 9.0, is a culmination of a week-long meeting among members of the non-profit organization that ensures emoji consistency among phone operating systems. Perhaps not coincidentally, Facebook Messenger also today released 1,500 new emojis for Messenger, which doesn't abide by Unicode Consortium rules since it is its own chat app.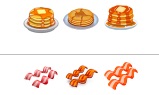 "There's a huge opportunity for brands that have direct ties to specific emoji or those that can contain multiple meanings," said Travis Montaque, a Unicode Consortium member and Emogi CEO. For example, IHOP and the new pancake emoji and Planter's with the new peanuts emoji.
Developers can begin using them this month, but normal people won't see them until mid-2017 because of Apple's and Android's lengthy design process.
Banner photo via Emojipedia. 
https://digiday.com/?p=180938