'Everyone is grasping for nostalgia and happiness': Why marketers are ringing in the holiday season with more influencers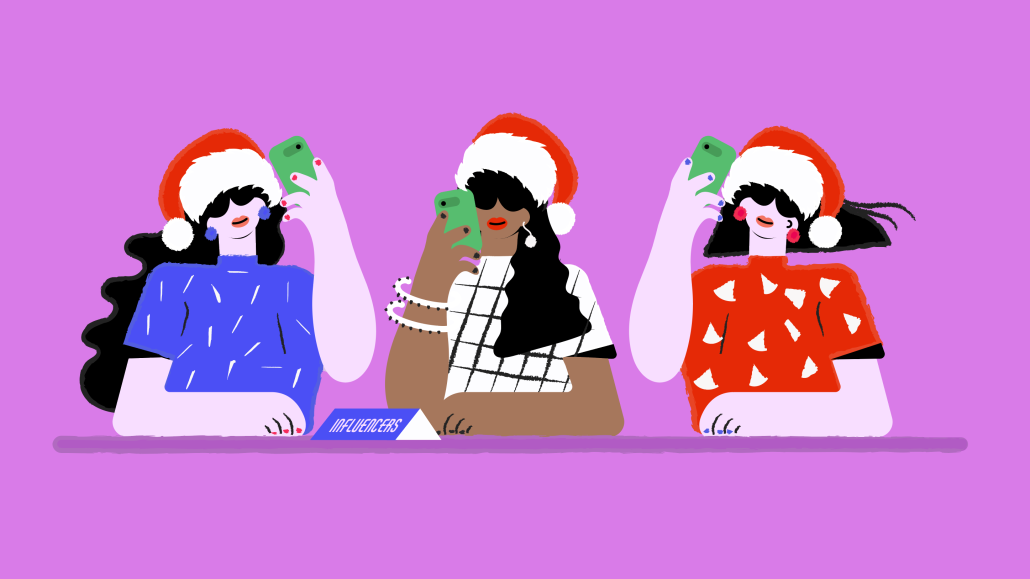 Ivy Liu
This year, marketers are turning more and more to influencers to spread holiday cheer.
For example, Lowe's tapped 18 influencers for its "Letters to Home" campaign, which rolled out earlier this month, to encourage people to give thanks for their homes as well as pick out gifts to spruce them up. The home improvement giant isn't alone in turning to influencers for the holidays. Ahead of this season, influencer marketing agency execs say there's been an increase of between 20-30% from last year in requests for holiday influencer campaigns. 
"This is our agency's twelfth year working with brands and influencers on holiday content and we've never had so many programs — at least 20% more than last year," said Kristy Sammis, founder of influencer marketing agency Clever and executive director of the Influencer Marketing Association. "Influencer and creator content has become ubiquitous [during the holiday season] — in the last two years it's moved from being an optional part of marketing plans to an essential part. Now that professional production studios aren't reliable — due to safety measures — influencers are the go-to."
Additionally, influencer marketing execs say the uptick this year is likely due to the significant production costs of the necessary safety measures. With many influencers able to create their own content as well as being able to shoot with the people in their quarantine pods, the financial appeal of working with influencers this year has spiked, said Vickie Segar, founder of influencer marketing agency Village Marketing.
"Normally we would look for talent and pick people to be in groups; now an influencer or creator will send through talent they are comfortable shooting with," said Segar, adding that this shift to influencer marketing is part of a reevaluation of the production process. "Covid has forced people to make changes to how they produce content and break the traditional production model. Production is being innovated right now."
At the same time, with some states urging people to stay at home as the coronavirus once again surges, people are likely spending more time scrolling on apps and seeing influencer content, said the execs.
"The budgets have shifted," said Amanda Marzolf, partner in the digital division at A3 Artists Agency. "There aren't as many big commercial shoots, no big PR events or point-of-sale materials. People are at home, spending time on the internet, on social media so the budgets have really shifted to that."
The increase in requests for holiday content by influencers has come with a more eclectic mix of brands making those requests; typically clothing and beauty brands are the primary brands asking for content from influencers this time of year. However, now the requests for influencer holiday content and campaigns are coming from a wider variety of brands including outdoors gear, like Igloo Coolers, home goods, cookware and home fitness.
While holiday campaigns are typically meant to be "feel good" marketing, there's been a push from marketers to get holiday content that leans into the typical holiday aesthetic— Santa hats and decorations, eggnog, six-foot nutcrackers etc. — even more than usual this year, according to Danielle Wiley, CEO of influencer marketing agency Sway Group. "Everyone is grasping for nostalgia and happiness where they can get it," said Wiley.
Encouraging joy and resilience as well as nostalgia in the holiday campaigns has been common, according to influencer marketing agency execs. In working with influencers like kindergarten teacher Mackenzie Adams and Broadway star Robert Hartwell for the "Letters to Home" holiday campaign, Lowe's worked to find "fun and unexpected partnerships" with influencers who have "capture[d] the heart of the nation through their resilience and joy, despite the challenges they've faced," noted Lowe's CMO Marisa Thalberg. 
"Brands are allowing influencers to be a little more creative (and therefore more festive) this year," said Sammis. "2020 has been rough on all of us, and we can all benefit from truly cheerful content, Santa hats and all."
https://digiday.com/?p=384988