For brands, marketing 'plus size' is a tricky line to walk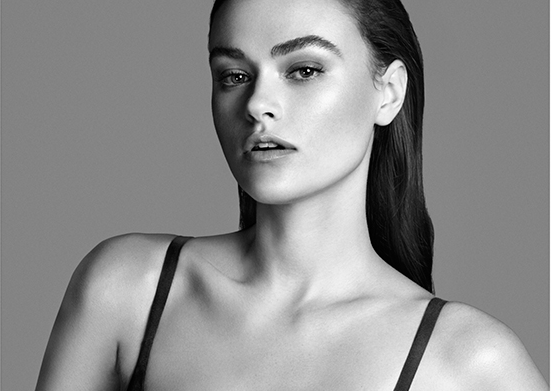 On Monday, Elle and Calvin Klein discovered the harsher side of going plus-size. The magazine and the retailer came under fire for a piece about Myla Dalbesio, a gorgeous size 10 who insisted on referring to herself as plus-sized. 
"It's kind of confusing because I'm a bigger girl," Dalbesio told Elle. "I'm not the biggest girl on the market, but I'm definitely bigger than all the girls [Calvin Klein] has ever worked with, so that is really intimidating." A story on Dalbesio that ran on Entertainment Tonight also told readers to "Meet Calvin Klein's New Plus-Size Model."
While CK itself didn't outrightly call Dalbesio — who is much slimmer than the average American woman — "plus-sized," it's clear that the publicity machine wants to. And why not? These days, brands make headlines by announcing that they have "regular" people in their ads or that they're taking a stand against airbrushing.
The plus-size retailing segment is worth a whopping $17.5 billion, so it's no wonder that an increasing number of retailers are trying to cash in on the trend.
This year, the NPD Group estimated that the plus-size sales among e-commerce and department stores especially grew very strongly in the last two years. As a result, more retailers — like Mango, Forever 21 and Wet Seal among others — have opened up new plus-size lines and sections on their sites. There's even Full Figured Fashion Week, an alt-event held after the Mercedes-Benz Fashion Week in the summer in New York City.
But while plus-size clothing may make good economical sense — after all, there are a 100 million women who wear a size 14 (commonly classified as the tipping point for plus size) — it's not easy for retailers to enter the space. One big reason: plus size has evolved into an "amorphous, culturally charged term," according to Margaret Bogenrief, the founding partner at crisis management company ACM Partners, who specializes in the retail industry. That means that if a brand were to launch a plus-sized collection, it can expect some praise but also, perhaps, plenty of scorn.
Many retailers make the mistake of grouping in sizes 12-16 in with plus size, which is "a fallacy given that most L to XXL sizes found within 'traditional' retail fit 12-16 and don't necessary merit a separate category," said Bogenrief.  
Commenters weren't happy with Elle.
"@ELLEmagazine: The newest plus-size modeling star: https://t.co/LLHy0qiDzT pic.twitter.com/WKdtHjjx6j" if this is plus then im morbidly obese

— BABB¥ (@spoopybabby) November 10, 2014
ELLE's photo of 'newest plus-size modeling star' confounds normal human beings https://t.co/iJByWlMRxt

— Jan Arild Snoen (@jasnoen) November 10, 2014
All of this invites the question of whether the retail segment even needs a separate, dedicated plus-size section at all. It comes down to branding: adding a plus-sized section is often a cue for brands to also create an ad campaign around it and gain a little positive publicity.
Bogenrief said that brands that specialize in plus size, like retailer Eloquii, are increasingly fighting traditional outlets for market share. Traditional retailers like Forever 21 and H&M are creating entire specialized plus-sized lines (Faith 21 and H&M+, respectively) in lieu of simply making their pre-existing stock bigger. These brands want to market and create new plus-size-only extensions so they can also reap the benefits of being seen as conscious about body image while keeping the inventory separate.
Here's a look at how some major retailers define "plus size," a designation that varies widely.
H&M
The Swedish retailer rolled out H&M+, a line of plus sizes, in 2011. It declined to comment for this story, but a cursory look at its online presence shows that plus sizes are basically anything above large: Large, XL, 2XL and 3XL — with measurements going up to a 50.25-inch bust size and a 44-inch waist.
Last year, plus-sized model Jennie Runk, who wears sizes 12 or 14, was featured in the chain's swimsuit ads — a move that generated plenty of positive buzz. But then, earlier this year, customers got angry when its latest catalog featured what people thought were decidedly not plus-sized models.
This is a model out of the h&m PLUS SIZE collection. No wonder girls think they have to look a certain way…shame pic.twitter.com/rWWoQ0rNO1

— nanou (@me_and_bulimia) January 9, 2014
Target
Target offers many plus-sized items of clothing, with the largest size, 4X, going up to a 51-inch waist and a 53-inch bust. But while most retailers struggle with making sure their plus-sized models are actually plus-sized, Target had a different problem: It cast a pregnant woman to model the clothes. 
Forever 21:
In 2009, cheap and chic clothing retailer Forever 21 launched Faith 21, a line of clothing for plus-size women. The sizes run from XL to 2X. Waist goes up to 42 inches, while bust goes up to 49.
Asos:
The British retailer's "Curve" line appeals to a wider swathe of the population, offering sizes 14 to 24 — up to a 48-inch waist and 55-inch bust. This summer, it launched an ad campaign and contest looking for the next face for the collection. "Make Me a Curve Model" asked people to upload photos of themselves on Instagram. (It was basically a classy antidote to how American Apparel launched its own plus-size contest to celebrate pants in size XL, then decided not to award the actual winner.)
Mango:
In June, Mango launched Violeta, its collection of plus-size clothing for women in the U.S. Sizes go up to 20. The Spanish brand had in December launched the line in Europe to a fairly cold reception, with critics arguing that labeling sizes above 10 "plus size" was maddening and insulting.
https://digiday.com/?p=95540