'The amount of the complexity is overwhelming': What the ad tech elite discussed at Luma Partners Digital Media Summit
May 24, 2017 • 3 min read
•
•
From the inordinate number of men donning the blazer/jeans/leather shoes uniform to the men's restroom having significantly longer lines than the women's room, it was clear that ad tech was well represented at the Luma Digital Media Summit that was held just a few blocks away from Grand Central Station in New York City yesterday.
Here are the most interesting things we heard at the panels and in the hallways in between talks.
Instant Articles and AMP
"We do Instant Articles to be in the good graces of Facebook, to be honest with you," said a publishing source.
"We run about 20 percent of our content through Instant Articles. … Instant Articles doesn't really work well for us, but almost everything else on Facebook works for us," said Gretchen Tibbits, president and chief operating officer at LittleThings.
"What we push through AMP is so small that the revenue is immaterial, and I can't even tell you what it is," said a publishing source, who was immediately trailed by vendors after our conversation.
Social platforms
"If you are a publisher today, you are dependent on somebody," said Neil Vogel, CEO of Dotdash. "The minute you think of these guys you are dependent on as your friend, you are finished."
"As long as your interests are aligned, you are in good shape," Tibbits said.
"If I say we have millions of social viewers, people say to me, 'Those are shitty little social views,'" said Jon Steinberg, Cheddar CEO. "But if I do hundreds of thousands [of viewers] on Sling, people say, 'Only hundreds of thousands?'"
"We are the only people not doing stupid shit on Facebook Live," said Steinberg, which elicited an uproarious response from the roughly 150 people in the audience.
"In the name of God, how many times can somebody make the same mistake?" asked Adam Singolda, CEO of Taboola, while discussing how publishers continue to go all in on social platforms even though platforms frequently change their priorities and algorithms. "They have to decide if they want to be Darth Vader or Luke, and they always choose Vader."
Banner ads
"I don't think anybody is excited about it, but it does help with scale," said Matt Gillis, svp of publisher platforms at AOL.
"Are banners here to stay?" asked Amir Malik, head of programmatic at Accenture. "I don't think they are."
"This is a base currency that people trade on, on the internet," Vogel said. "It is not going anywhere; the pipes are set up to handle it."
Ad tech shenanigans
"We asked a comScore 100 publisher if they want to switch from rev-share to a SaaS model," said an ad tech exec who expressed frustration with legacy media companies in between nibbles of coconut tres leches cake. "Even though we showed them that they would pay us less with a SaaS, the publisher rep said that he didn't care because his department's budget is based on what he can take out of its top-line revenue. So he didn't care that his company would be more profitable or cut costs by using a SaaS model; he wanted us to stay on a rev-share model because it was how they've done business in the past."
"The amount of the complexity is overwhelming, and it almost feels intentional in a way that perpetuates most of the players in the space,"  said Sim Blaustein, partner at Bertelsmann Digital Media Investments, in a brightly lit and empty conference room after the panels had concluded. "If the industry were simpler and more transparent, many of the folks here wouldn't have a business."
"If the industry doesn't elevate to a higher standard of regulation around location data, regulation will be forced upon us," said an ad tech exec.
"Call it a data lake or a DMP or whatever you want, I don't give a shit," said an ad tech exec. "I don't make up these acronyms; I just adopt them to make it easier for people here to understand what I do."
https://digiday.com/?p=238100
December 8, 2023 • 3 min read
For Atlas Creative, expanding into Roblox is not solely a play to scale up. The company believes there are concrete benefits that will come with having a hand in multiple metaverse platforms.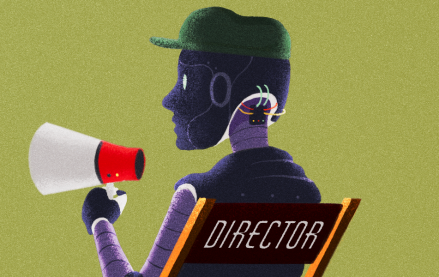 December 8, 2023 • 5 min read
Since ChatGPT became a breakout hit, the names of numerous AI companies and products have entered the cultural vernacular.
December 8, 2023 • 4 min read
Even as linear TV ad spend declines, 23andMe is reinvesting in the channel to boost brand awareness.