Listerine wants to be your go-to World Cup news source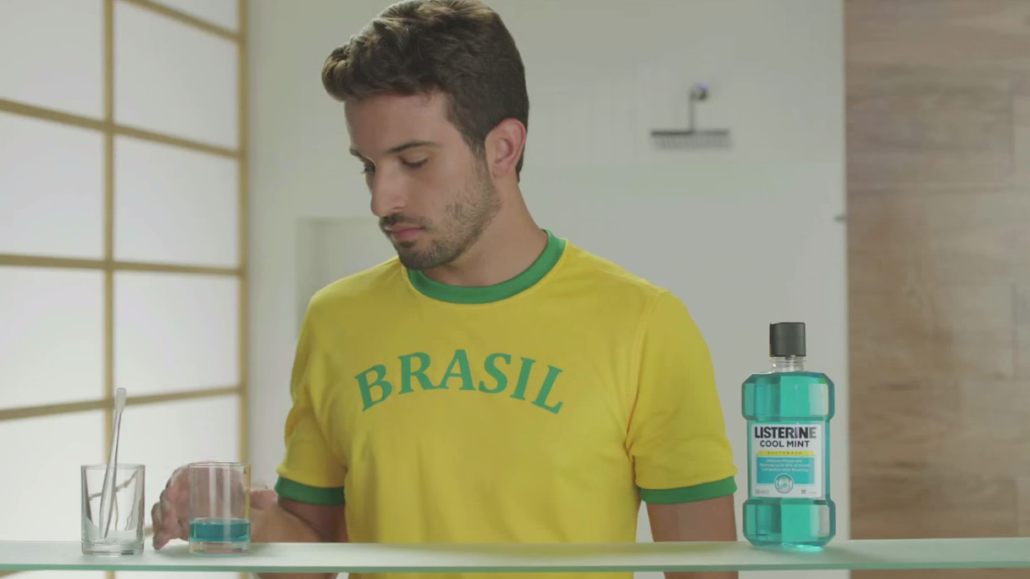 The World Cup will almost certainly become the largest, most well-covered sporting event of the year when play kicks off later this month, with media companies the world over relaying tournament results to futbol fans in their respective home countries.
But the marketing team at Listerine thinks that it can add to that coverage with a real-time marketing campaign. Listerine will be doing its best to interject its brand into people's World Cup conversations on social media by tweeting and Facebooking with the hashtag #PowertoYourMouth throughout the tournament.
Digital agency MRY will be executing the campaign out of "newsrooms" in its London and New York offices, tweeting about the day's matches in English and Spanish from Listerine's @listerineglobal. The Facebook portion of the campaign will include posts written in Arabic, Portuguese and Italian as well. JWT U.K. created the corresponding television spot (below) that will run in 40 countries.
The campaign will be Listerine's first foray into real-time social media marketing. Real-time marketing has, for better or worse, become a mainstay for any live event. This has resulted in some brilliant moments for brands, like JCPenney's mittens campaign during this year's Super Bowl, but a greater number of uninspired brand tweets.
Whether Listerine can achieve an elusive "Oreo moment" remains to be seen. Given the rise of real-time marketing, Twitter growth worldwide and spike in Twitter growth during live events, Listerine will have to craft some especially insightful tweets if it wants to be heard amid the social media noise.
If history is any barometer, the World Cup will precipitate a deluge of social media activity. Twitter boasted about its popularity among soccer fans in the 2013 "the year in tweets" retrospective it posted last December. Twitter is so popular among soccer fans, in fact, that Twitter felt it necessary to illustrate its popularity within five separate professional soccer leagues — the English Premier League, Italy's Serie A, Spain's La Liga, France's Ligue 1 and Major League Soccer in the U.S.
And Twitter's number of users has grown in every region in the world since last year, according to eMarketer. While that means a higher potential audience for the campaign, it also means a greater number of tweets Listerine has to compete against for user attention.
This campaign will be a good test of how effective a real-time marketing platform Facebook is, too. Facebook introduced trending topics earlier this year, but it has yet to offer brands the opportunity to sponsor or promote certain topics à la Twitter. Listerine will instead have to attach #PowertoYourMouth to trending World Cup topics and hope the brand message sticks.
The differentiator could be how deftly MRY allocates dollars to promote tweets and Facebook posts that gain traction early on. With organic reach on social all but dead, social media agencies are having to prove they are as adept at spending clients' money as they have been at producing memes.
https://digiday.com/?p=77744