Perennially cool jeans brand Levi's is all about making what's old new again — and that doesn't go for just its 501s.
As part of its "Make Our Mark" campaign, Levi's footed the bill for the Station to Station train – a roving art experience assembled by experimental artist Doug Aitken that combines technology, art and music.
For the past few weeks, Aitken's train has traveled from New York City to San Francisco, making 10 stops along the way where different creative people — including artist Olaf Breuning, musicians Ariel Pink and Beck, writer Rick Moody and chef Alice Waters — came aboard to collaborate and create different pieces of art.
Their creations were then broadcast to the world via the Internet and social media. But these artists didn't just log on to a computer to share things or use their phones to Instagram and tweet; they used Makers Tools, vintage instruments that Levi's and agency AKQA revamped to connect to the social Web.
The Makers Tools combine the best of the analog social media toys (guitars, typewriters) with the newest of new media. A 1956 Gibson is plugged into Soundcloud; a 1939 Bolex movie camera transmits to Instagram; a 1901 Underwood typewriter dictates to Twitter.
Levi's asked artists to use the Makers Tools create and share art projects that answered one of its campaign's four simple questions: Who are you? What moves you? What's your approach? What's your dream?
"The tools were created as a means of connecting the artists on the train to the public," explained AKQA associate creative director Paul Nowikowski. "Using them is simple."
A dedicated Chromebook on the train allows all of the artists to attach their social media login credentials to a unique custom-made RFID bracelet. Each of the tools is equipped with a Verizon Hot Spot and an RFID reader, so whenever anyone wants to use one of the tools, they simply scan their RFID band on the device, and it automatically logs them in to their associated social account (Instagram, SoundCloud or Twitter). From there, their creations then instantly appear within the online art projects.
For example, musician Ariel Pink tweeted this by typing on the Underwood on the train: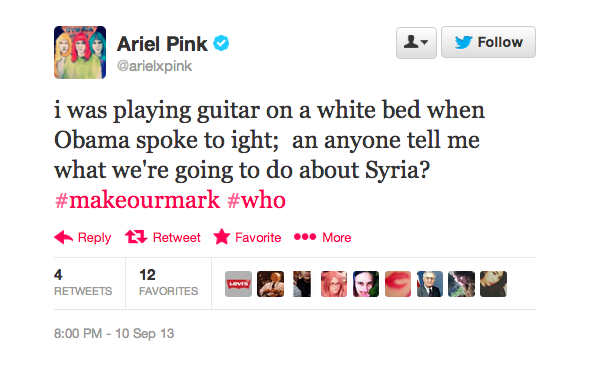 And here is a Soundcloud clip made with the Gibson:
[soundcloud url="http://api.soundcloud.com/tracks/109566220″ params="" width=" 100%" height="166″ iframe="true" /]
Socially enabled vintage items like these would probably sell like Cronuts if AKQA or Levi's decided to bring them to market, and it is  something AKQA has gotten asked a lot about. However, finding enough of the right vintage items would be difficult and expensive, according to Nowikowski.
"The Web-enabling bit is actually now the easy part for us, given the R&D we've put in over the past few months, but sourcing the vintage items, however, is a little more challenging," explained Nowikowski. "Getting hold of the right typewriter, for instance, we knew we wanted an American icon and we soon identified the Underwood No.5 as the device one often visualizes when thinking of an old typewriter — but the difficulty was that the No.5 was created in 1901, so getting hold of one was tricky."
So, sorry, Brooklyn hipsters, looks like you won't have your own tweeting typewriter or Soundcould-enabled Gibson just yet. But in the meantime, check out the video below to see what the Makers Tools look like:

Image via Flickr
https://digiday.com/?p=50981