'It meant more when I finally achieved something': Sarah Thompson on life as an outsider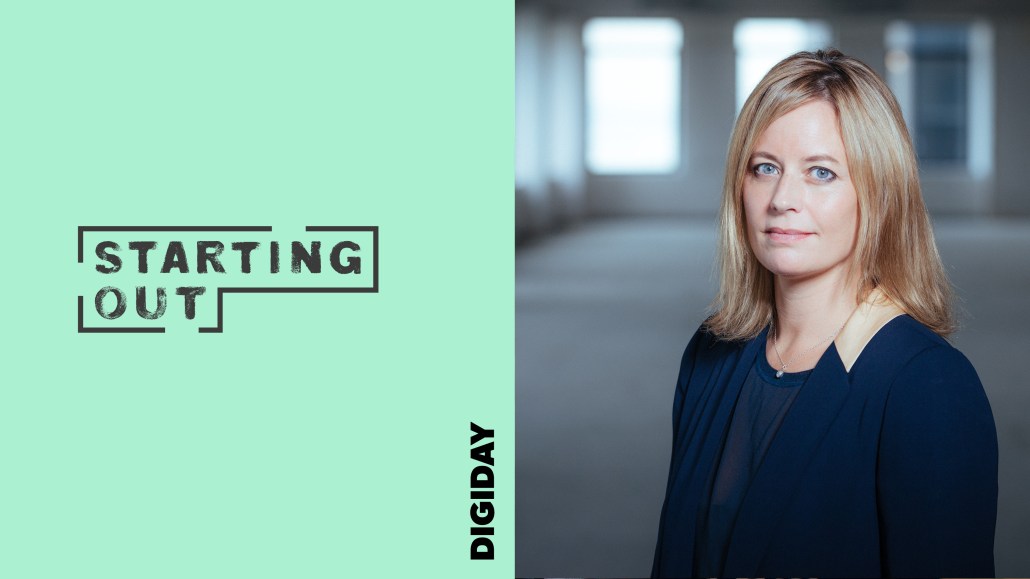 We're excited to announce a brand-new podcast today from Digiday. "Starting Out" will feature some of the marketing world's biggest names talking about their routes to the top and the lessons they learned along the way.
On the first episode, Sarah Thompson, the global CEO of Droga5, joined us to discuss the value of keeping it simple and what it's like to try land a job in the hyperconnected world of advertising without connections.
Subscribe: iTunes | Google Play | Stitcher | RSS
Edited highlights appear below.
On job hunting with no connections
"I didn't even know what a connection was. I didn't have anyone to call at an ad agency. So it meant more when I finally achieved and started getting to the places I wanted to be. I worked at a recruitment ad agency. I couldn't get a job at an actual ad agency. I was in Boston, and I couldn't get a job because I couldn't type fast enough. I'd practice typing at home because I had to look for jobs as a receptionist. I was starting at the bottom in my little suit from Filene's Basement, my wool suit in the middle of the summer."
"I had friends who had more connections. I mean, it's not like today, where all the people call me about their kids coming out of school. But there were people with parents who worked in finance, had different ways in to different places, but we were up in Maine. I just didn't have any. And I didn't have a network of friends who were fully connected. There were no self-brands. There was no 'this is what their brand was about.' So I didn't get in for a couple years."
On her first ad agency job
"Eventually, I sold my Jetta for a plane ticket to San Francisco. So my first real ad agency job was at a place called Transfere International, a high-tech ad agency before high-tech was cool. And I got it from a help wanted ad, which meant coming full circle."
On work ethic
"My father is turning 80. And when there is a ton of snow, he still insists on getting up there and shoveling the roof. It's just something you do. You get out there and do it. My mother is in her late 70s, shoveling. It's something instilled in me. I can remember going to school, and it was so cold the buses wouldn't start. To me, that is everything. Of course, a sense of curiosity and ambition and desire is important. But there are a lot of people who have that. The difference is people who are going to go that much further. I look for people where it hasn't come easy for them — where they've had to work hard."
https://digiday.com/?p=256235