'Irrational budget dumping': End of the year means use-it-or-lose-it marketing projects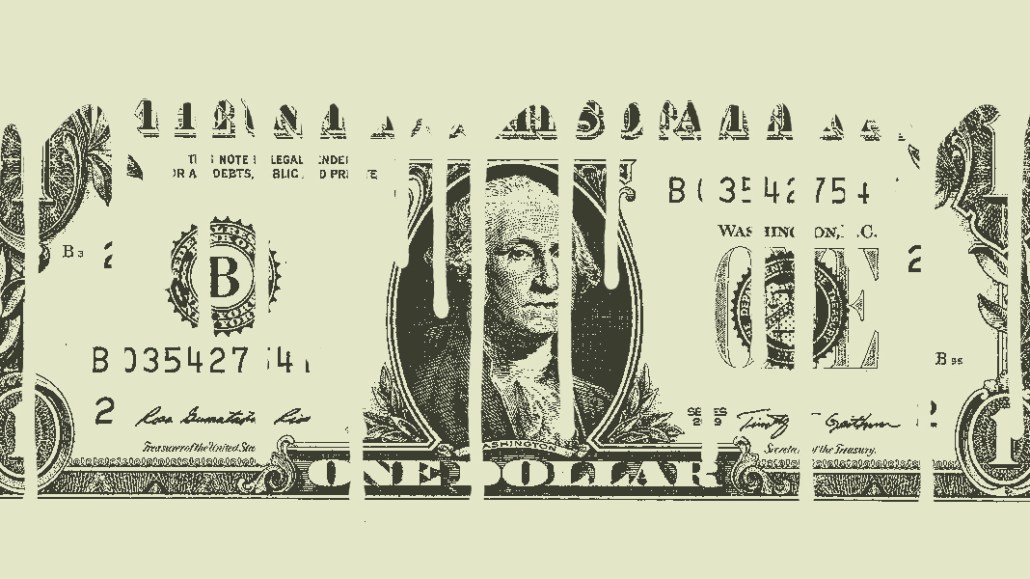 The week after Thanksgiving every year, one ad buyer gets a hoard of emails in his inbox from multiple ad tech and martech vendors, all exhorting him to freely spend what remains of his yearly marketing budget before Dec. 31. The options are endless: a list rental, perhaps, or more spending in Google AdWords. Or maybe a little database cleanup.
It's an odd, yet common experience for most buyers. This buyer freely admits that he's often taken up some of these vendors on their offers. After all, it's the most wonderful time of the year: the time to use it or lose it when it comes to marketing spend.
"We've definitely had this experience of having a client tell us about a 2017 budget where we have to spend it or lose it," said another ad buyer. "We've had to spend that money in some seriously inefficient places, or CPCs [cost per clicks] or CPAs [cost per actions] that might have been better if we've waited until January."
"This has been happening as long as I've been in business, maybe longer," said one major agency executive who has been in the industry for over 25 years. "Businesses just don't believe in rolling over the money to the next year. It's always budgeted on a fiscal year."
Brian Krick, evp of global media planning at Essence, calls it "irrational budget dumping." "It's real, it happens and has a real cost to business," said Krick. "This idea of money coming out of the coffers and also the couch cushions, and you have to get rid of it."
One reason it happens is a lack of an "efficiency-bound goal" for marketing efforts. Marketers are often theoretically taught models that combine, for example, sign-ups with a traveling graph showing at what point the investment becomes profitable for the marketer. That is what informs efficiency-bound goals. For example, if the goal is $5 as the cost per sale made, the marketplace has to be assessed to figure out when you could hit diminishing returns — perhaps at $1 million spent a month.
Krick said marketers fail to forecast and re-forecast that optimum spend level all year long. If they did forecast, by November, they'd have 11 months of data to look at to assess where unprofitable spend is. "Not enough people do this," he said. "It's not ingrained in brand marketers as much as it is in direct response because of the closed-loop nature of their jobs."
At Essence, Krick said he has seen cases where if clients hadn't "dumped" money into fourth-quarter spending and instead allocated it evenly throughout the year, they could have had between 5 and 10 percent more return.
Barry Lowenthal, president at The Media Kitchen, said the issue is not "wastage" in ad spend, but about how brands still don't think of modern ways to budget. Brands are often locked in to ad spend in a variety of ways — geography, channel or in this case, time. "They shouldn't care what was decided; they should be moving money where the best performance is to be found," he said. "If I can't spend the money, I shouldn't have to spend it."
Bryan Wiener, chairman at 360i, said spending in the fourth quarter doesn't have to be a bad thing — if you're buying things where you wouldn't get a good return, that's where the problem is. "To me, that's the litmus test," said Wiener.
If instead, marketers say, "I have $100,000 left and there is a place to spend it," for example, perhaps in a CRM database cleanup, that's OK.
On the sell side, it's unclear whether publishers plan for unspent budget. Ad tech vendors generally have unspent budget as a sales strategy. One publishing executive said they're prepared to "take any budgets that come our way." Incremental fourth-quarter dollars are sometimes an opportunity, but not necessarily a part of strategy or operating process. Buyers are sometimes told to spend money with a certain publisher because of a rate that has to be protected. But overall, buyers agree these are "artificial" restrictions, according to Lowenthal, holdovers from TV-heavy days that haven't caught up to fluidity in media that digital has opened up.
For another top head of investment at an agency, the idea of use it or lose it is waning. People report things differently today. "Back in the old days, TV networks needed money to hit their goals in the fourth quarter," said this person. "Clients may have had that money, so they'd work out a deal with clients to get them to spend it then." This person said he and his team do get cold calls at this time of year asking for some money they have to spend, but things are slowly changing. Digital media is more fluid, so there is impetus to change.
Why does use it or lose it happen? Lowenthal said it's a product of how Wall Street thinks of its quarters and years. Publicly-held companies, especially, are more sensitive to end-of-year budget issues.
Another possibility is that chief financial officers are often the biggest challengers of marketing expenditure. Marketing is always at highest risk of being cut when it's time to cut costs. An Ernst & Young survey last year found that only 63 percent of CFOs reported that they were more involved in marketing. CFOs highlighted "significant" barriers to a relationship with the chief marketer, citing differences in culture and processes. "CFOs see their contribution through a cost-discipline lens, indicating that the shift to a more value-driven mindset has not yet taken place," the report said.
"If the relationship between the CFO or CMO is not built that way, if the CFO thinks of the CMO as a cost center, not a revenue generator, then this mad dash to spend it or lose it happens," said Krick.
Of course, high ad spending is not always about using it or losing it. Holiday ad spending from October through December is always high, driven by the large amount of consumer spending and more brands vying for consumer attention. Estimates from Epsilon show that ad impressions rise 50 percent during the holidays, while average order values can grow up to 30 percent. So if there are more impressions and more site visitors, then you should spend on more on advertising during that time.
Zero-based budgeting can be a culprit. Marketers like Unilever, the world's second-biggest advertiser, started preparing last year to put in place zero-based budgeting, which requires all managers to start from $0 to justify all costs from scratch. The program, which was piloted in Thailand in 2015, reduced spending by 2 percentage points as a share of sales in all areas. Often, zero-based budgeting has a renewal period, which means managers — not just in marketing — will often try to spend as much as they can so they can be guaranteed the same budget or more next year. "If I don't spend it, it means I don't need it," said one sales manager at a business-to-business marketer.
The problem is, that isn't really the ethos of zero-based budgeting, which can combat budget dumping when done right. But because many budgets begin at zero in January, marketers tend to think of the fourth quarter as the time to use it or lose it.
"Everything needs a time scale; everyone has to deliver something in a time horizon," said Krick. "That's unavoidable. It's the way humans think."
https://digiday.com/?p=265521