Inside the agency: Laundry Service's new Brooklyn office has killer views
May 22, 2017 • 3 min read
• By
Digiday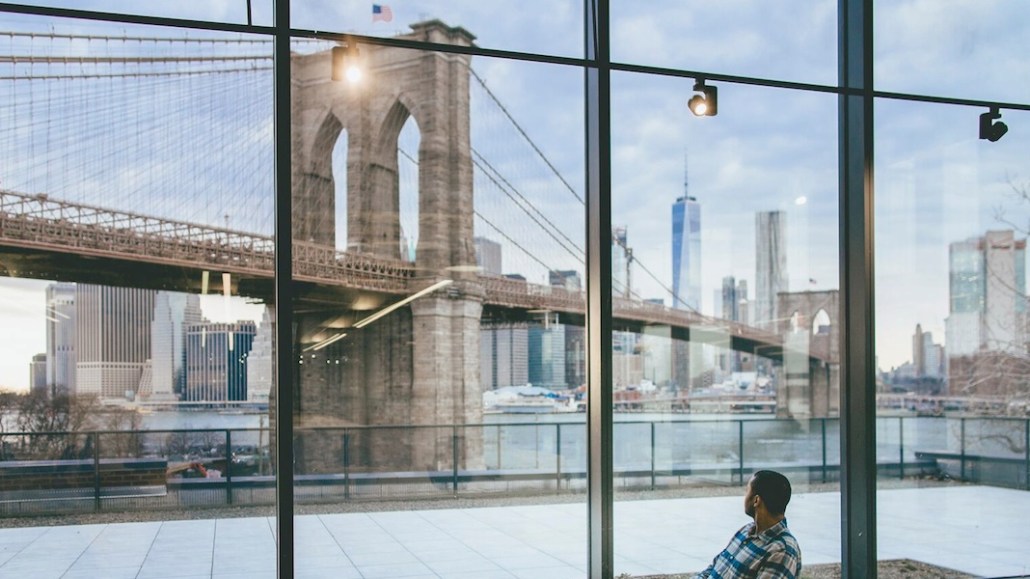 After six years in Manhattan, social media shop Laundry Service decided to decamp to Brooklyn, joining the growing cluster of agencies that call the trendy neighborhood of Dumbo home.
The social media agency and its sister company Cycle moved in March into Empire Stores, a former roasted coffee warehouse that is now a sprawling commercial complex on the East River waterfront. (72andSunny has also moved into the same building.) Laundry Service now has 350 employees across its offices and has clients including Beats by Dre, LG USA Mobile and Bud Light. One obvious draw: the views.
"Our last space had a similar personality that was fun and creative, but there is an added layer of sophistication in this one," said Alyson Warshaw, chief creative officer at Laundry Service. "It mirrors our growth and how we've evolved from a scrappy social shop to a full-service agency."
The office is a sprawling 42,000-square-foot space on the fifth floor with floor-to-ceiling windows and unbeatable views of the city skyline overlooking Brooklyn Bridge Park and the East River.
The area has an additional 10,000 square feet in the form of an outdoor concrete and wood patio, and a walkway lined with garden plots, à la the High Line in Manhattan's Meatpacking District. Dozens of tables and comfy chairs line the patio as well as the windows looking out on it.
"Google thinks you need baby-sitting and dry cleaning services to keep employees happy, but all you need is a really good view," said founder and CEO Jason Stein. "In all seriousness, though, I think the most important thing is creating an environment that is democratic, honest, inclusive of all types of people and that provides ample opportunity for growth."
The office has an open-plan layout that allows different departments to overlap in communal areas, including couches, stand-up desks, restaurant-inspired booths, mini-pods and phone booths. The decor and furniture are modern and minimalist, with a gray color scheme dominating the interior, including two beaded-chain curtains that adorn the reception and the kitchen area.
Still, the agency's "fun and creative" personality manages to shine, whether it's through the whacky laundry-inspired names for its 12 conference rooms or the bright neon signs on the lobby wall. The biggest conference room, for example, is reserved mostly for clients and called the Ironing Board, and the one between Stein's and Warshaw's offices is called the Stitchuation Room.
There are the required agency touches. There are six neon signs, including one that features Laundry Service's motto, "Make Amazing Shit," in all caps and surrounded by a pink heart. Another displays the agency's social handle, "@247LS," written on the side of a bottle of detergent. Warshaw worked with designer Adam Kurtz, who did the original illustrations.
"Everyone has the opportunity to do what they want here," said Warshaw. "It's a free space that nurtures them and helps them make it their own."
https://digiday.com/?p=237502