'Insane scenario': Confessions of an account director at an understaffed agency
May 19, 2020 • 3 min read
•
•
This article is part of our Confessions series, in which we trade anonymity for candor to get an unvarnished look at the people, processes and problems inside the industry. More from the series →
As advertisers have reduced budgets, agencies have had to make significant cuts to staff to stay afloat. For the staff that made it through those initial cuts, work hours are being extended as they take on the tasks of their former coworkers.
At least, that's the case for an account director at an independent agency. In the latest edition of our Confession series, in which we trade anonymity for candor, the account director tells us what it's like to work with fewer staffers, what her hours are like and why it's difficult for her to anticipate client needs now. This conversation has been lightly edited and condensed.
How have layoffs at your agency affected your workload?
I work at a small agency that has always run very lean. The problem with small agencies is that you're already operating at max capacity. When the furloughs happened, we weren't in a scenario that had less work. A lot of our business pre-[coronavirus] relied on experiences, so we were scrambling and pivoting on projects we'd already won and had forecast for. 
Would you say you are working more now? If so, how much more?
I'm working until around midnight, four nights a week. And that's working working. No walks to the coffee shop with a colleague, no chit chatting in the conference room because someone is 15 minutes late, no discussing weekend plans across our desks. Without the social distractions, it's max output, max hours, all the time.
How is that affecting your mental health?
When the furloughs first happened and the nights started to get longer, I was afraid of burnout. I've always struggled a bit with insomnia, but now every single night I'm awake from 2-5 a.m. thinking about anything from what's on my to-do list the next day. 
Do you think the agency is now understaffed?
Absolutely. Not only because of furloughs but because somehow, we've gotten more work. It's impossible to see into the future right now, and forecasting is a nightmare, so we're trying to work with the teams we have on projects.
Do you feel like you have to be productive all the time to manage the workload?
I definitely need to be productive and on-the-ball to manage my current workload, which I sometimes feel has come at the expense of getting to have regular one-on-ones with people who report to me. I've had to move so many of these meetings in order to keep up with client work, and that really bothers me. We are in this perfect storm of understaffing, adjusting to changes in environment both personally and professionally, and tapping into creative territories we likely would have never explored if it weren't for this insane scenario we're in.
As an account director, you have to anticipate client needs to keep them happy. How have you done so now?
Anticipating my clients' needs, asks, wants, concerns and proactively addressing them is what I consider to be my most important task. Continuing that through [coronavirus] has not been easy. How can I predict what my clients need when I don't even know what I need? How can I answer a question when the response in a "normal" time, in a "normal" world's foundation has been completely ripped out from under all of us?
Is there anything you wish you knew from your bosses?
The main thing I'd ask from leadership now, is some sort of idea around timing regarding when we expect to return to the office. I don't expect them to know an exact date because I think that's impossible to guess, but it'd be helpful [to have notice].
https://digiday.com/?p=367487
December 8, 2023 • 3 min read
For Atlas Creative, expanding into Roblox is not solely a play to scale up. The company believes there are concrete benefits that will come with having a hand in multiple metaverse platforms.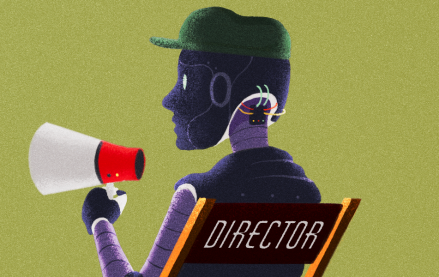 December 8, 2023 • 5 min read
Since ChatGPT became a breakout hit, the names of numerous AI companies and products have entered the cultural vernacular.
December 8, 2023 • 4 min read
Even as linear TV ad spend declines, 23andMe is reinvesting in the channel to boost brand awareness.