Hot Wheels Builds Tweet-Powered Vending Machine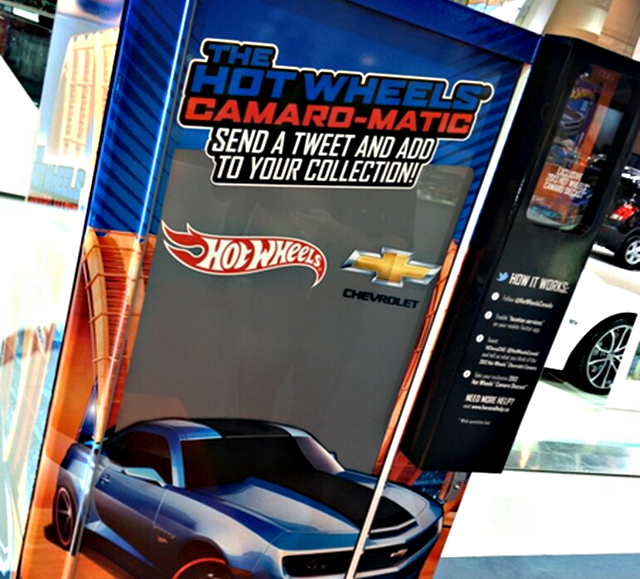 Let's face it: Tweeting at brands or with branded hashtags isn't worth it unless you get something in return, like a cool social media experience or a chance to win a prize. Hot Wheels and Chevrolet Canada went another route by creating a vending machine that accepts tweets as the form of currency rather than coins.
With the help of Canadian agency TrojanOne, Hot Wheels and Chevrolet Canada, in honor of the Toronto Auto Show, created a vending machine to dispense limited-edition diecast toy car collectables to give away. People at the auto show had to be standing near the machine and had to tweet at @HotWheelsCanada using the hashtag #ChevyCIAS. Location features had to be enabled on users' smartphones for the vending machine to register their tweets in order to dispense a toy car.
The customized vending machine was just a regular coil vending machine that TrojanOne updated with special computer components that connected the machine to the Internet to search for the designated tweets using the hashtag. The machine used Twitter's geo-location data to verify that the branded tweets came from someone standing near the machine, at which point the machine dispensed a car model.
"I think the best part was seeing the physical and digital worlds come together with a social action causing a physical world action to take place – when the car dropped after people sent the Tweet, the smile on their face was priceless," said Mark Stewart, director of digital services at TrojanOne.
The machine dispensed about 2,000 cars over the 10 days of the auto show, and according to Steward @hotwheelscanada tripled its Twitter following as a result of the vending machine project.
https://digiday.com/?p=33038